You can also view upcoming events in a Google calendar format on our Calendar page, or check out past events here. We recommend you visit Facebook event pages for updates on time and location.

BERNIE PDX EVENTS
Note: there will be no BerniePDX meeting on Feb. 14, but we will gather again on Wed. Feb. 21 to continue meeting local candidates and identifying progressive leaders we want to support. In March, our meetings return to Tuesday nights.
Big Pharma: Market Failure explores the problem of extreme drug prices in the US and how drug cost impacts on the public, on businesses and the overall US economy.
Doors open at 6:30pm, film starts at 7pm and will be followed by a Q & A discussion with state representative Rob Nosse, who has championed prescription drug legislation here in Oregon. Tickets are $5-20 sliding scale.
Hosted by the Portland Jobs with Justice Healthcare Committee.
Co-sponsored by KBOO, Health Care for All Oregon, Main Street Alliance of Oregon, Physicians for a National Health Program, Nurses for Single Payer, Portland DSA, and BerniePDX.
Location: Clinton Street Theater, 2522 SE Clinton St.
On Wednesday, February 21st, come out to hear progressive candidate Dana Carstensen, who is running for Metro Council District 4.
How does Dana plan to shape policies impacting your lives, including housing, transportation, waste management, and lifting up the voices of historically underserved communities? Will he take corporate money in his campaign? Bring your questions!
We will also discuss the HOPE amendment that the Oregon House just passed in favor of universal affordable healthcare in Oregon.
Location: Watershed Bldg, 5040 SE Milwaukie Ave.
____________________________
ENDORSED CANDIDATES EVENTS
Join Team Jo Ann in NE Portland on Saturday, February 24th to help us elect Jo Ann Hardesty to the Portland City Council! Please RSVP Here: http://bit.ly/JoAnnVolunteers
Groups will be gathering at 10am to go door to door talking to Portland voters about their concerns and to introduce them to Jo Ann. We will launch from The O'Neill Public House (6000 NE Glisan St). Training will be provided. Coffee and snacks available! Questions? Don't hesitate to contact Field Director Matt McNally at matt@joannforporland.com
We are excited to invite you to an open house to meet the amazing Rachel Prusak. We are supporting Rachel to be the next State Representative for Oregon House District 37.
Please join us on Saturday, February 24th for an open house to ask Rachel questions, hear about her vision, and talk about issues that are important to you. We will enjoy snacks, good company, and help Rachel to grow a grassroots campaign with any donation you can make. Julie Parrish has had her chance; it's time for a change.
Location: West Linn Home of Sally DeSipio — email sally.desipio@gmail.com for details
Join me and my team as we kickoff the campaign's community volunteer efforts! Help us spread the word about this exciting race and learn more about the issues that are most important to the folks of Oregon House District 37. I am so thrilled to invite you all to join me in this canvass. I have been out knocking on doors since November talking to folks across the district and hearing their concerns. As a nurse practitioner I have served many communities over the last two decades, and now I am more than ready to serve the community of HD 37.
We'll have refreshments, a canvass training, and guest speakers to kick us off!
Location: Oregon Nurses Association, 18765 SW Boones Ferry Rd., Suite 200, Tualatin
__________________________________
LOCAL EVENTS
Race and Labor: Building a More Just Economy. Bill Fletcher Jr. has been at the forefront of both the labor movement and anti-racist movements for four decades. Fletcher has served as Education Director for the national AFL-CIO and as senior staff for a number of national labor unions. We will explore the components of reinvigorating the labor movement as a global movement for social and economic equity for workers, students and global community preparing for the 22 century.
The event is free and open to the public, and free food will be served. For more information, call Sherman Henry at 503-412-3722. To register, go to https://lerc.uoregon.edu/ look for Black history events and select which event you want to attend.
Location: White Stag Building, 70 NW Couch St.
From litigation, to legislation, to the ballot, Oregon is leading the way on net neutrality. Join us at the Oregon State Capital to send the message that Oregon demands net neutrality. We'll have guest speakers, allied organizations, and petitions for an Oregon ballot measure.
Meet on the Capital steps. Organize your carpools here.
Come meet our farm worker labor union workers and others who support farm workers in the Pacific Northwest at: Farm Worker Ministry Northwest's Community Forum. We will hear from PCUN – Oregon's Farm Worker Labor Union, United Farm Workers, Western Farm Workers Association, and Familias Unidas Por La Justicia, the new farmworker labor union in Washington State.
Location: Augustana Lutheran Church, 2710 NE 14th Ave, Portland
City Council unanimously voted in favor of passing Portland's historic Mandatory Relocation Assistance ordinance last February. It made a positive material difference in people's lives. They could stay housed. This ordinance was the direct result of real, grassroots, #TenantPower. However, not all tenants are yet protected by this ordinance. A year ago, four members of City Council chose to add an amendment in the original draft of Relo to exclude 'small' landlords (those who rent a single unit). As many as 24,000 renter households have been left unprotected by this exemption.
This can be changed, but only if #TenantPower wills it so. On Wednesday, February 28th, City Council will hold a hearing on the Mandatory Relocation Assistance Ordinance. Come out and fill the council chambers to support strengthening Relo!
Location: Portland City Hall, City Council Chamber, Second Floor, 1221 SW 4th Ave
$5 entry (cash only) / FREE for DREAMERS and their families ALL AGES                                      PLEASE RSVP: https://www.eventbrite.com/e/we-the-dreamers-esto-es-para-ti-zine-launch-party-tickets-42960157989
As the March 5th DACA program deadline edges closer, we focus our attention on giving the stage to the undocumented narrative. Esto Es Para Ti is a growing zine collection of undocumented tales, art, and poems.
Join us for the launch of the first two zines, and an evening of conversation, delicious Latin American food, drinks, a presentation of the zine project, a live special musical guest (that you won't want to miss!!), and DJ Chaach!
Location: Ecotrust, 721 NW 9th Ave.
Feminism for the 99%          https://www.womenstrikeus.org/
The International Women's Strike is a network of women in more than 50 different countries that emerged through planning a day of action for March 8th. International Women's Day. We see our efforts as part of a new international feminist movement that organizes resistance not just against Trump and his misogynist policies, but also against the conditions that produced Trump, namely the decades long economic inequality, criminalization and policing, racial and sexual violence, and imperial wars abroad.
Location: Pioneer Courthouse Square
Please join us as we come together to welcome, honor, heal, and celebrate. This will be a fun evening of LIVE STAGE PERFORMANCES about what it means to be a refugee, immigrant, and Muslim in Portland. There will also be performances of different cultural music and dances. We hope that you will join in, but you are welcome to watch and mingle.
We will have food carts on site serving throughout the evening. We invite you to have dinner here in the outdoor courtyard. We welcome all Portlanders, of all ages, especially refugee and immigrant families. This is not a fundraiser. There is no admission price.
We are looking for volunteers to help make this event as great as possible: please contact Som Subedi at som.subedi@portlandoregon.gov.
Location: East Portland Community Center, 740 E 106th Ave.
In the Portland metropolitan area, a municipalist movement is also taking shape. In 2016, a vibrant tenants rights movement galvanized voters to defeat an incumbent City Commissioner. This victory demonstrates an opportunity for grassroots forces to change Portland for the better.
Our goal is to create a Portland metro area that's a healthy and nurturing place for everyone and every community who calls it home, and not just an enclave of the 1%. Toward that end, the Portland Metro People's Coalition (PPC) is organizing a People's Convention to ratify a Bill of Rights and platform for collective action.
Location: SEIU 503, 6401 SE Foster Rd.
______________________________________________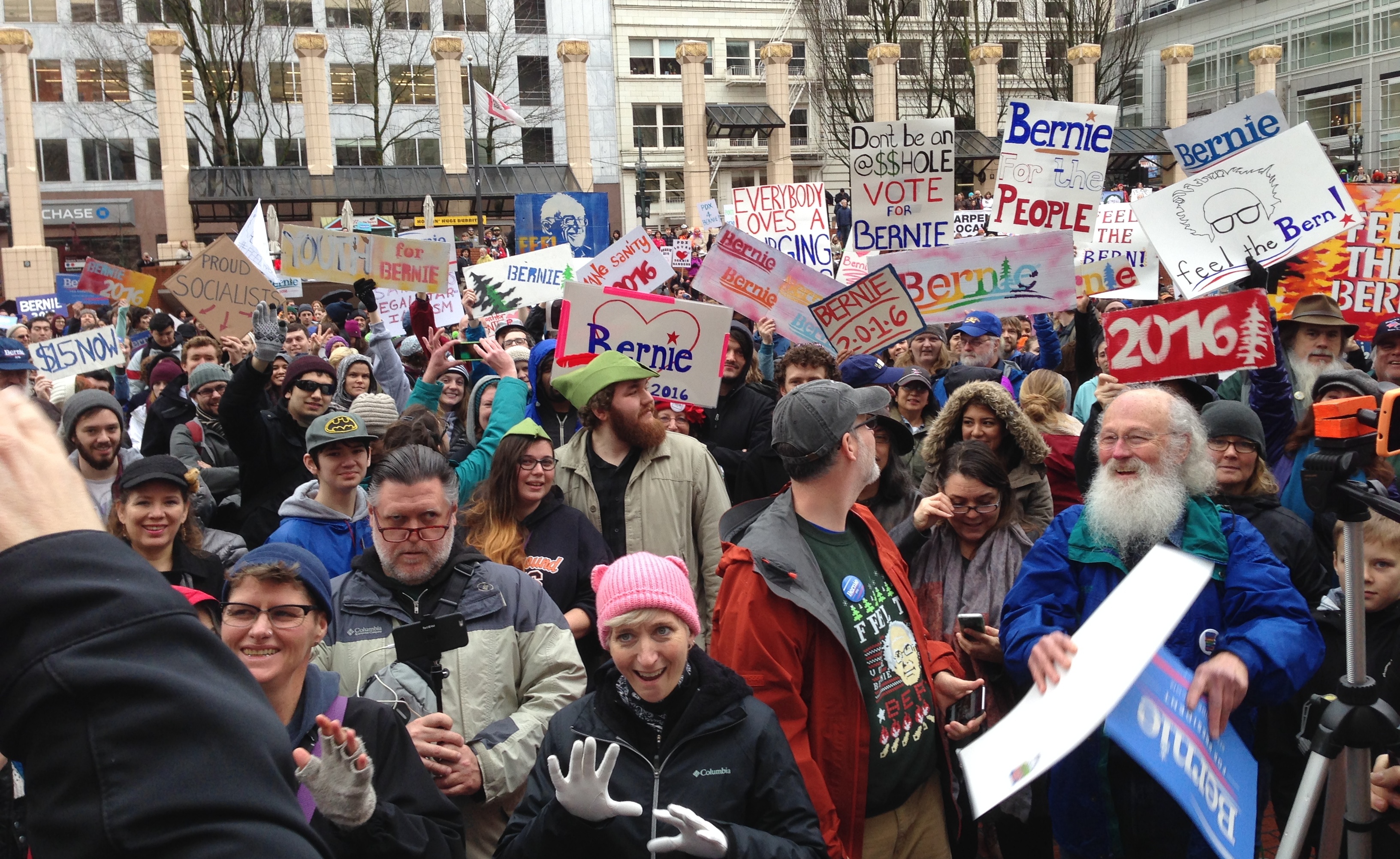 March for Bernie Rally, January 23, 2016