We recommend clicking the links for updates on time and location.
BerniePDX Events
Join BerniePDX to get an update on City Hall and hear from JoAnn Hardesty's Organizing Director about how we can help her platform succeed in City Hall!
The meeting will be located in the upstairs room at People's.
Please bring a few bucks if you're able to help pay for the room rental, but it's not necessary to attend.
Location: People's Food Co-Op, 2nd floor, 3029 SE 21st Ave.
Thursday, Feb. 21, 7-9pm: Celebrate Bernie 2020!
Come out to celebrate Bernie's presidential announcement! This is a joint event between BerniePDX and DSA's Bernie 2020 group.
Location: Lucky Lab, 1700 N Killingsworth St.
Join BerniePDX to cheer on Bernie in his first 2020 presidential town hall! The broadcast officially begins at 5pm PST (and will likely run an hour or so) but definitely come early to grab a comfy couch seat and chat with Bernie friends. Snacks will be potluck style so feel free to bring something.
https://www.cnn.com/2019/02/19/politics/cnn-town-hall-bernie-sanders/index.html
Location: Watershed PDX, 5040 SE Milwuakie Ave. Portland
*THIS EVENT HAS BEEN POSTPONED DUE TO WEATHER – STAY TUNED FOR UPDATES* Saturday, Feb.9, 5-6:30pm: Medicare for All Barnstorm
Join us as part of the National Medicare for All Week of Action, organized by National Nurses United & Our Revolution. Hundreds of events are happening across the country as activists come together to win Medicare for All!
We'll talk about what's at stake, our plan to pass Medicare for All in the U.S. House, and what you can do to take action and get involved.
This is a joint event for Congressional Districts 3 & 5, so it's a fun way to get to know other progressive activists in Oregon and strengthen the movement for Medicare for All! And featuring a performance from the Raging Grannies.
Email info@berniepdx.us to carpool.
Location: Wilsonville Community Center, 7965 SW Wilsonville Rd, Wilsonville, OR 97070
Local Events
Join German activists from Ende Gelände ("Here and No Further") on their US tour as they share stories and tactics with local groups about successful mass mobilizations for climate justice, including their campaign to stop coal mines and protect and Hambach Forest.
Focusing on tangible examples, the tour aims to advance ideas for mass mobilizations and build bridges between international approaches for climate justice. Brought to you by Portland Rising Tide and 350PDX.
About Ende Gelände: Over the last ten years, a strong and diverse radical climate justice movement has been growing in Germany, founded on principles of frontline struggles, mass mobilization, direct action, and cooperation across organizational and tactical differences.
The last few years saw the emergence of "Ende Gelände" mass mobilizations for civil disobedience; 6,000 people collectively blocked coal infrastructure last fall. Wearing their emblematic white overalls, demonstrators invaded mining pits, danced in front of the diggers, slept on the railways, and provoked pictures that have raised attention globally by exposing the dirty truth behind the official tale of the German energy transition "Energiewende" and making the connection between climate chaos and capitalism.
Cost: $5-20 sliding scale, no one turned away for lack of funds.
Location: Central Lutheran Church, 1820 NE 21st Ave, 97217
On the heels of the City Club of Portland's report on the Portland's Commission Form of Government and on our at-large election system, it is the PERFECT time to start the conversation about whether Portland should form city council districts and if so, (most importantly) HOW should we go about it.
Join us in starting the conversation about what our city elections and government should look like to better serve all of Portland's communities, not just the corporations, developers, and wealthiest individuals.
Location: My Brother's Crawfish, 8230 SE Harrison St Ste 315
We believe that Womxn's Rights are Human Rights and Human Rights are Womxn's Rights. We must create a society in which womxn – including Black womxn, Native womxn, poor womxn, immigrant womxn, disabled womxn, Muslim womxn, lesbian queer and trans womxn – are free and able to care for and nurture their families, however they are formed, in safe and healthy environments free from structural impediments.
More info at: www.womxnsmarchpdx.com
Location: Portland State Park Blocks, 666 SW Park Ave.
Please join us as we come together to welcome, honor, heal, and celebrate. We welcome all Portlanders, of all ages, especially refugee and immigrant families.
We will have food carts on site serving throughout the evening. We invite you to have dinner here in the outdoor courtyard.
This is not a fundraiser. There is no admission price. Interested in volunteering? Contact Som Subedi at som.subedi@portlandoregon.gov to sign up by February 15, 2019.
Location: SW Community Center, 6820 SW 45th Ave. 
______________________________________________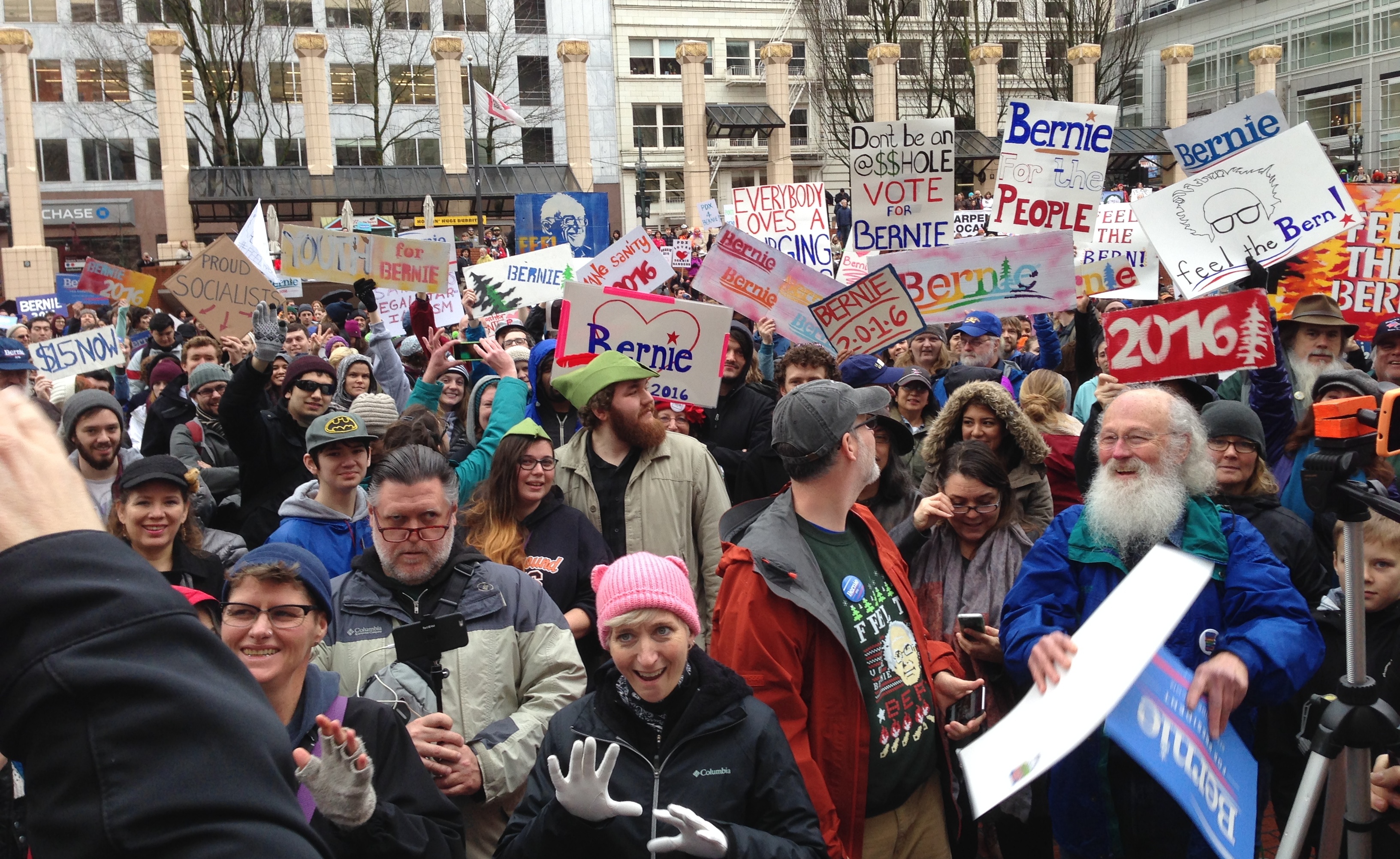 March for Bernie Rally, January 23, 2016