You can also view upcoming events in a Google calendar format on our Calendar page, or check out past events here. We recommend you visit Facebook event pages for updates on time and location.

BERNIEPDX EVENTS + VOLUNTEERING OPPORTUNITIES FOR BERNIEPDX CANDIDATES

Volunteer for TWO awesome BerniePDX candidates: Maria Garcia for Multnomah County & Julia DeGraw for City Council! This is the last weekend before ballots go out.
Join us for a 'lit drop' – enjoy the fresh air as you take a walk around a Portland neighborhood and leave literature on voters' doors! It's super easy, no knocking required.
Location: Bison Coffeehouse, 3941 NE Cully Blvd
This is the final weekend of canvassing before ballots go out on April 25th! These last few weeks before the election are critical. We are a grassroots campaign that relies not on big money donations, but talking to voters in the most impactful way possible: door to door, one on one. To win in May, we need you to volunteer and join our people-powered campaign.
Please RSVP here: http://bit.ly/JoAnnVolunteers
We will launch from 7610 N Westanna Ave. Training will be provided. There will be a light snacks and coffee available.
Questions? Don't hesitate to contact Field Director Matt McNally at matt@joannforportland.com
Want to help a candidate but not sure who to help? Come to a joint canvass for endorsed candidates Jo Ann Hardesty for Portland City Council and Kayse Jama for State Senate District 24! Come join us to tell our community about these TWO amazing progressive candidates who will not only represent us, but will amplify the voices of our neighbors. Come let people know they can vote for two candidates who will work WITH us to solve the problems that our community faces every day.
Bring your walking shoes, your friends, your family, and we'll provide the materials and any training you might need. We'll also provide snacks! See you there!
You can learn more about Kayse Jama at https://www.kaysejama.com/
You can learn more about Jo Ann Hardesty at https://joannforportland.com/
Location: Somus Bobe Cafe, 11906 SE Division St.
Julia fought fossil fuel exports and led the fight to prevent Nestle from bottling our water in the Gorge – celebrate Earth Day by helping get her elected to City Hall! This is the last weekend before ballots go out.
WHAT: Drop literature -OR- Canvass door-to-door for Julia DeGraw
WHEN: Sunday, April 22
TIMES: 11:00am-2:00pm -OR- 12:30-3:30
WHERE: 2231 SE Ash St.
"Julia DeGraw has pushed hard for real environmental progress for years – Portland needs that, and in fact the world does too."
– Bill McKibben, Founder of 350.org / Climate Expert / Environmentalist
'Lit drops' are great for folks who don't feel like knocking doors – enjoy the fresh air as you take a walk around a Portland neighborhood and leave literature on voters' doors. Snacks provided!
Location: 2231 SE Ash St.
Join your BerniePDX friends to talk about candidates on the ballot and vote together!
Location: Backstage Bar, 3702 SE Hawthorne Blvd.
__________________________________
LOCAL EVENTS
When you think of Portland, do you think of war ships? A new war ship that has been named the USS Portland will be commissioned at our docks on April 21st at 10 AM. Mayor Wheeler issued a proclamation declaring April 21st "USS Portland Day" and sits on the Board of the Commissioning Committee.
We reject a ship designed to kill being named after our city. We reject our city officials celebrating this event along with sponsors Raytheon and Northrop Grumman. We reject US militarism at home and imperialism abroad. As our media and politicians beat the drums of war with Syria, we must take a stand against bloodshed at the hands of the United States military.
Join us in a protest and rally to oppose senseless war in Portland's name. More details to follow. #NoPDXWarShip
Location: 3556 NW Front Ave.
7th Annual Inner City Blues Festival "Healing the Healthcare Blues": a Benefit for the campaign towards Universal Healthcare and HEALTH CARE FOR ALL~OREGON
ADVANCE TICKETS: $20.00 DOOR PRICE: $25.00
Location: North Portland Eagle's Lodge, 7611 N Exeter Ave.
What are the stories Americans hear about Israel and Palestine? What are the stories we don't hear? Who makes the media decisions that determine what Americans learn about events and policies in the Middle East? [Narrated by Roger Waters and featuring extensive commentary from journalists and scholars including Noam Chomsky,] The Occupation of the American Mind critically examines media depictions of the conflict, from Israel's creation in 1948 to the 2014 attacks on Gaza.
Doors open at 5:45 so you have time to order a hotdog/veggie dog and popcorn and get settled. The movie will begin at 6 p.m. Cost: As with all iPA events, admission is sliding scale – $0-27 with no one turned away for lack of funds.
Location: Robinwood Station, 3706 Cedaroak Drive, West Linn
The Portland May Day Coalition is a broad group of local grassroots organizations, labor unions, faith groups, and individuals who come together every year to recognize May Day – International Workers' Day. We remember past revolutionaries who have fought for, and won, critical rights; we also organize to continue the struggle.
This year the coalition will be hosting a family-friendly event to celebrate this work, our community, and strategize about how we support each other through our diverse, but interconnected, movements. We will be enjoying delicious food, music, games, and hear rad speakers discuss a collective vision that is rooted equity, solidarity, and global justice.
Location: SE Corner of Lents Park, near playground, 9000 SE Holgate Blvd.
This will be the 8 year memorial for Keaton Otis. Program will include artists, community members and leaders.
Keaton Otis was a young Black man killed by Portland police May 12, 2010. Every month since his murder a vigil has been held at the spot he died. Started by his father Fred Bryant in his mission to get justice for his son, the community continued the vigils after Fred passed away in 2013.
Location: Augustana Lutheran Church, 2710 NE 14th Ave.
Please join us at a special event with prize winning journalist Suzanne Gordon, author of the recent book "The Battle for Veterans' Healthcare". Check out her blog at www.suzannecgordon.com
Suzanne will discuss the value and importance of the VA healthcare system, and the current threats to the VA from privatization and outsourcing. She'll be joined by a panel of folks who will update you on these threats to the VA, to Veterans, and to VA workers . And together, we'll talk about ways that Veterans, labor unions, and the public together can take action to fight back.
All are welcome. Doors open at 5:30 for light refreshments; program starts at 6 pm. No charge.
Location: First Unitarian Church, 1211 SW Main St.

______________________________________________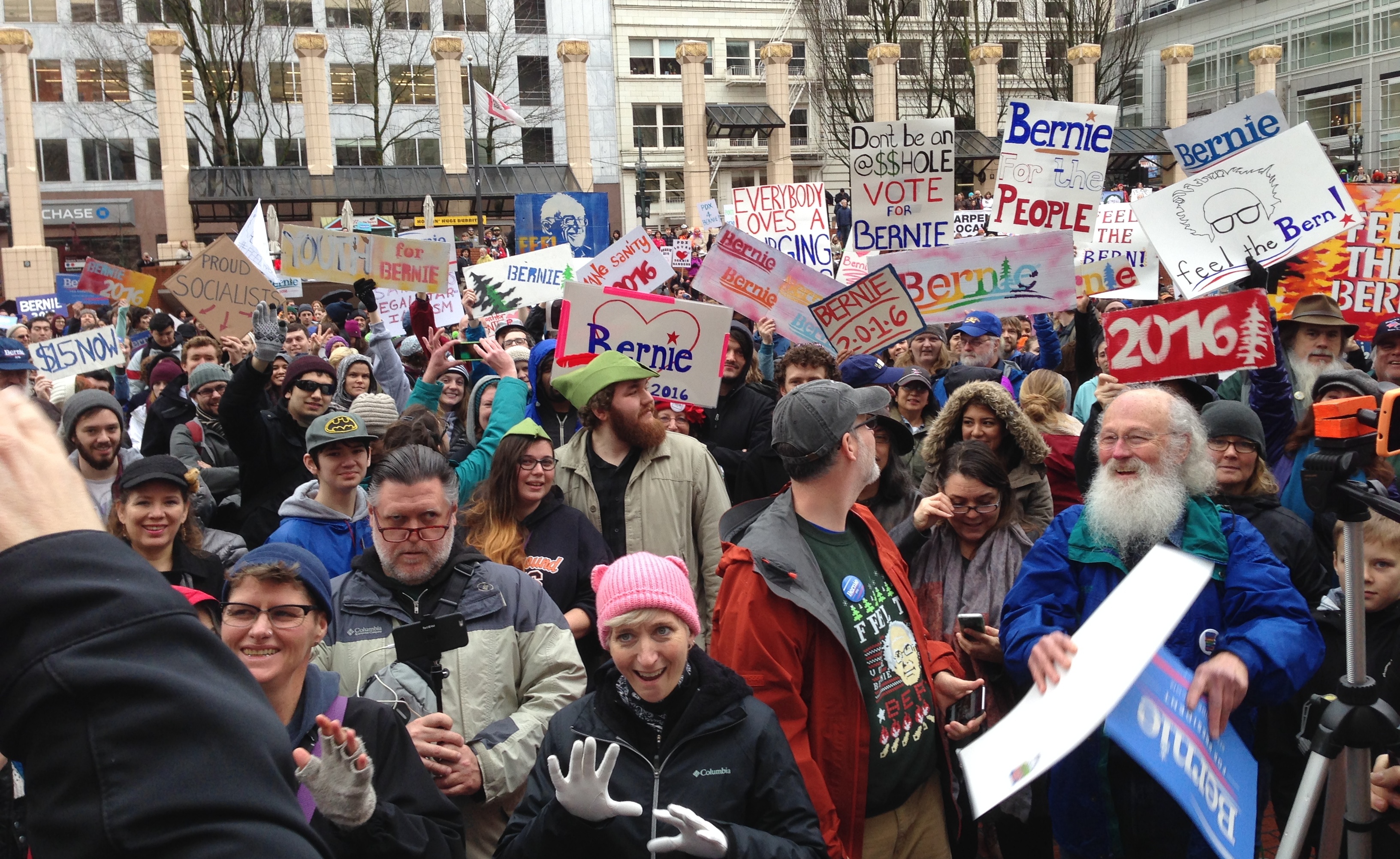 March for Bernie Rally, January 23, 2016