You can also view upcoming events in a Google calendar format on our Calendar page, or check out past events here.
BERNIE PDX EVENTS
David Carlson will join us to discuss a ballot initiative to allow people to sign ballot petitions online! This would revolutionize the Oregon initiative process and reduce the amount of funding needed to create political change!
More agenda items to come. As always, we'll talk about upcoming events and ways to get involved! Know of a local event or an important issue? Come share!
Location: Watershed Bldg, 5040 SE Milwaukie Ave., Portland
____________________________
LOCAL EVENTS
Want to improve life for yourself and your neighbors or have a concern about local, state or federal laws? Learn about strategies for change, information and misinformation, examples of successful advocacy, choosing your battles, tools for being heard and "tracking" civic/political issues. Presented by Donna L. Cohen of Civics for Adults. First come, first-served.
Web page: multcolib.org/events/citizen-advocacy-101-—-we-can-make-change-happen/74494
Location: Hillsdale Library, 1525 SW Sunset Blvd, Portland
HB 2830 is moving out of committee this week and has the votes in the house to pass, but still needs a few more votes in the state senate. Is the corporate tax high enough? No. Is it as much revenue as we wanted? No. Is it better than nothing? Yes. It will generate $900M by raising corporate taxes. Will it pass? MAYBE NOT.
NOW IS THE TIME TO GET INVOLVED. HOW? There are 2 state senators who need to get on board. We need to be getting calls from constituents to these senators. 
Location: 618 NW Glisan #203
Oregon's renters are in grave DANGER of being betrayed by state Democrats, who are taking landlord lobby money in exchange for opposing real and desperately needed solutions to the housing crisis.
✪ We DEMAND that Democrats take REAL action on the housing crisis, by either restoring HB 2004 to its originally-written version, and/or limiting rent increases be to 3% statewide! Join us in Salem to demand that lawmakers offer REAL solutions to renters: we will not settle for fake solutions to a devastating housing crisis.
Carpool available, click here.
Location: Oregon State Capitol, Salem
You never know when you or a loved one might require a hospital stay, a visit to a clinic, or medical attention in your home. We want to be there for you. That's why we're taking action to insist that Kaiser Permanente put patients first by hiring more frontline caregivers. Kaiser has a duty to provide enough resources and staff to meet patients' needs.
Location: Kaiser Permanente, 500 NE Multnomah, Portland
Location: 618 NW Glisan #203
Free admission, kid friendly!
Location: Lillis Albina City Park, 2451 N Flint Ave., Portland
Not in Portland is a gathering of people from a variety of local communities who see ICE's actions as unjust. Speakers from various organizations will speak about the dangers of racial scapegoating, and the tremendous damage racially targeted detention and relocation does to families and communities. Food and activities will be provided by local organizations and restaurants. We are working with the Portland Police Department to ensure a safe and family friendly environment for all involved.
Location: 4310 SW Macadam Ave, Portland
Come eat and support tenants rights! La Bonita North is donating 15% of all sales to The Community Alliance of Tenants all day – from 10 a.m. to 10 p.m.
Location: La Bonita, 2710 N Killingsworth, Portland
Please join us for this celebration of the diverse cultures and traditions of Muslims, representing over 42 ethnic groups in Portland, to bridge greater understanding and dialogue. Festival will feature:
-Cultural Performances and music
-Food from around the world
-International market experience
-Arts, crafts, henna, and Islamic calligraphy
-Resources and learning opportunities
For more information, please visit our website: www.pdxmuslims.org
Location: Director Park, SW Taylor + Park, Portland
Friday, July 14, 5:30 – 8 pm: July Picket
The workers of the BVWU invite to you to a picket Friday, July 14, at the Burgerville on SE 92nd and Powell. Come have some fun while standing in solidarity with Burgerville workers against hate speech, intimidation, and Burgerville's union-busting tactics.
Location: Park and Ride on 3618 SE 92nd Ave, Portland
Building Community through Arts, Food and Fun!
*FREE and family friendly!
*Arts and food from various cultures
*Social services and public resources
*How to get involved with neighborhood organizations
*Build relationships and promote an active citizenry
*Direct services such as free blood pressure screenings, lead testing and vision exams
Location: Sokhom Tauch Community Center (gym) at the Immigrant and Refugee Community Organization (IRCO), 10301 NE Glisan St.
Come celebrate our local refugee community with cultural song, dance, food, a marketplace, job fair, and kids activities.

Location: Delta Park, 10774 N Union Ct, Portland
Immigrant wood framers have been victims of rampant wage theft and exploitation in the midst of Portland's construction boom. Over the past five years BOLI has received 148 prevailing-wage complaints and claims worth $1.12 million in Multnomah County alone. But workers are fighting back. They are organizing and demanding a raise to $27/hr on the principle that everyone deserves equal pay for equal work. At the hearing we will hear testimony from local construction workers, wage theft experts, and immigrant rights advocates.
Free food, Spanish interpretation, and childcare will be available. Email justin@jwjpdx.org if you will need translation or childcare. Dinner starts at 6pm. Program starts at 6:30pm.
Location: St. Charles Church, 5310 NE 42nd Ave., Portland
______________________________________________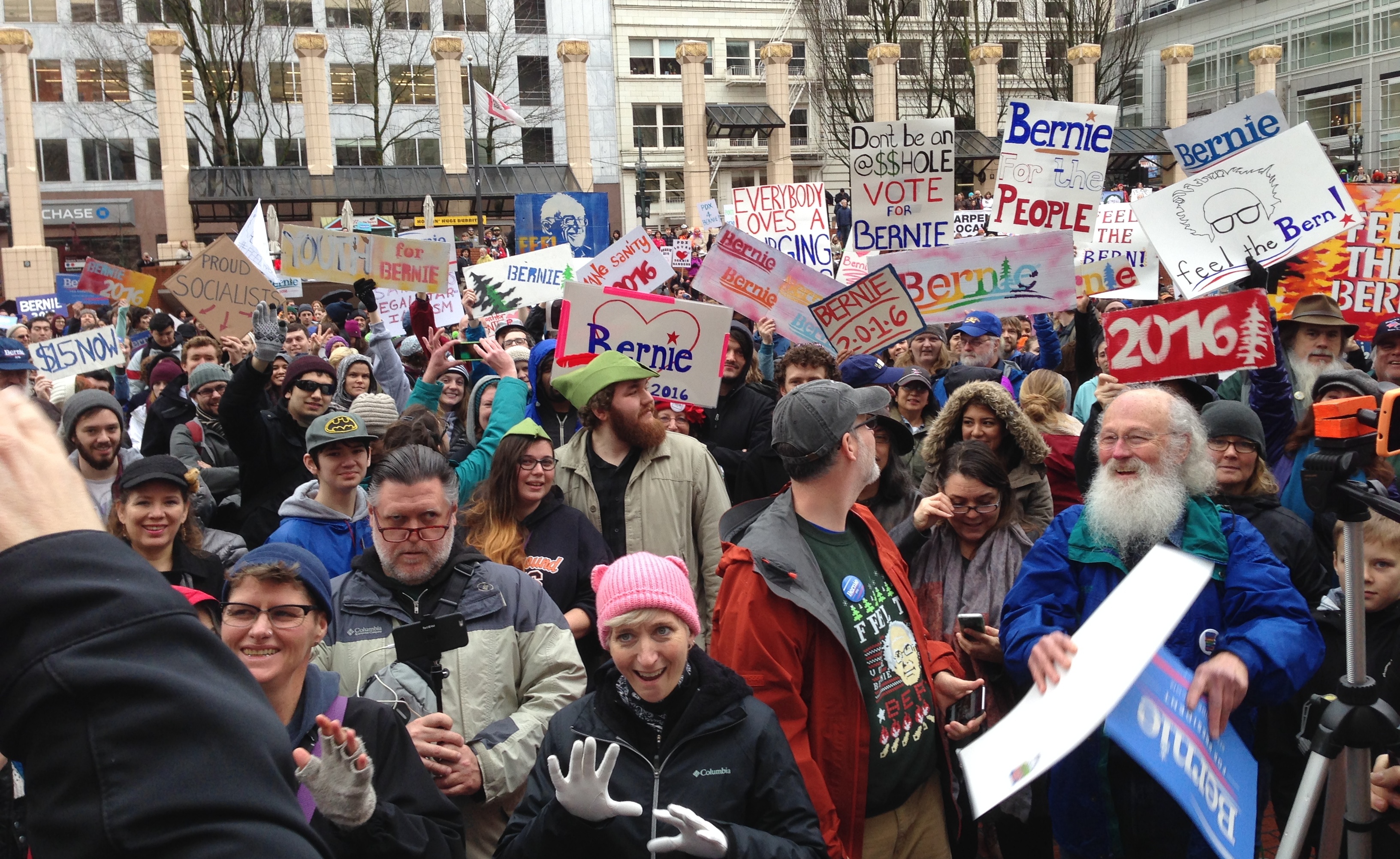 March for Bernie Rally, January 23, 2016