The community support and solidarity for the striking workers was incredible! Learn more about the strike and what the workers won via KBOO and the Mercury. 
Please click the Events tab or visit BerniePDX.us/events to see the latest info!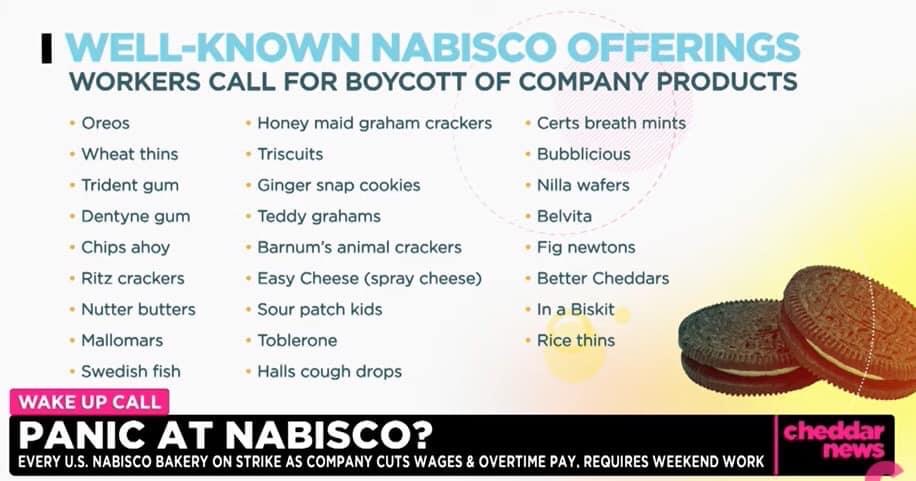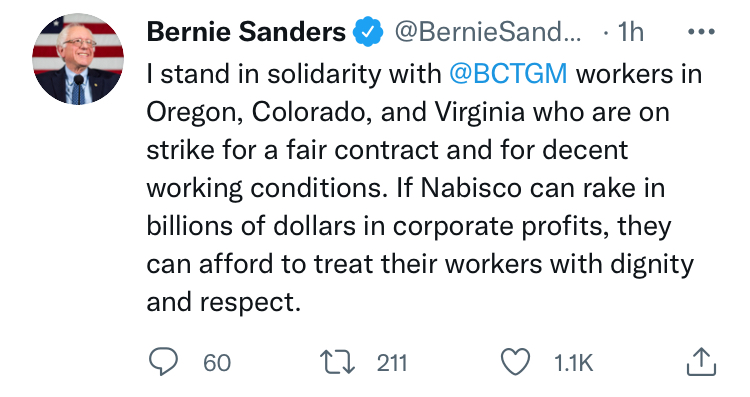 The huge, profitable multi-national corporation, Nabisco/Mondelez, is destroying union jobs – outsourcing work, eliminating pensions, increasing healthcare costs, cutting pay for overtime.
Nabisco bakery workers in Portland (BCTGM 364) walked out at noon Tuesday, August 10th, demanding a fair contract.
Join strikers on the picket line this Saturday. Bring snacks and drinks. Make solidarity signs.
This multiracial group of workers are taking on the billionaire class. Their struggle is our struggle. Thank them for reminding us how to fight, using the most powerful weapon workers have — the strike.
Location: 100 NE Columbia Blvd, Portland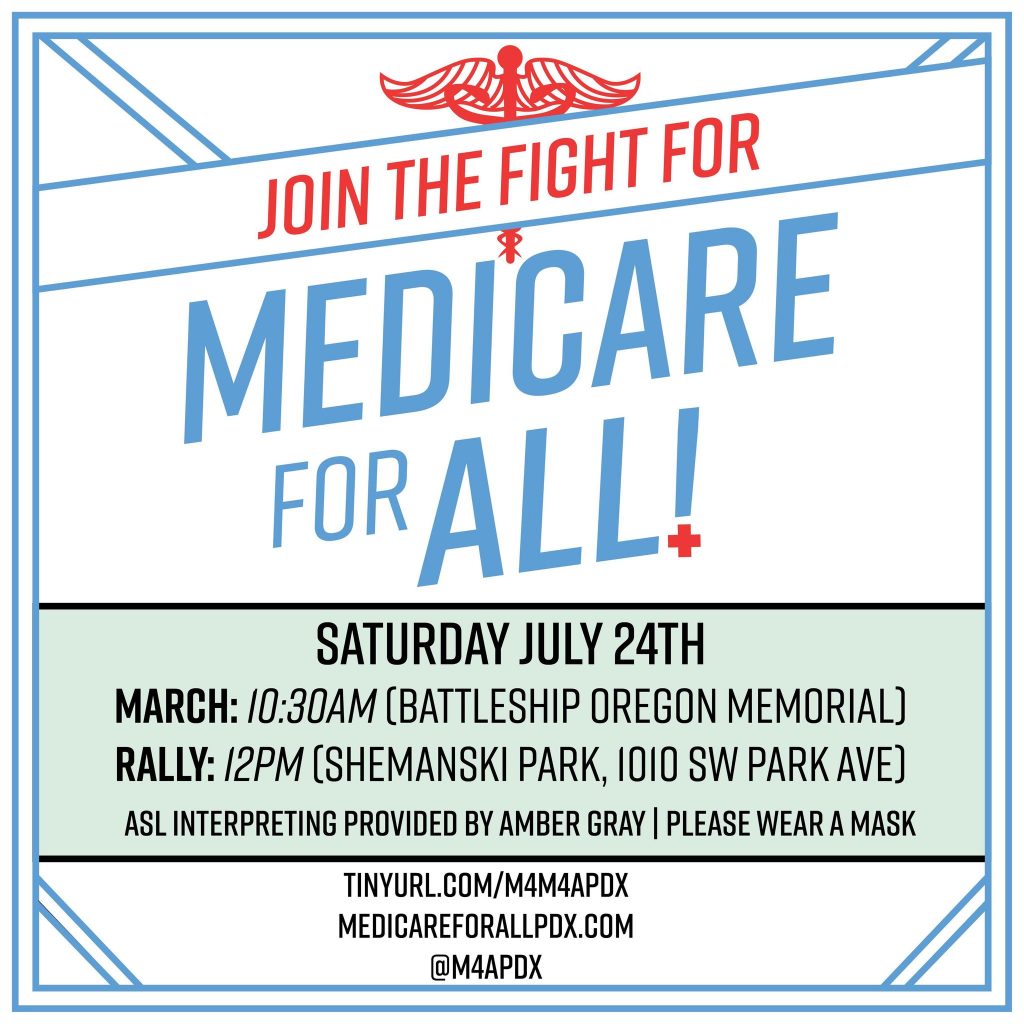 March is at 10:30am at the Battleship Oregon Memorial
Rally at 12:00pm at Shemanski Park
Outdoor After Party at 8:00pm at Produce Row Cafe
Calling all Medicare for All supporters! Show up for a big Medicare for All Rally. Family-friendly, permitted event with speakers, music, organizational tables, and ASL interpreting provided. Please wear a mask!
We'll be joining dozens of cities around the country holding events on this date to demand Medicare for All!
Program:
Speakers & Musical Interlude:
Travis Nelson, RN, BSN, labor rep for nurses; ONA Vice President
Loni Friedmann, educator & advocate against audism
Antonio Germann, MD, Salud Medical Center, Woodburn. Physicians for a National Health Program
Portland Raging Grannies
Emma Johnson, Medicare for All supporter with a health care story
Rosemary Dodd, Portland DSA, social justice activist
Emcee: Jamie Partridge, labor activist, Portland JWJ & Portland DSA
As always, click our Events tab up top or visit www.berniepdx.us/events for more upcoming events.
Picket times will be 7:00am-8:30am; 11:00am-1:00pm; 4:30pm-7:00pm on day of.
On June 10th the nurses and healthcare professionals from the Kaiser Westside Medical Center are holding an informational picket to address short staffing, which affects the care patients receive in the hospital. These workers are members of the Oregon Federation of Nurses and Health Professionals (OFNHP), and are asking that management address many of the concerns that they fear could interfere with their ability to provide patient care.
"We are fighting for our patients, and we know that safe staffing is a necessary piece of keeping our community healthy and safe," says Jodi Barschow, RN and President of OFNHP. "This is an ongoing issue that did not begin with the COVID-19 pandemic, but being short staffing is a problem both for us as healthcare professionals and the patients who are relying on us."
Kaiser Permanente and its union employees have a partnership agreement that allows them to work collaboratively on solving problems. The employees are asking for these issues to be addressed through this partnership and that the systemic issues with staffing are addressed. This picket is only a matter of weeks after another recent informational picket that happened at the Kaiser Permanente Sunnyside Medical Center, where staff in the Emergency Department highlighted problems with short staffing, high turnover, and a lack of a voice on the job.
This informational picket comes at the same time as OFNHP members begin bargaining with Kaiser, both at the local level and nationally through the Alliance of Healthcare Unions. Issues like safe staffing are on the agenda, as well as maintaining industry leading wages and benefits and giving staff a voice on how to best care for patients. OFNHP recently won a historic contract for the medical professionals at St. Charles in Bend, securing 25% raises after a nine-day strike that brought unions, community members, and political leaders together in support of the workers who were fighting for a fair contract.
Location: Kaiser Westside Medical Center, 2875 NW Stucki Ave, Hillsboro
Join ONA represented nurses from Unity Center for Behavioral Health as they fight to ensure fair treatment for workers, gain a voice in hospital decision making, raise safety standards, and improve patient care!
Invite your friends, neighbors, colleagues, co-workers and family. Join us for a few minutes or a few hours! The more support we have the better.
Everyone who takes part must wear a mask and follow appropriate social distancing guidelines.
Location: Unity Center for Behavioral Health, 1225 NE 2nd Ave.
On June 3, 2016, an event that community members had feared came to pass: A Union Pacific unit train carrying nearly three million gallons of oil derailed as it passed by the Oregon town of Mosier along the Columbia River Gorge. Of the 96 supposedly safer tanker cars on the train, 16 derailed, spilling 42,000 gallons of oil.
The volatile Bakken crude ignited, causing a fire that took 14 hours to extinguish and sending up a plume of smoke that could be seen for many miles around. But we were lucky – the wind was uncharacteristically calm so the fire didn't spread and no one was hurt.
What if this accident had happened on a day when the wind was blowing? Or near a more densely-populated area like Portland? Did you know that oil trains are running through our neighborhoods throughout Portland now?
Zenith Energy in NW Portland is bringing in crude oil by train from the tar sands of Canada and the Bakken fields of North Dakota and loading it onto ocean-going ships. The Zenith facility stores these toxic materials in a sensitive earthquake zone.
In a matter of weeks, the City of Portland will make a critical decision that will impact the immediate health & safety of Portland's residents and our climate. The City will decide whether Zenith's facility in NW Portland is consistent with the City's land use goals. The obvious answer: It's NOT! It's time we raise our voices against this dangerous facility, to ensure our communities don't experience another potentially deadly accident like on June 3, 2016.
WHEN: Thursday June 3, 11:00am
WHERE: Thomas Cully Park, 5810 NE 72nd Ave.
Huge congrats to BerniePDX candidate Serin Bussell on becoming the newest Portland Community College Board Member for Zone 4 with 72% of the vote! Thanks to everyone who voted and volunteered!