We recommend clicking the links for updates on time, location, or any other changes.  
Upcoming Events
Visit https://portlandpride.org/ for a list of local PRIDE events! 
Wednesday, June 16, 3-7pm: ONA/Unity Nurses Informational Picket
Join ONA represented nurses from Unity Center for Behavioral Health as they fight to ensure fair treatment for workers, gain a voice in hospital decision making, raise safety standards, and improve patient care!
Invite your friends, neighbors, colleagues, co-workers and family. Join us for a few minutes or a few hours! The more support we have the better.
Everyone who takes part must wear a mask and follow appropriate social distancing guidelines.
Location: Unity Center for Behavioral Health, 1225 NE 2nd Ave.
Saturday, June 19, 1pm: 2021 Oregon Juneteenth Celebration
2021 Juneteenth Oregon Celebration Livestream
This free community event, produced and supported by PDX Jazz, will feature live musical performances by Sarah
Clarke, Parisalexa, Cool Nutz & DJ Fatboy, Amenta Abioto, Libretto, Donna Jones & The Delegation, DJ O.G.
ONE, and Tamia Mitchell who will sing the Black National Anthem.
With special appearances by Governor Kate Brown, U.S. Senator Jeff Merkley, Mel Brown, Norman Sylvester,
Marlon "The Magician" McClain, Ron Artis II, Clinton Fearon, Kamari Rivers, and Mic Crenshaw.
The event will also feature guests from the Miss Juneteenth program. Miss Juneteenth Oregon provides
education, tools, and resources to help youth build resilience, gain confidence and make positive life choices.
Visit the Facebook event page or the Juneteenth Oregon page for more livestream info.
Saturday, June 19, 3-6pm: Milwaukie's 1st Annual Juneteenth Celebration
The Black community of Milwaukie is holding its first annual Juneteenth Celebration on Saturday, June 19th at Milwaukie Bay Park. There will be speakers, spoken-word performers, vendors, music, and food trucks. All this to commemorate the delayed freedom of many, celebrate the freedoms we enjoy today, and the continued fight for equity.
Location: Milwaukie Riverfront Park
Wednesday, June 23, 5pm: From #StopAsianHate to Cross-Racial Solidarity: Tributes & Lessons
Join Rashida Tlaib, Danny Glover, and Maya Soetoro-Ng for a conversation on how we combat anti-Asian racism.
The national wave of anti-Asian violence and attacks has sparked an upsurge in activism and critical conversations about cross-racial solidarity. Join us as we discuss these issues in tribute to James and Grace Lee Boggs on the anniversary of the death of Vincent Chin.
Sunday, June 27, 11am-5pm: Pride Beaverton 2021
Come to safely celebrate Beaverton's LGBTQA Pride! Wear you mask and come on down to Downtown Beaverton (in front of the library and the where the Beaverton's Farmer's Market is!)
Sir Cupcake's Queer Circus is doing three performance (get FREE tickets on www.pridebeaverton.org/entertainment) and Poison Waters is going to emcee the day!
There will be food carts, shopping, beer, art, mermaids, a DJ, treats and more!
Location: Beaverton City Library, 12375 SW 5th St. Beaverton
Tuesday, June 29, 1:30-2:30pm: Redistricting 101
Join We Draw Oregon for this online training Redistricting 101: Train the Trainer. Register today to learn more about the redistricting process in Oregon and how you can be involved!
The 12th of Every Month: Monthly Keaton Otis Vigils 2021
UPDATE: We will host the monthly vigils online until it is safe to meet in person again. If you would like log-in information, please message this page or Justice For Keaton Otis here on Facebook.
Keaton Otis was a young Black man murdered by the Portland police over six years ago, May 12, 2010. The police admitted they stopped him for "looking like a gangster". They shot him 23 times after tazing him twice while he sat in the driver's seat. Later police said Keaton had a gun, but have yet to produce it.
Keaton's father Fred Bryant started the monthly vigil on the 12 of the month after his son's murder on the spot where Keaton's life was taken. Fred Bryant did this for over three years, fighting for justice for his son, every single month in the rain, the dark, the heat, the snow. Fred Bryant passed away October 29, 2013.
His family and community have committed to continuing the vigils every month on the 12th, until justice is achieved for Keaton, for Fred, for our whole community. Please join that struggle this month and help to spread the word. https://justiceforkeatonotis.wordpress.com/
---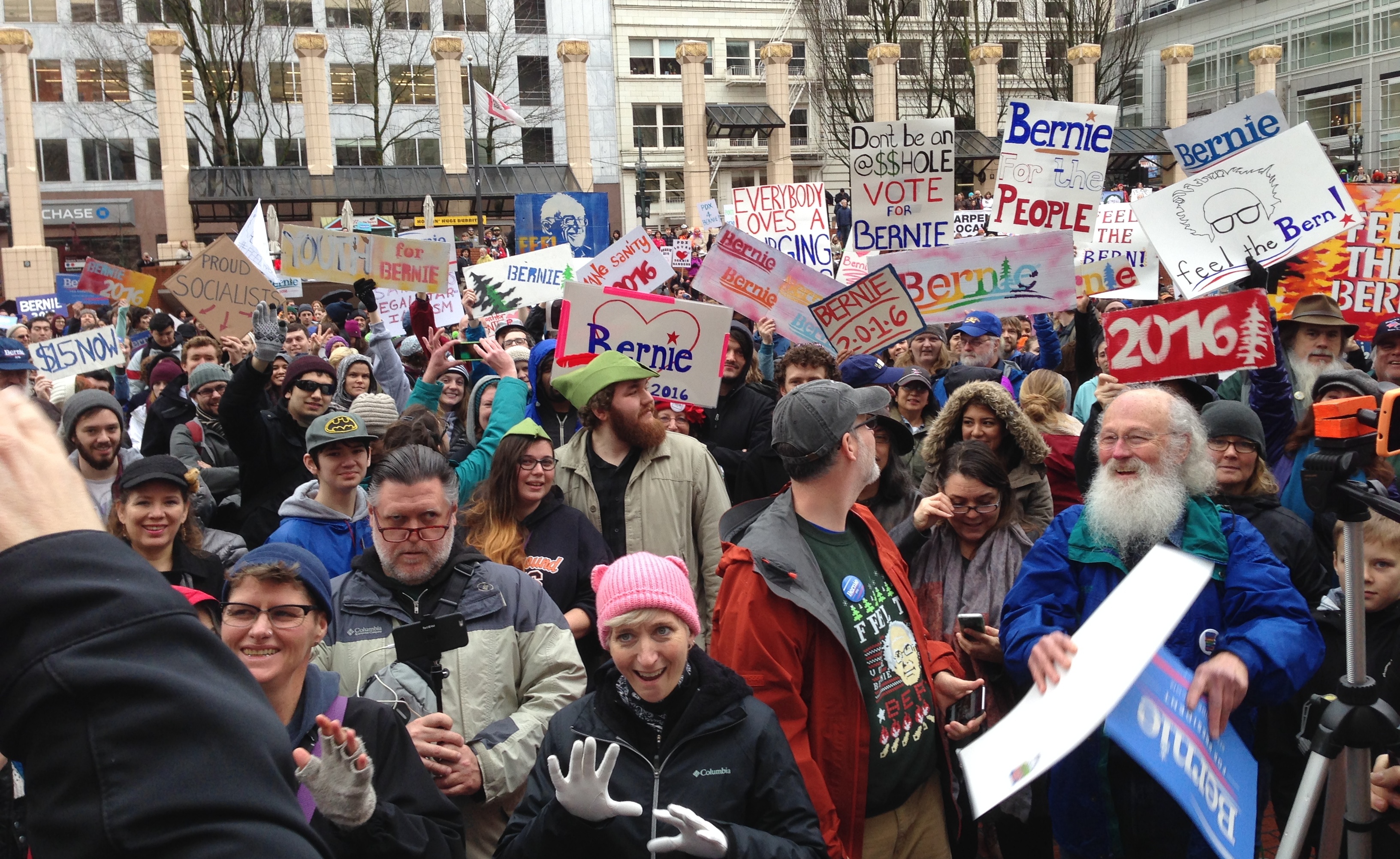 March for Bernie Rally, January 23, 2016