We recommend clicking the links for updates on time, location, or any other changes.
Events
THURSDAY, SEPT. 29, 12PM: Restoring the River: What a New Superfund Site on the Columbia Means for Public Health and Clean Water
Join Columbia Riverkeeper for "Restoring the River: What a New Superfund Site on the Columbia Means for Public Health and Clean Water," a thought-provoking webinar featuring experts from Yakama Nation, the U.S. Environmental Protection Agency (EPA), and the US Army Corps of Engineers.
Fish caught upstream of Bonneville Dam near Bradford Island contain some of the highest levels of toxic pollution in the Pacific Northwest. Finally, after years of community engagement and hard work in solidarity with Yakama Nation, EPA listed Bradford Island as a Superfund site. The cleanup of this forgotten toxic waste dump now has major momentum! This listing creates the opportunity for additional funding, increased Tribal government and public input, and stronger controls to reduce the threats to public health and the environment.
TUESDAY, OCT. 4, 7-9PM: Socialist Job Fair
GET A JOB: Organizing with Socialists!
*Sick and tired of your current employment / under-employment / unemployment?
*Alienated and alone at work, without a socialist in sight?
*Get a job organizing with other socialists!
*Do political work on the job, not just in the evening and on weekends!
*Build working class power where we have the most leverage (the strike weapon) against the capitalists – at work !
Location: TBA
SUNDAY, OCT. 9, 11AM-3PM: Indigenous Peoples' Day Celebration
Immerse yourself in Indigenous Peoples' Day. There will be food, music, storytelling, and vendors. Stay tuned for more details!
Location: Environmental Learning Center at Clackamas Community College, 19600 Molalla Ave, Oregon City
MONDAY, OCT. 10, 5:30PM: Rally Against Bullying – Support Healthcare Workers
Join us on October 10th at the PeaceHealth SouthWest Medical Center in Vancouver, Washington at 5:30pm to stand up against bullying of workers at PeaceHealth Southwest. Many of the rank-and-file workers who make our hospital run have complained over bullying workplace conditions, which some say has pushed them out of their jobs and have created an untenable situation. We believe that fairness, equality, and care is essential not only to creating just workplaces, but also to building an equitable healthcare system.
Location: Various locations
Volunteer for Our Endorsed Campaigns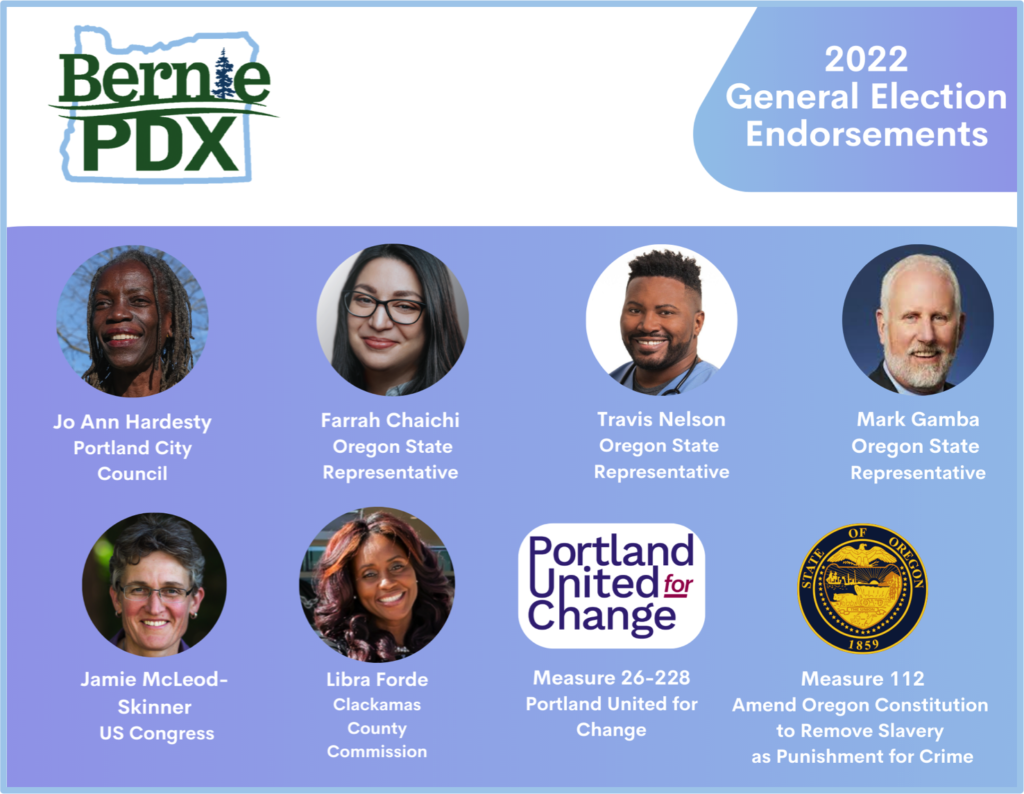 JO ANN HARDESTY for City Council: Phonebank, Text, or Canvass
Jo Ann received the most primary votes and is now in a run-off election this November! She has spent her career working to make Portland a better, more equitable place. As City Commissioner, she created the groundbreaking Portland Street Response to help Portlanders in crisis and reduce instances of police violence. Jo Ann championed local jobs and the environment when she helped pass the Portland Clean Energy Initiative. She was also a vocal supporter of the Honest Elections campaign finance reforms.
Big business is spending tons of money to prop up Jo Ann's opponent. But we know that people power can beat big money – join us to volunteer for Jo Ann today! The future of our city is at stake.
JAMIE McLEOD-SKINNER for CD-5: Phonebank, Canvass, Table, and More
Jamie McLeod-Skinner brings a background of leadership and public service with progressive values to her run for the newly redrawn 5th Congressional District. She is committed to working to achieve our shared goals of universal healthcare, improving the social safety net, campaign finance reform, addressing the needs of working families, and co-sponsoring legislation to tackle the climate crisis.
LIBRA FORDE for Clackamas County: Write Postcards, Phonebank, Flyer, or Canvass
Libra's priorities for Clackamas County include ensuring a better future for the next generation; creating a more inclusive county commission that better serves the needs of its constituents; taking care of those who have taken care of us; and increasing accountability on the Commission. Additionally, Libra is the first woman of color to run for this office.
MARK GAMBA for HD-41: Phonebank, Canvass, Text, Data Entry & More
Mark is the Mayor of Milwaukie and a longtime Bernie supporter. His priority issue is climate change and he is a strong advocate for policies to reduce global warming. Mark's other top priorities are housing, healthcare, racial justice, campaign finance reform, and tax equity. We are excited for Mark to represent our values at the state level.
FARRAH CHAICHI for HD-35: Phonebank, Canvass, or Flyer
Farrah Chaichi aims to use state policy to meet the critical needs of Oregonians including housing, healthcare, and having a healthy planet on which to live. To that end, Farrah supports Right to Rest, Single-Payer healthcare, and taxing big polluters to pay for green infrastructure projects.
TRAVIS NELSON for HD-44: Phonebank, Canvass, & More
As a nurse, Travis has seen firsthand the harm caused by our current healthcare system. He believes that healthcare is a human right, and he will work to ensure that everyone in Oregon has good, quality healthcare. Travis's other priorities include climate and the environment, housing, equity, and education for working people. It's clear that Travis will be a great representative for the people of Portland.
PORTLAND UNITED FOR CHANGE – MEASURE 26-228: Phonebank, Canvass, Text, Flyer & More
BerniePDX endorses Portland United for Change – Measure 26-228, which was referred to the voters by the Portland Charter Review Commission. Measure 26-228 will:
– Create City Council districts so that City Hall will reflect, and be accountable to, our communities.
– Institute a ranked choice voting method.
– End the commission system form of government so our City Councilors will prioritize the people, not their assigned bureaus.
EVICTION REPRESENTATION FOR ALL (May 2023 Ballot): Sign the Petition to help ERA qualify for the ballot & Volunteer
BerniePDX endorses Eviction Representation for All Multnomah County, because every tenant deserves quality representation in court!
---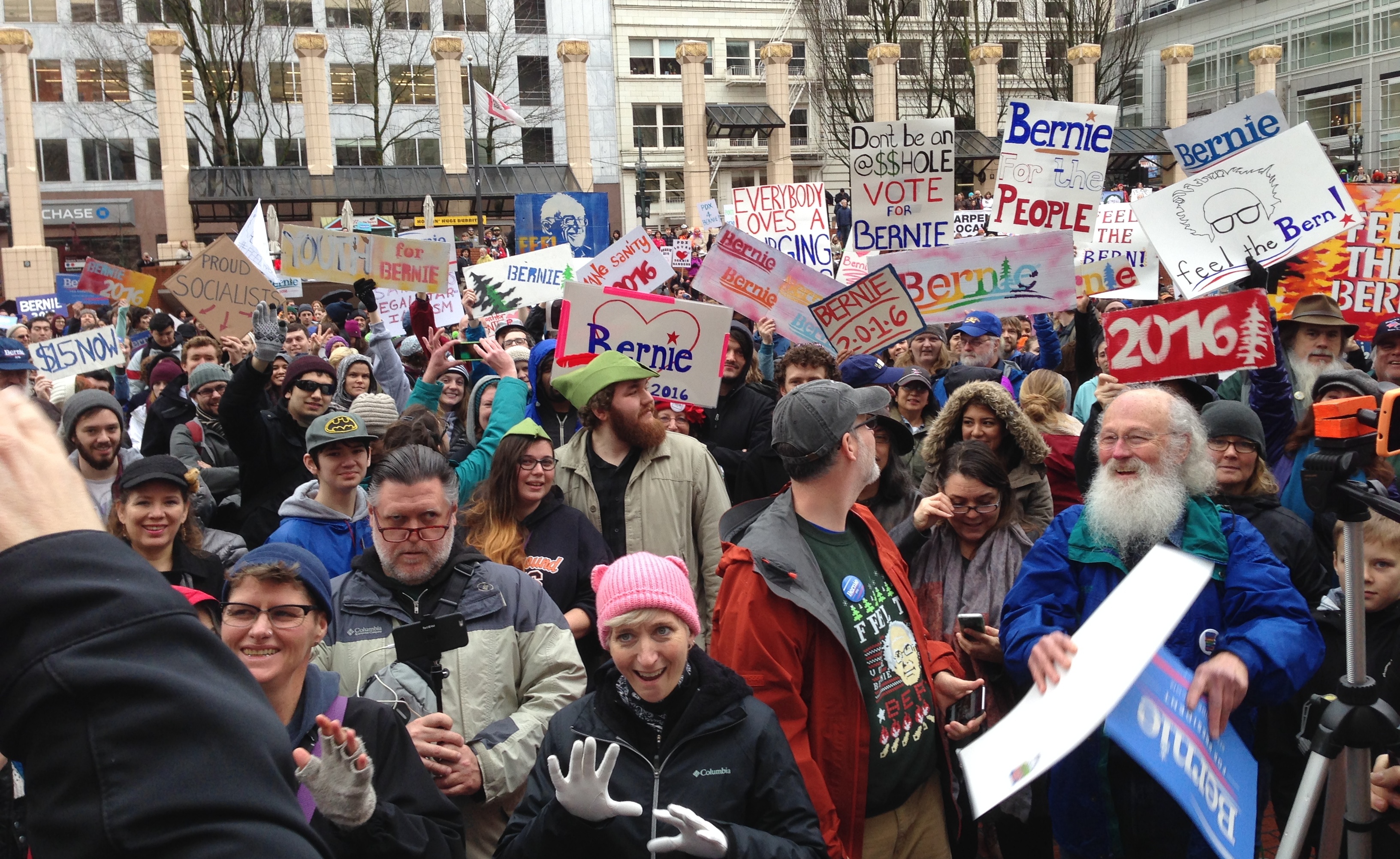 March for Bernie Rally, January 23, 2016