We recommend clicking the links for updates on time, location, or any other changes.  
Endorsed Candidate's Events
Support students and teachers at Portland Community College by helping elect BerniePDX candidate Serin Bussell to the PCC Board!
Serin will view all policy through a social justice lens. She envisions a PCC that has affordable tuition; provides healthcare for all students, faculty, and staff; and works to end housing and food insecurity among students. Serin's existing relationships with labor unions and elected officials will help her achieve these goals and make her a great advocate for teachers and students at PCC.
Upcoming Events
Join us to listen to messages of hope and action from Asian, Asian American and Asian Pacific Islanders. Elected officials will also take part in this event, kicking off a year-long campaign to draw attention, create conversations and to bring actions in response to the recent rise in hate crimes against Asians.
In the light of the recent update of Multnomah County's COVID risk level, this event will be held as an online event. The organizers encourage the public to watch the live streaming program at 11:30 a.m. on May 8 and participate in their #IAMAAPI campaign on social media. Oregon Congressman Earl Blumenauer, Portland Mayor Ted Wheeler and Multnomah County Commissioners Susheela Jayapal and Lori Stegmann are confirmed to speak at the event.
Together we stand in solidarity in support of our Asian neighbors and proclaim that we will not tolerate hate against our Asian neighbors.
This event, sponsored by more than 60 Portland organizations, is part of the Rise Against Hate campaign aimed at focusing attention on the rise in hate violence against the Asian American community.
Watch on Facebook @riseagainsthateor, Instagram @RiseAgainstHateOR or Twitter @AgainstHateOR.


The 11 year memorial for Keaton Otis, a young Black man murdered by Portland police, will be held virtually May 12, 2021, 6 pm PT.
The memorial will be live-streamed on Facebook at the Justice for Keaton Otis account.
www.facebook.com/JusticeForKeatonOtis
Program will include music, community members and leaders. We encourage folks to participate by sharing notes for Keaton and his father Fred in the comments at the event, which we will share at the end of the memorial.
ASL interpretation will be provided.
#JusticeforKeatonOtis
#BlackLivesMatter
———-
Build an Altar for Keaton
We are asking for people to participate by building an altar or art or a sign and sharing a picture of your creation using the hashtag #JusticeForKeatonOtis, so we can bring this memorial and sacred space into folks' homes.
———–
https://justiceforkeatonotis.wordpress.com
Keaton Otis was a young Black man killed by Portland police May 12, 2010. Every month since his murder a vigil has been held at the spot he died. Started by his father Fred Bryant in his mission to get justice for his son, the community continues to this day the vigils after Fred passed away in 2013.
Join us for a conversation about the global struggle for abortion rights featuring lessons from Argentina and Ireland. In recent years, global movements for abortion rights have made incredible breakthroughs. In late 2020, feminists in Argentina won their decades-long fight to legalize abortion. In 2018, Ireland's victorious movement to repeal the 8th amendment led to a historic referendum vote that marked an enormous shift in public support for safe, legal abortion.
In the decades following the landmark 1973 Roe V. Wade decision, the abortion rights movement in the United States has endured a wave of setbacks and sustained conservative backlash. Following years of clinic closures and restrictive state laws, an estimated 11 million people seeking abortion in the US now live more than one hour's drive from an abortion clinic. Abortion activists fear that the political landscape is heading toward a "post-Roe America".
What lessons can we learn from the global struggle to inspire us to build a fighting movement in the U.S. to defend Roe and assure abortion access to all who need one?
Gather with worker and community activists from across the state to exchange experiences, learn the secrets of successful organizing, and discuss proven strategies for standing up to your boss.
Workshops and Presentations:
Race and Labor
How to Organize a Winning Strike
Building an Inclusive Union:
Challenging Sexism and
Homophobia on the Job
Bargaining for the Common Good
Assertive Grievance Handling
Secrets of Successful Organizers
…and lots more!
Fri May 14: 5-7pm
Sat May 15: 10-3pm
Sun May 16: 10-3pm
Register: labornotes.org/oregonvirtualTMS
Questions? Call 971-998-7340
Email labornotespdx@gmail.com
Fee: $10 nobody turned away for lack of funds
JOIN US FOR ANOTHER KID-CENTERED MARCH FOR BLACK LIVES! Sunday 4/16 we'll gather with masks and social distancing at Sunnyside School Park.
We will have the honor of welcoming back Habiba Addo to share stories with us. Habiba is a native of Ghana, West Africa. She holds a degree in Theater and a Certificate of Dance from Portland State University. She has performed and taught in the United States and internationally for over fifteen years. She teaches and performs dance, rhythm and stories from Ghana, Guinea, Gambia and Senegal. She also shares the rich African cultures present today in Cuba and Brazil.
A guest teacher and performer for Portland Public Schools for over fifteen years, Habiba has also performed and taught the community in dance, storytelling and theater through organizations such as Young Audiences, White Bird, Oregon Ballet Theater, Interstate Firehouse Cultural Center, Tygres Heart Shakespeare Company, Mambo Queens, Northwest Afrikan American Ballet, Montessori Schools, Cedarwood Woldorf School, Oregon Episcopal School, Miracle Theater, Milagro Bailadores and Portland State University's World Dance Office. She is a recipient of the Lila Jewel award (2000), an Arts Alive grant (2000) and multiple technical assistant grants from Regional Arts and Culture Council (1998, 2002 and 2012).
Then we MARCH! Bring your masks, signs and chants!
Location: Sunnyside School Park, 3421 SE Salmon St.
FINALLY GOT THE NEWS is a forceful, unique documentary that reveals the activities of the League of Revolutionary Black Workers inside and outside the auto factories of Detroit. Through interviews with the members of the movement, footage shot in auto plants, and footage of leafletting and picketing actions, the film documents their efforts to build an independent black labor organization that, unlike the UAW, will respond to worker's problems, such as the assembly line speed-up and inadequate wages faced by both black and white workers in the industry. Beginning with a historical montage, from the early days of slavery through the subsequent growth and organization of the working class, FINALLY GOT THE NEWS focuses on the crucial role played by the Black worker in the American economy.
Today we will remember the lives of those we loved and lost due to police brutality and state sanctioned/sponsored violence. We will light candles, say a prayer for the dead and renew our commitment to fight for the living and the dead in receiving justice. Please only attend if well and wear a mask.
Location: Lone Fir Cemetery, SE Stark & 26th
---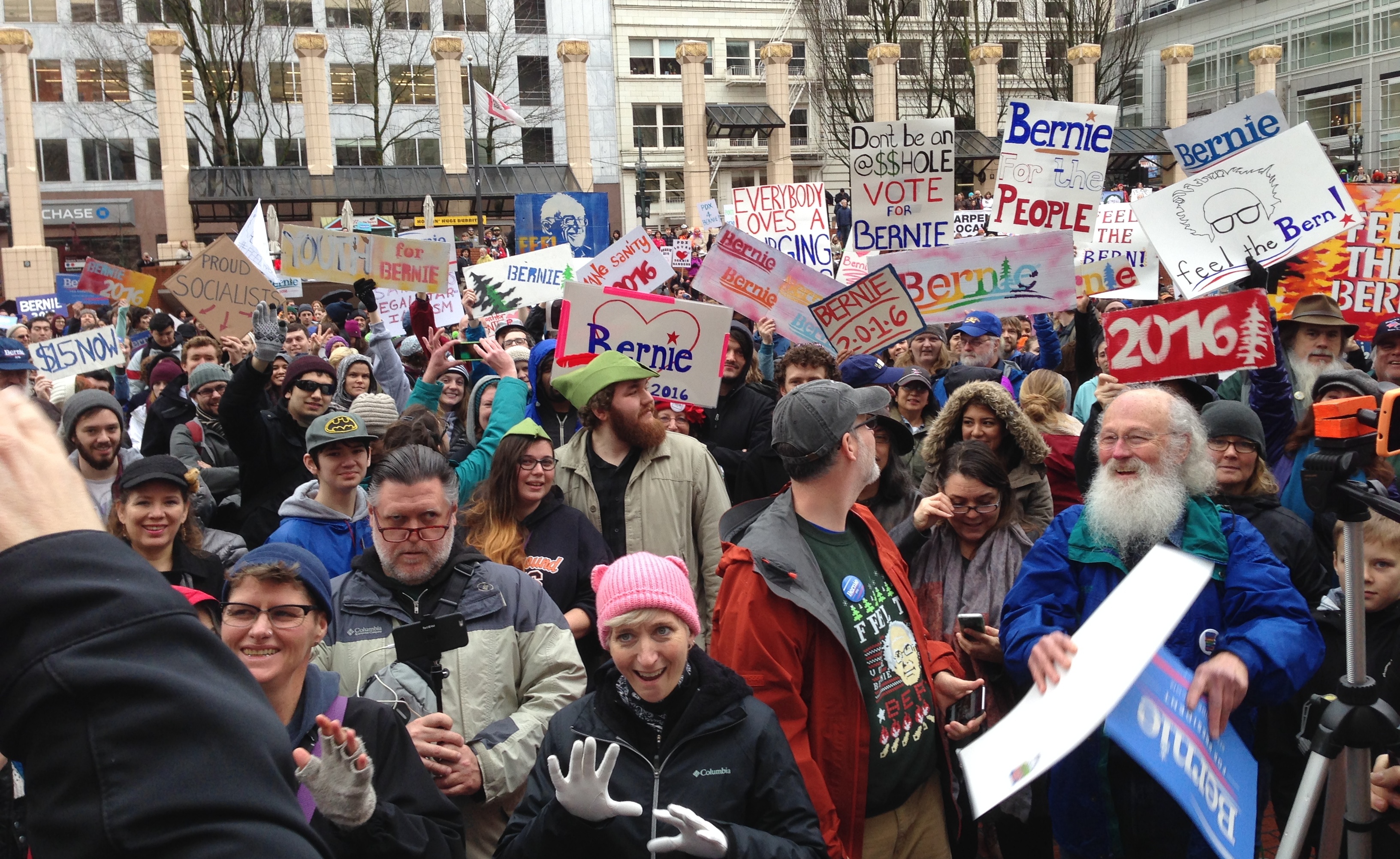 March for Bernie Rally, January 23, 2016