We recommend clicking the links for updates on time, location, or any other changes.  
Upcoming Events
Friday, Oct. 22, 5pm: PNHP Annual Meeting: Moving Mountains for Medicare for All
PNHP members from across the country will gather online for two days of speakers, panel discussions, policy updates, single-payer strategizing, and opportunities to confer with like-minded colleagues.
We will also host a week's worth of skill-building sessions (evenings) and pre-recorded workshops on timely subjects related to health care justice (midday) leading up to the live sessions.
Saturday, Oct. 23, 11am: Rally for Trans Existence
Rally For Trans Existence, Inclusive of all Identities. Saturday October 23rd, Colonel Summers Park, Rally at 11:00 am. Food and Water provided by mutual aid groups, ASL interpreting provided by Fingers Crossed.
For the second year in a row over 100 anti-trans bills have been proposed, legalizing discrimination against trans people of all identities. 40 states are trying to take away our rights, come learn more and join the fight for trans existence.
The march will not be permitted, plan accordingly. Wear a mask. We Keep Us Safe
Location: Colonel Summers Park, SE 20th & Taylor
Sunday, Oct. 24, 4pm: Sunrise PDX Political Empowerment Training Series
Training 1, Oct. 10 at 4pm: Grounding in Local Politics
Training 2, Oct. 17 at 4pm: Political Structures and Who's Who
Training 3, Oct. 24 at 4pm: Power Mapping and how to Get Involved
Friday, Oct. 22, 7-9pm: Portland Rising Movie Night – Cooked: Survival by Zip Code
Please join us for an online showing of the movie Cooked, Survival by Zip Code and the discussion to follow. This timely and powerful documentary challenges our use of the term "natural" disaster and demonstrates how, by ignoring racism and poverty, we fail to properly prepare for future disasters.
In COOKED: Survival by Zip Code, Peabody Award-winning filmmaker Judith Helfand uses her signature serious-yet-quirky connect-the-dots style to take audiences from the deadly 1995 Chicago heat wave — in which 739 mostly black, elderly, and poor Chicagoans died during the course of one week — deep into one of our nation's biggest growth industries: disaster preparedness. Along the way, Helfand forges inextricable links between extreme weather, extreme disparity, and extreme racism, daring to ask: what if a zip code was just a routing number and not a life-or-death sentence?
To join us for some serious movie-night fun request a movie night zoom link by emailing: portlandrisingprograms@gmail.com.
Saturdays Oct. 30, 11/20, 12/4, 12/18, 11:00am-1:00pm: Skilling Up for Climate Action with 350
This fall five FREE online 2 hour training's to skill up members across the 350 group network to ground us in shared principles and empower them to take action. The training's leverage our network skills and encourage peer learning and building bonds.
Many new volunteers are stepping up to take action, and these training's will help jump start your activism skills, stimulate your thinking, and create stronger connections with peers across the country.
All members/supporters of 350 affiliates in North America are welcome! Recordings and materials will be available. Delivered by experienced trainers from local 350 groups in collaboration with 350.org's training department.
All training's are SATURDAYS 11:00 am – 1:00 pm PT // 2:00 – 4:00 pm ET
1. October 16th, 2021 – CLIMATE JUSTICE
2. October 30th, 2021 – STRATEGIC MESSAGING
3. November 20th, 2021 – ORGANIZING and MOVEMENT BUILDING
4. December 4th, 2021 – STRATEGIC CAMPAIGNING
5. December 18th, 2021 – POLICY ADVOCACY
More info, details, and resources will be on our flyer. Copy & Paste this short link to view the flyer: https://bit.ly/350-training-F2021
The 12th of Every Month: Monthly Keaton Otis Vigils 2021
UPDATE: We will host the monthly vigils online until it is safe to meet in person again. If you would like log-in information, please message this page or Justice For Keaton Otis here on Facebook.
Keaton Otis was a young Black man murdered by the Portland police over six years ago, May 12, 2010. The police admitted they stopped him for "looking like a gangster". They shot him 23 times after tazing him twice while he sat in the driver's seat. Later police said Keaton had a gun, but have yet to produce it.
Keaton's father Fred Bryant started the monthly vigil on the 12 of the month after his son's murder on the spot where Keaton's life was taken. Fred Bryant did this for over three years, fighting for justice for his son, every single month in the rain, the dark, the heat, the snow. Fred Bryant passed away October 29, 2013.
His family and community have committed to continuing the vigils every month on the 12th, until justice is achieved for Keaton, for Fred, for our whole community. Please join that struggle this month and help to spread the word. https://justiceforkeatonotis.wordpress.com/
---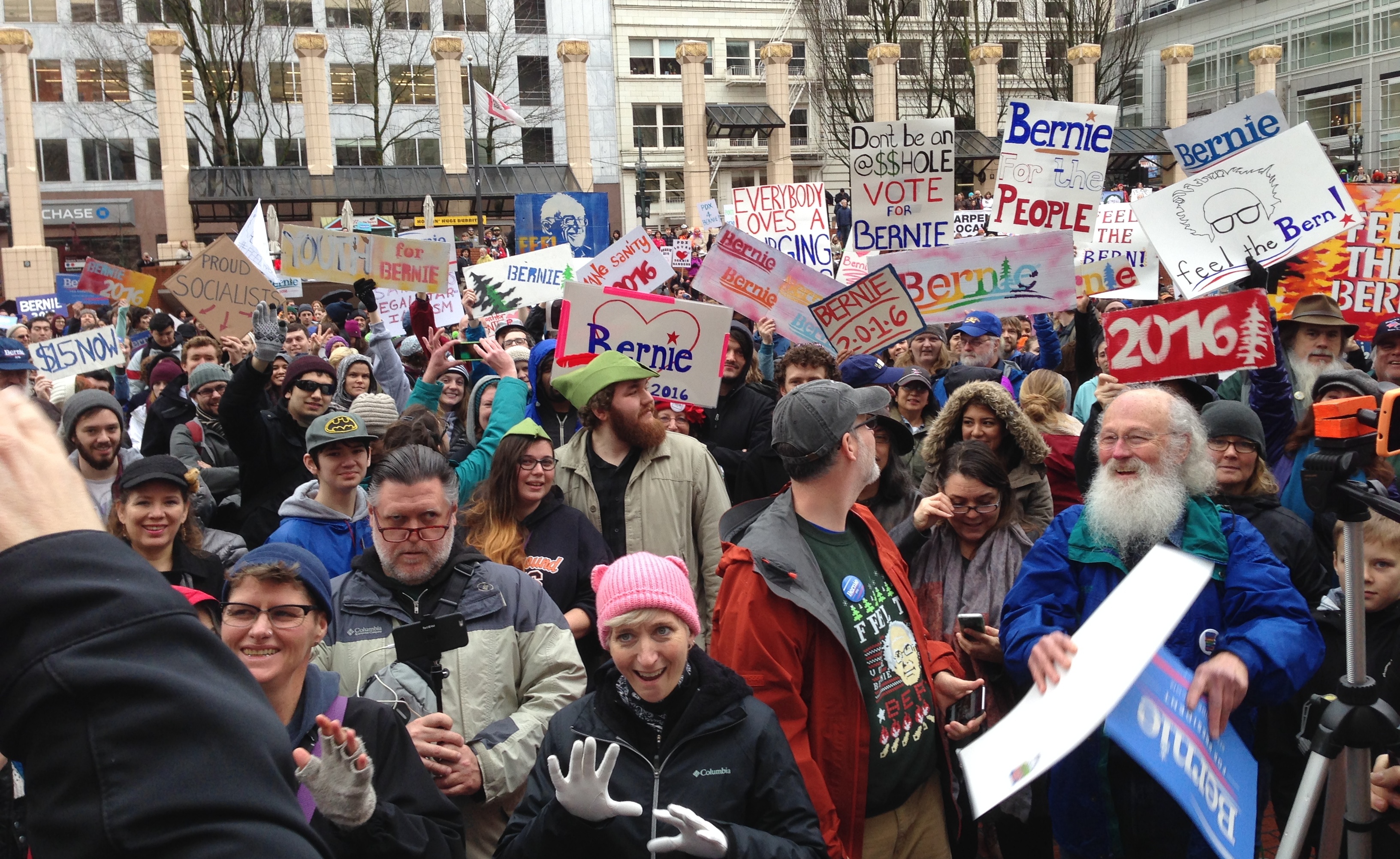 March for Bernie Rally, January 23, 2016