We recommend clicking the links for updates on time, location, or any other changes.
TUESDAY, MAY 23, 5:15-6:15PM: Rally to Fund Our Schools
Portland Association of Teachers, in coalition with community, is fighting for smaller class sizes, increased mental health services and needed supports for students & living wages for educators! Join teachers for a rally to fully fund our schools!
Location: 501 N. Dixon
TUESDAY, MAY 23, 6PM: Rumble on the River: What's Up with Zenith Energy & the CEI Hub in Portland?
A coalition of nearly 30 neighborhood, river and climate advocacy organizations sponsor this series of free forums to increase public awareness of the safety, health and seismic risks associated with the Critical Energy Infrastructure (CEI) Hub and Zenith Energy. Each forum is different in its approach to examining the 6-mile stretch of aging tank farms that line the North Reach of the Willamette River within a seismic liquefaction zone.
In addition to the existing and potential harms of the CEI Hub, the panelists will also discuss the City's recent and unexpected approval of the Land Use Compatibility Statement for Zenith Energy, which lies within the Hub.
The CEI Hub is a six-mile stretch of old tank farms, located in NW Portland along the Willamette River just upstream from its convergence with the Columbia River. The CEI Hub holds more than 90% of all liquid fuel in Oregon. Located within the CEI Hub is Zenith Energy, the source of dangerous oil trains plowing through our communities.
Location: First Unitarian Portland (1211 SW Main St.) in the Buchan Room
WEDNESDAY, MAY 24, 11AM: No Transit Fare Increase Rally & March
The TriMet Board of Directors is voting on a fare increase proposal on May 24th. If approved, adult fares will be increased by 30 cents and honored citizen and youth pass fares will increase by 15 cents. This increase will actively harm our community and will disproportionately impact transit-dependent people, low-income folks, communities of color, youth and those with disabilities. Join OPAL and Bus Riders Unite for a gathering and march to the meeting on the day of the vote!
When: Wed, May 24th at 11am. Gather for food, refreshments, signs, tshirts, speakers. By noon, we walk to the Board meeting.
Location: Meet at Waterfront Park across Naito Pkwy from the U of O building. Entrance to the board meeting is on Couch street on the N side of the building.
WEDNESDAY, MAY 24, 6PM: This is What Democracy Looks Like Film Screening
Join the Pacific NW People Over Profits Coalition for a film screening about the impacts of free trade on workers around the world! 
Film: This is What Democracy Looks Like (2000)
When: Wednesday, May 24 at 6pm PT
Where: Location upon RSVP (Seattle, Portland, Zoom)
Food will be provided for in-person events
About the film:
Recorded by over 100 media activists, this film tells the story of the enormous street protests in Seattle, Washington in November 1999, against the World Trade Organization summit. Vowing to oppose—among other faults—the WTO's power to arbitrarily overrule nations' environmental, social and labor policies in favor of unbridled corporate greed, thousands of people from all around the United States came out in force to stop the summit.
Guest speaker:
David Schop is a retired Machinist and veteran. He joined the US Army to organize against the Vietnam War and racism. When he got out of the Army, he began working at Boeing in order to organize there. As a marshal at the anti-WTO demonstrations in 1999, he struggled with friends and comrades to expand workers' perspectives and actions beyond just trade union politics and reform ideology.
RSVP for location and/or Zoom link
FRIDAY, MAY 26, 7PM: The Killing Floor – Film Discussion
Join us Friday, May 26, at 7 pm for an online discussion of the film The Killing Floor. The Village Voice called it the most "clear-eyed account of union organizing on film." The film is longer than our usual fare, so we are asking people to watch it on their own when convenient and then join us for the discussion on May 26.
The Killing Floor explores the struggle of Southern black migrants and European immigrants to build an interracial labor union in the Chicago Stockyards. The film is based on an original story by producer Elsa Rassbach and draws on actual characters and events, tracing the ethnic and class conflicts seething in the city's giant slaughterhouses, intensified by management efforts to use racial tensions to divide the workforce, that erupted in the deadly Chicago Race Riot of 1919. Rassbach did extensive research on Chicago's labor history and asked for and received financial support from dozens of unions. The film's ending credits include a long list of the locals that contributed. (118 minutes)
The film can be viewed without cost using KANOPY, an on-demand film streaming service available for free to library card holders. So, get your library card, sign up for KANOPY, and watch the film. If you have questions about using KANOPY, write Portland Rising steering committee member Betsy Zucker at betsyzucker@gmail.com. The film can also be seen on several streaming platforms—Amazon, iTunes, Google Play Movies & TV, and Vudu—for under $3. So, watch the film, and then join us on zoom to talk about it on May 26, at 7 pm.
Get the zoom link by emailing: portlandrisingprograms@gmail.com
THURSDAY, JUNE 8, 12-2PM: State Workers Rally at the State Capitol
Join members of SEIU Local 503 at the State Capitol to rally on June 8th to fight for real wage increases, workplace safety, manageable workloads, and to end the state workforce crisis!
State workers are the over 22,000 workers who make Oregon a better place to live and work. DHS workers provide direct services to over one million Oregonians each year. ODOT workers put in long hours to ensure safe roads and infrastructure. Parks workers keep our state parks beautiful and accessible, and much more.
Location: Oregon State Capitol, 900 Court St. NE, Salem
---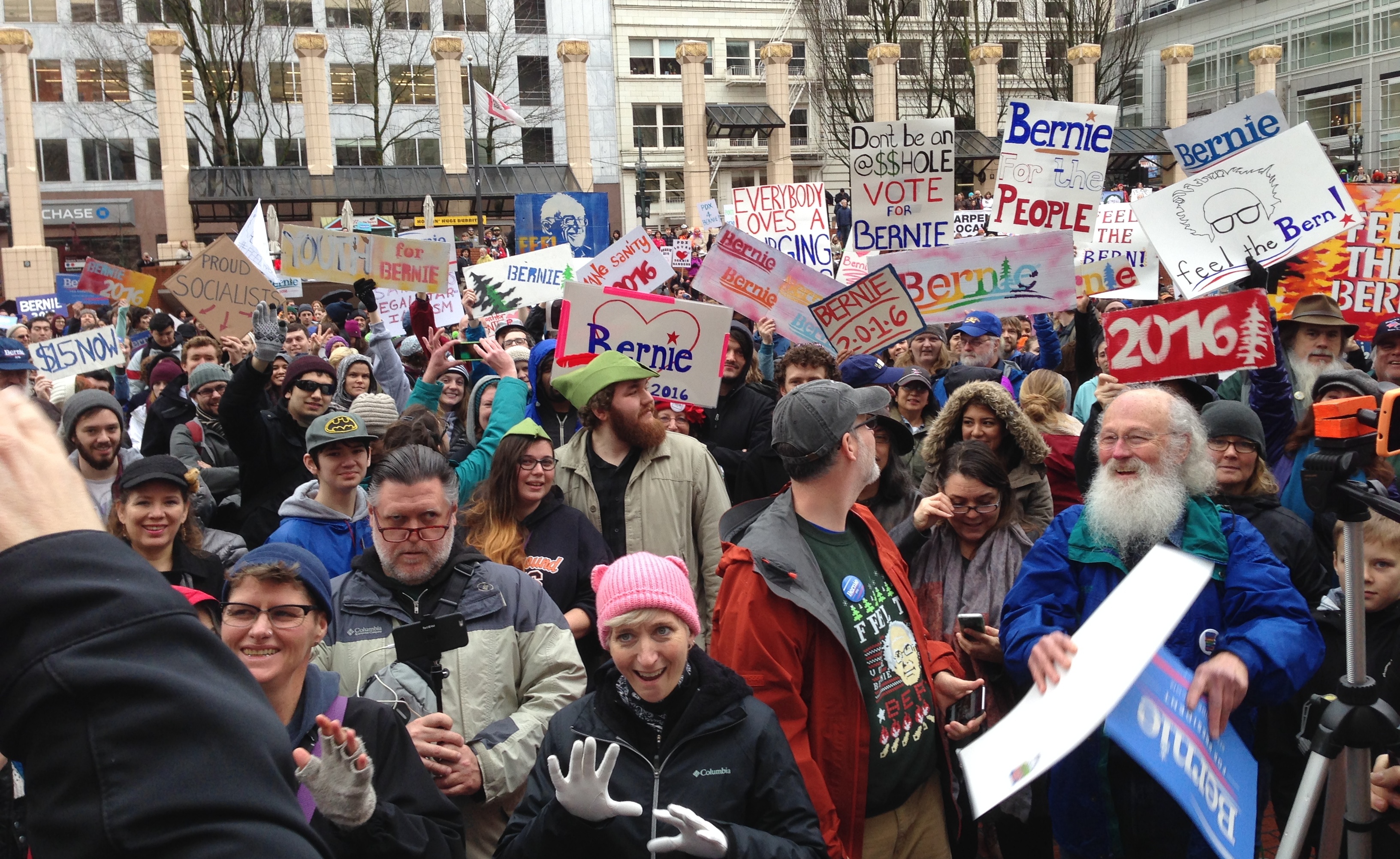 March for Bernie Rally, January 23, 2016