We recommend clicking the links for updates on time, location, or any other changes.

Thursday, May 19, 9:15-10:30am: Multnomah County Resolution on Healthcare as a Human Right
The Multnomah County Commissioners are poised to pass a resolution in support of universal publicly funded health care, both state-based and national. There will be a hearing at the County Building at 501 SE Hawthorne at 9:45 AM on Thurs., May 19. It will be a short hearing, with a handful of speakers. It would be GREAT to have a good showing of red-shirted single payer supporters.
Location: 501 SE Hawthorne Blvd.
Friday, May 20, 11am: Portland Climate Strike & March
Join Portland Youth Climate Strike on May 20 at 11 am for a citywide, intergenerational climate strike. We will be meeting at Portland City Hall where we'll announce our demands and ask our elected officials to sign a climate pledge, and then at 12, we will start our march. At 2 we'll end our march at Revolution Hall where we'll join the Portland Climate Festival!
Along the march route, we will stop at NW Natural and the Portland Business Alliance to call out the climate villains in our city who our hurting our environment and climate. For more on the festival that follows, see here: https://fb.me/e/1Zxvac4hL
Location: Portland City Hall, 1221 SW 4th Ave.
Friday, May 20, 2-8pm: Portland Climate Festival
Immediately following the Portland Climate Strike rally (11:00 a.m.) and march (Noon) from Portland City Hall to Revolution Hall, Celebrate the climate that sustains us and the movement to sustain our climate at this free/all ages festival. Connect with individuals, organizations, and collectives that are creating and demanding climate solutions! Find your place in the climate movement!
With live performances by Marisa Anderson, Rebel Wise (featuring Mic Crenshaw and Quincy Davis), Anis Mojgani, Teeth, MOsley WOtta, DJ Acidwash, Chainsaw Girl, The Apricots, Riyana/Daboi King, and more wonderful humans!
Location: Outside Revolution Hall, 12300 SE Stark St.
Saturday, May 21, 11am-1pm: Black to Nature: A Portland Walking Series Exploring Afro-Ecology
In 2018, Portland Black community members came together to develop an Afro-Ecology framework.
The term Afro-Ecology has two parts:
1) The first, "Afro" represents the diasporic cultures that stem from the continent of Africa and are currently living in the United States.
2) The second, "Ecology" is the study, or the process of knowing "eco" or home.
This walking series will highlight important aspects of what became the Afro-Ecology Framework, including community, spirituality, and justice. As we walk through Portland together, we will dive into where we have come from, who we are now, and who we will become. By acknowledging the past, present and future in this series, we will explore Portland's rich Black history at educational locations with visioning activities that empower us to create our future.
Our first event will start off at Third Eye Books, where you will have the opportunity to be gifted a book of your choice before walking as a group through SE Portland and ending up at the Multnomah County Library (Belmont Location), one of the few free spaces to exist in our society. This series will include thoughtful walking guides, stories of Black History that is not found in school books, a water ceremony, and more! Sign up for one or sign up for all – we can't wait to see you!
There will be five walks in the series – stay tuned about where the following walks will be held.
Location: 2518 SE 33rd Ave.
Monday, May 23, 10am: Webinar on How to Save Medicare: Turning Up the Heat on REACH and DCEs
For more than 50 years, seniors and adults with disabilities have relied on Traditional Medicare for their health care needs.
But today, our nation's most efficient and effective public health program is being handed over to Wall Street profiteers.
Here's how it works: The Medicare Direct Contracting program (which will be renamed "REACH" in 2023), pays third-party middleman called Direct Contracting Entities (DCEs) a flat fee to "manage" seniors' care. DCEs are allowed to keep up to 40% of their Medicare payments as overhead and profits — a major incentive to restrict care. Even worse, seniors are enrolled in DCEs without their knowledge or consent. Any type of company can be a DCE, including commercial insurers and private equity firms.
We have the power to stop Direct Contracting in its tracks, but we need everybody to join the fight.
On Monday, May 23 at 1pm Eastern, nearly 300 community and seniors groups will launch a national campaign to protect Medicare from Wall Street. This campaign event is free and open to all, but you must register in advance.
Invited speakers and organizations include: Rep. Pramila Jayapal, Rep. Mark Pocan, Rep. Jan Schakowsky, Physicians for a National Health Program, and many more.
Tuesday, May 24, 6pm: Final Portland Public Schools Board Budget Meeting – Attend to Support Teachers & Students
The proposed PPS budget includes cuts to teacher staffing for next school year. Tell PPS to Cut Class Sizes, Not Teachers! Can't make the meeting? Click here to send PPS Board members an email.
Class sizes are already too big, and our students pay the price. These staffing cuts will only worsen the problem. PPS needs to know that the community does not support their proposal.
If you would like to sign up for public comment, please send an email to PublicComment@pps.net or call the Board Office at 503-916-3741. For more information about public comment, please go to www.pps.net/Page/1790.
Location: 501 N Dixon St. Portland
Saturday-Sunday, June 18-19, 12-6pm: Portland Pride Waterfront Festival
The Portland Pride Waterfront Festival and Parade is back in person this year in downtown Portland! For more information on participating and attending this year's festivities please go to http://portlandpride.org
Weekends: Canvass for Eviction Representation for All
Eviction Representation for All is the tenant-led initiative to bring right to counsel to Multnomah County eviction court via a ballot measure in 2022. The idea is simple—free legal representation for all tenants in eviction court. Spread the word at Farmers Markets and other outdoor events this March.
Saturday, July 30, 12pm: Medicare for All Rally
Last summer's Medicare for All Rally had a great turnout, great energy and top-notch speakers and musical acts. We look forward to doing it again this summer!
Location: Shemanski Park, SW Salmon St, Portland
Volunteer for BerniePDX Candidates
JO ANN HARDESTY for City Council: Phonebank, Text, or Canvass
Jo Ann received the most primary votes and is now in a run-off election this November! She has spent her career working to make Portland a better, more equitable place. As City Commissioner, she created the groundbreaking Portland Street Response to help Portlanders in crisis and reduce instances of police violence. Jo Ann championed local jobs and the environment when she helped pass the Portland Clean Energy Initiative. She was also a vocal supporter of the Honest Elections campaign finance reforms.
Big business is spending tons of money to prop up Jo Ann's opponent. But we know that people power can beat big money – join us to volunteer for Jo Ann today! The future of our city is at stake.
---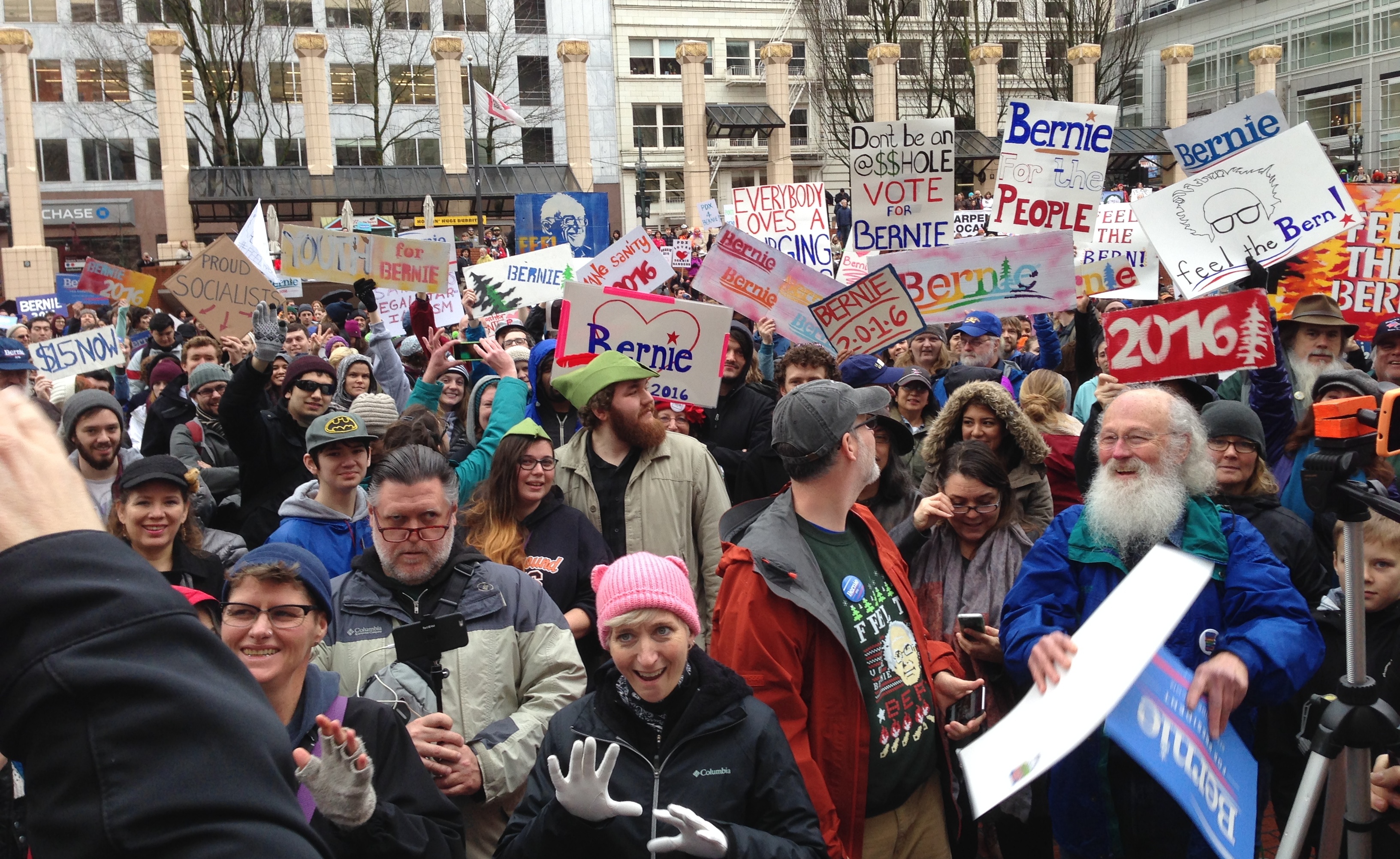 March for Bernie Rally, January 23, 2016