We recommend clicking the links for updates on time, location, or any other changes.
WEEKDAYS, 7:45-10:15am & 12:00-2pm: Portland Teachers on Strike – Join a Picket! 
Take action by texting SUPPORT to 48744 or sign up here for daily updates!
Join a picket line to support teachers at your nearest Portland Public School every weekday morning, 7:45-10:15am. A citywide rally will be held in a different location each day at 12pm – follow the Portland Association of Teachers (PAT) on social media for location info.  
The Portland Association of Teachers presented a proposal that would address unsafe conditions in neighborhood public schools including unsafe classroom temperatures, mold, and rodent infestations. It also would have set enforceable limits on class sizes, ensuring educators are able to meet the individual needs of their students.
PPS has refused to make progress on these and other critical student-centered proposals, continuing to use talking points about district management's manufactured budget crisis.
Teachers are striking to ensure the district meets our demands so that every Portland student can attend a great public school.
Location: Your nearest Portland Public School! Sign up for daily updates
THURSDAYS, Nov. 30, Dec. 7 & 14, 4-6PM: Secrets of a Successful Organizer – Labor Notes Workshop Series
These workshops are based on our widely acclaimed book Secrets of a Successful Organizer. These trainings will be held via Zoom.
Workshops topics include beating apathy among your coworkers, assembling your dream team, and turning an issue into a campaign. Cost: $15 for the whole series. Includes access to all workshops until space is filled. No one will be turned away due to lack of funds.
Friday, Dec. 1, 12-1pm: SEIU Classified Workers Rally at PSU
Classified workers have started contract negotiations with administration at the seven Oregon public universities. These workers keep students fed, facilities and infrastructure cleaned and maintained, and so much more.
Like so many other workers, classified staff are barely keeping up, choosing which bills to pay, and watching the value of their paychecks erode while the new PSU president is paid more than half-a-million dollars per year (plus a $96,000 yearly housing allowance).
Community members and other allies are encouraged to join SEIU 503 workers for a rally to demand a fair contract for the people who make PSU work.
Location: PSU Urban Plaza, 1819 SW 5th Ave.
Monday, Jan. 8, 12-1pm: Postal Protest – No Cuts, No Closures, Save the Service, Save Our Jobs
Postmaster General DeJoy's "Delivering for America" plan now includes consolidating letter carriers into massive Sorting and Delivery Center hubs, forcing long commutes and travel times while eliminating clerk, trucker and supervisor positions and reducing service or closing local post offices.
Evergreen Post Office (Beaverton) has been chosen to become a Sorting and Delivery Center in 2024, receiving hundreds of letter carriers, displaced from neighborhood post offices ("spokes") across Portland and Washington County. Salem, Eugene/Springfield, and Medford will also get massive S&DC hubs, displacing carriers from "spoke" offices.
We demand a community hearing, led by local elected officials, Senators and Congress people, with representatives of the US Postal Service, to answer our concerns and questions about this Sorting and Delivery Center – Spoke consolidation and it's impact on jobs and service. 
Location: East Portland Post Office, 1020 SE 7th Ave.
---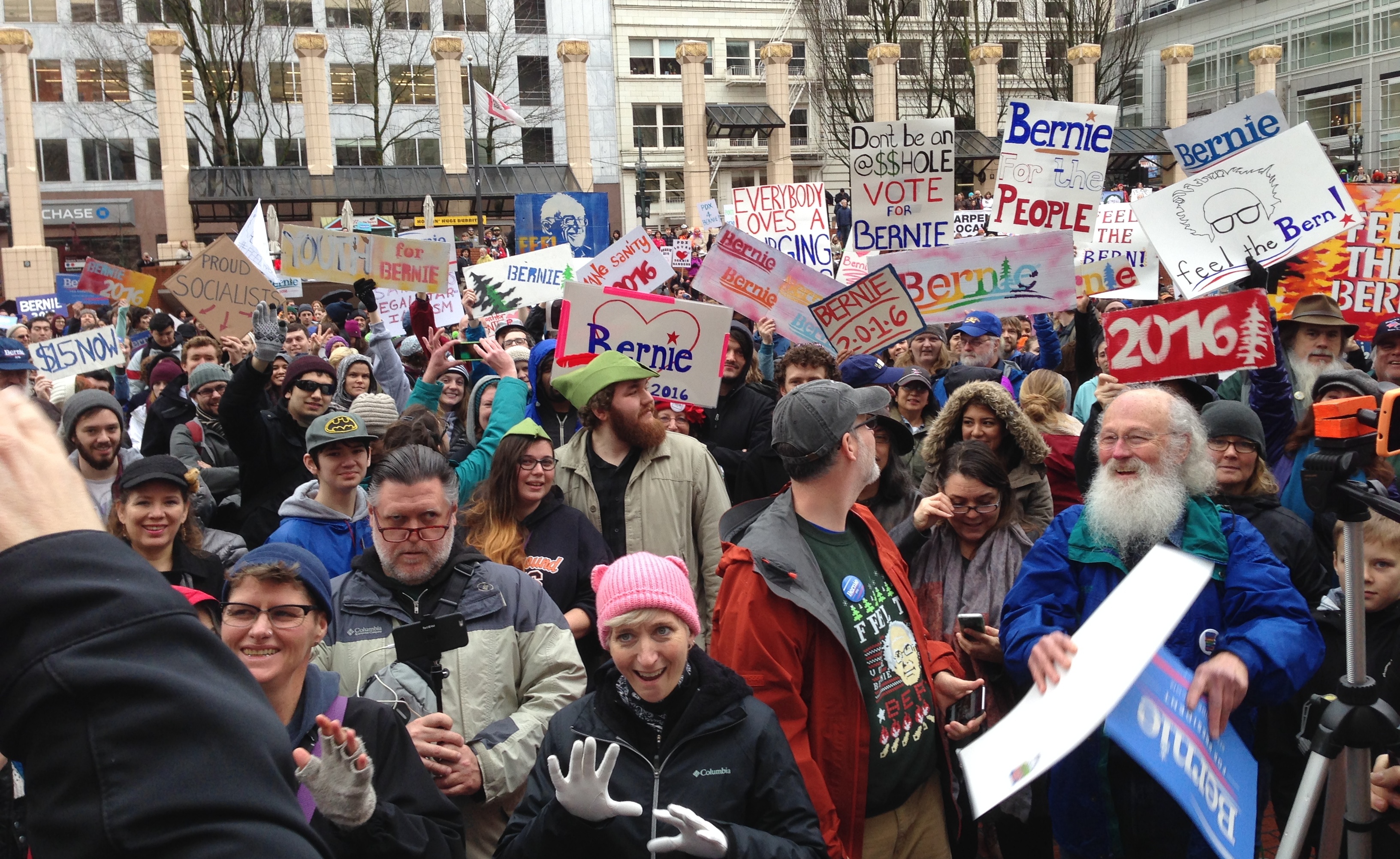 March for Bernie Rally, January 23, 2016