We recommend clicking the links for updates on time, location, or any other changes.
FRIDAY, JAN. 27, 7PM: Portland Rising Presents: Night-In at the Movies Film Discussion on PRIDE (2014)
JWJ's Portland Rising Committee is doing something different for our January film night. In the past we gathered on zoom to watch and discuss a film on the same night. This time, because our film, Pride, is longer than our usual fare, we are asking people to watch the film on their own when convenient and then join us on Friday, January 27, at 7 pm to discuss it.
Pride is a 2014 British comedy-drama based closely on a true story. The film takes place during Margaret Thatcher's neo-liberal rule over British society and is about a group of lesbian and gay activists who raise money to help struggling mining families during the national miners' strike of 1984. This heart-warming and heart-breaking story has much to teach about the challenges and rewards of building community solidarity. 
The film can be seen on several streaming platforms–including on Amazon (free for Prime members) and YouTube, Google Play Movies & TV, and Vudu—for under $3. So, watch the film, and then join us on zoom on January 27, at 7 pm, for a fun and thoughtful conversation.
You can get the zoom link by emailing: portlandrisingprograms@gmail.com.
SATURDAY, JAN. 28, 12-3PM: Rally to Support City Workers Fighting for a Fair Contract
Portland City Laborers are ready to strike for fair wages, safe working conditions, and respect! Laborers Local 483 represents over 600 workers in the Bureau of Environmental Services, Portland Bureau of Transportation, and Parks and Rec. Come out to show your support for the people who take care of our city! 
Location: 431 SW Madison st. 
THURSDAY, FEB. 2, 5:30PM: Celebrating Two Years of Drug Decriminalization in Oregon!
Join us for a virtual celebration of two years of drug decriminalization in Oregon! Measure 110 has averted thousands of arrests and stopped more Oregonians from experiencing the barriers and trauma created by criminalization. We'll be joined by panelists who will share how Measure 110 is making a difference in our local communities:
Senator Floyd Prozanski, Chair, Senate Judiciary Committee
Representative Rob Nosse, Chair, House Committee On Behavioral Health and Health Care; and Addiction Recovery providers Brendon Kinzel, Parent Mentor, Family Nurturing Center (Medford), and Julia Mines, Executive Director, Miracles Club (Portland)
Why we're celebrating: Prior to Measure 110, approximately 9,000 people in Oregon were arrested on drug possession charges each year. Measure 110 has averted thousands of these arrests, stopping more Oregonians from experiencing the barriers created by criminalizing addiction.
A criminal record for even a misdemeanor drug charge could end up being an automatic barrier to getting a job, accessing housing, qualifying for a credit card or student loan, and can also automatically disqualify people from getting a professional license in certain trades. The war on drugs created multi-generational harms that span across entire communities; Measure 110 stopped those harms from continuing in Oregon.
FEB. 2, FEB. 9, 3:00PM (PICK ONE OR MORE): Community Conversations About Paid Leave Oregon 
This is an opportunity for employers, workers and community members to learn more about the Paid Leave Oregon program. The virtual webinars will include a 20-minute overview presentation by a member of the Paid Leave Oregon team, followed by time for questions and answers.
All sessions will have American Sign Language (ASL) and Spanish interpreters.​ Other interpretation available upon request by contacting us at paidleave@oregon.gov
Please register in advance for sessions scheduled on January 19, January 26, February 2 and February 9, 2023 from 3-4 p.m
Volunteer for Our Endorsed Campaigns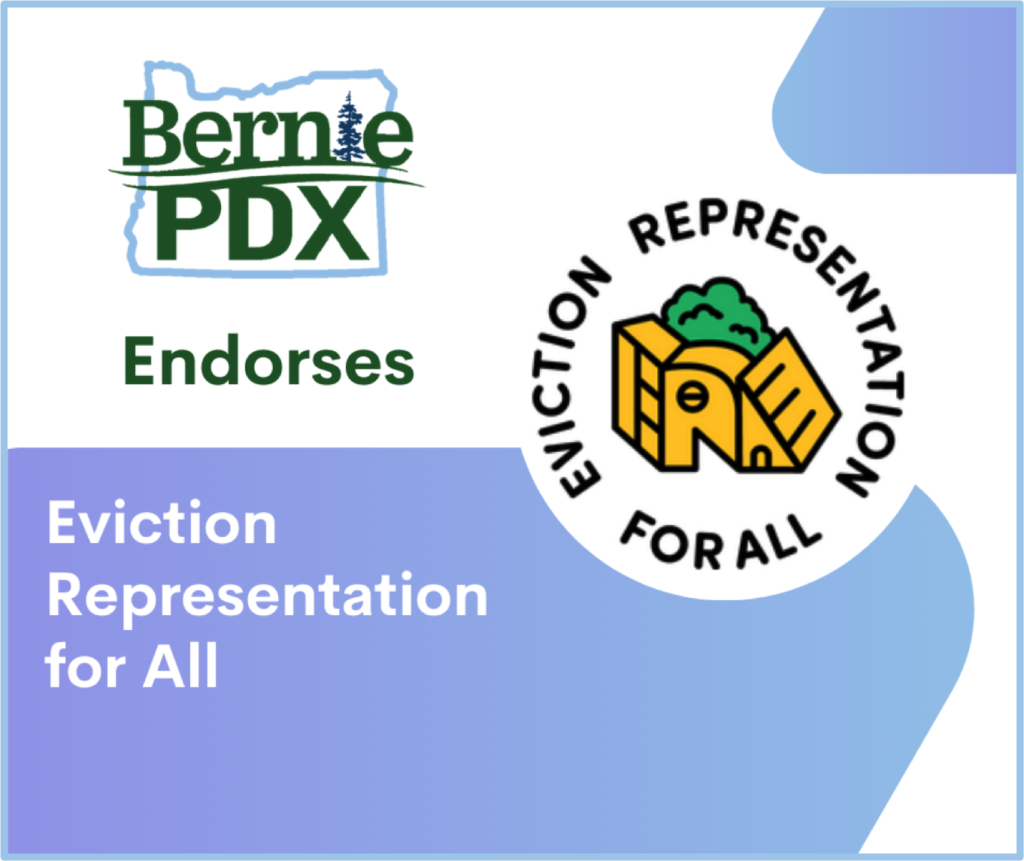 EVICTION REPRESENTATION FOR ALL (May 2023 Ballot): Sign the Petition to help ERA qualify for the ballot & Volunteer
BerniePDX endorses Eviction Representation for All Multnomah County, because every tenant deserves quality representation in court!
---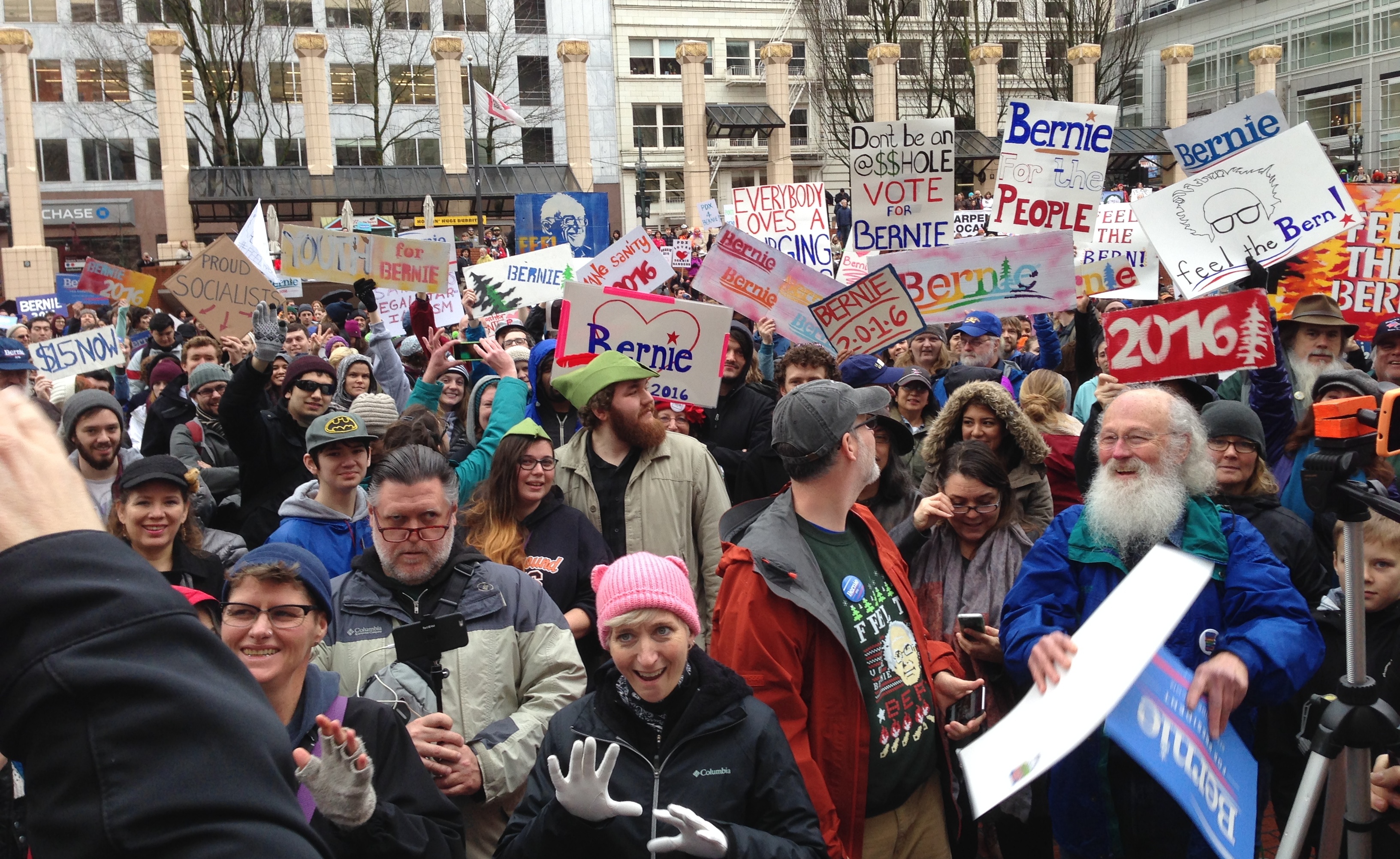 March for Bernie Rally, January 23, 2016