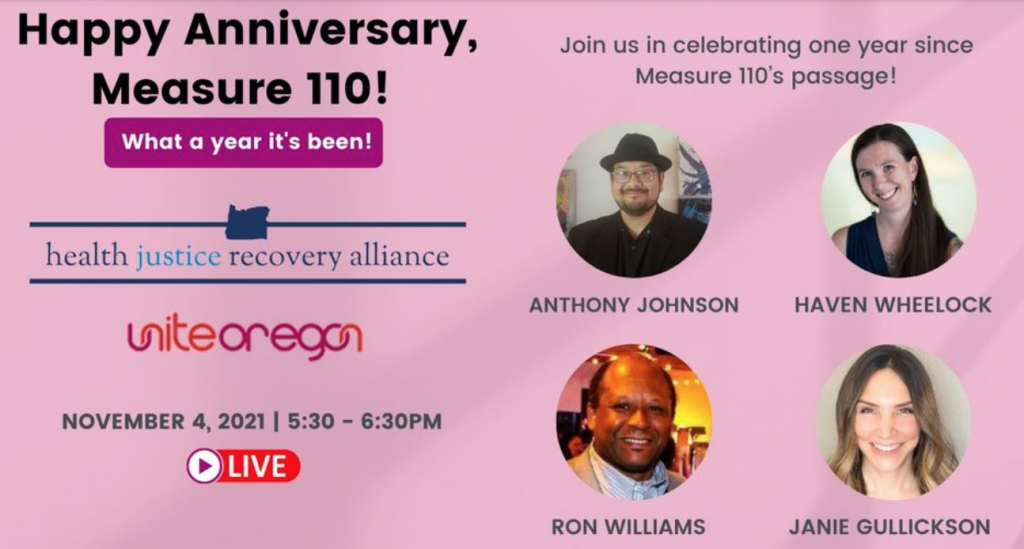 Join the Health Justice Recovery Alliance and Unite Oregon in celebrating the one year anniversary of Measure 110's passage on Thursday, Nov. 4 at 5:30pm!
Oregon made history when voters decided it was time to stop criminalizing drug use and start saving lives. It's hard to believe that it's already been a year since we voted for this law, winning the election by a 17-point margin, in counties progressive and conservative, urban and rural. And a lot has happened since then:
– All drugs have been decriminalized.
– The first round of Measure 110 grants have gone out to harm reduction and addiction recovery service providers, immediately infusing our behavioral health system with funds to address Oregon's dire addiction crisis.
– The Oregon legislature passed a law to strengthen the Measure.
– Some services have already been funded at a faster timeline than the law originally promised.
It's safe to say that the new law is up and running across the state. Let's celebrate the progress we've made together, and how we can continue working to make critical, low-barrier services available to every Oregonian who wants them.
Event Panelists:
– Anthony Johnson, Chief Petitioner and Drug Policy Reform Activist
– Haven Wheelock, Chief Petitioner and Harm Reductionist
– Janie Gullickson, Chief Petitioner and Addiction Recovery Service Provider
– Ron Williams, Outreach Director, Health Justice Recovery Alliance
***
Visit our Events tab to see more upcoming events!