We recommend clicking the links for updates on time and location.
Know of an event BerniePDX members would be interested in? Let us know! Email info@BerniePDX.us
BerniePDX Events
Join us to canvass the PSU farmers market for Bernie 2020! Together, we will have the conversations that matter in an election that is as important as this one.
RSVP on Bernie's website: https://act.berniesanders.com/event/community-canvass/11195/signup?source=events-map
Location: PSU Farmers Market, 1825 SW Broadway
Show your support for Bernie by creating a custom, one of a kind, sign for your lawn, window or fence!
Artist Brian Heath will show you how to create a sign that uniquely shows your support for Bernie Sanders. Brian has been working to put signs all across Oregon, and this time he's visiting the Portland area.
Bring your foamboard, posterboard, plywood, cardboard – whatever, and we'll have fun making signs you can be proud to display.
(Sign-making materials will also be available at the event for a donation.)
You'll find us at the corner of Montgomery and Park St. in the South Park Blocks of the PSU campus.
To get more info and reminders for this event, SIGN UP here:
https://act.berniesanders.com/event/community-canvass_attend/11918
For more info about Brian Heath and his work, check out this episode of Progressive Oregon:
https://youtu.be/2Tt-kZfkClY
Location: South Park Blocks, SW Montgomery & Park
Come hang out with friends and watch what is sure to be a great debate, as Bernie and Elizabeth Warren share the stage for the first time! And get updates from the local groups about campaign events and how you can get involved, both here in Portland and with the national campaign.
Location: Lucky Lab, 1700 N Killingsworth St.
Local Events
The Portland City Council is holding a public meeting on Monday, July 15, 2019, about Zenith Energy's tar sands crude oil terminal in northwest Portland. While the City is not formally making a decision on Zenith at this time, this listening session is an important opportunity to publicly share our concerns with the City Council and demand action.
What: Portland City Council Forum on Zenith Energy
When: Monday, July 15th, 2019. 6:30 – 8:30 PM.
NEW LOCATION: University of Portland – Buckley Center (5000 N Willamette Blvd).
Please wear red.
This is a chance for us to reiterate to the City that they must deny all permits for Zenith and stop dangerous crude-oil-by-rail.
Location: Buckley Center at University of Portland, 5000 N Willamette Blvd.
Unionists and Activists of Portland: Assemble your teams! Test your knowledge!
Join us for Jobs with Justice Trivia Night!
Saturday July 20, 2019
7-9pm at Cider Riot (807 NE Couch)
Co-hosted by KBOO Community Radio.
ADA Accessible
Drinks, food, prizes, pinball, and more!
If you need language interpretation, including ASL, please email justin@jwjpdx.org no later than 10 days prior to the event to allow enough time for the proper arrangements can be made.
$10 suggested donation per person, but no one will be turned away!
Fill out the form below to register as an individual or with a team of 3-5 people. People without a team will be teamed up on the night of the event. Click the Tickets link to register as an individual or a team!
Food, drinks, and other services provided by Cider Riot available at regular price.
*All donations plus 10% of bar sales during Trivia Night will benefit the Portland Jobs with Justice Education Fund.
Location: Cider Riot, 807 NE Couch St.
Parks for New Portlanders, in partnership with Portland Sunday Parkways, nonprofits, and refugee and immigrant organizations, invites you to WALK with Refugees and Immigrants.
Join community members and elected leaders as they gather at East Portland Community Office (1017 NE 117th Avenue, Portland, Oregon 97220) for in a one-mile walk to Knott Park, alongside our refugee and immigrant neighbors in a show of support. This event recognizes the unique experiences of New Portlanders, of all ages and backgrounds.
Hear refugee and immigrant stories, plus diverse live music, food, and other family activities.
We welcome all neighbors, faith-based organizations, local businesses, neighborhood associations, and nonprofits to join us on this WALK to inspire a more compassionate, generous, and welcoming Portland!
For more information contact Som Subedi at 503-260-2487 or som.subedi@portlandoregon.gov. portlandoregon.gov/parks/walk
Location: East Portland Community Office, 1017 NE 117th Ave.
Fred Meyer pays women less than men: $3.70 per house on average. Over a career, this could equal $122,000 in lost wages. Women are twice as likely to be hired into lower-paying Schedule B jobs. Schedule A earns around 25% more per hour than Schedule B. It's time to take action for pay equity!
Oregon Women Labor Leaders and the Oregon AFL-CIO are teaming up for a community support action in solidarity with retail workers.
On July 24, we'll gather outside the Fred Meyer store, 100 NW 20th Place in Portland at 5:00 pm. We'll get signatures for our petition calling on Freddies to "Fix the Gap."
WHEN: WED, JULY 24 AT 5:00 PM
WHERE: FRED MEYER, 100 NW 20TH PLACE IN PORTLAND
As a bonus: that night is a home game night for the Portland Thorns, so those who are interested can attend the 7:30 pm game! Email itsmyunion@ofnhp.org about tickets!
Location: Fred Meyer, 100 NW 20th Place
Sunday, July 28: 1:00pm: No US War in Iran or Venezuela Rally & March
There will be a march and rally on Sunday, July 28 primarily focusing on the possibility of US military intervention in Iran and Venezuela, but also calling attention to the use of sanctions as economic war. The event will take place at 1 PM at the Amphitheater east of Salmon Street Springs in Waterfront Park (SW Salmon and Naito Pkwy at the River's edge).
The main message of the event is "No U.S. War in Iran or Venezuela," adding that "Sanctions Kill People Too!"
Location: Amphitheater east of Salmon Street Springs in Waterfront Park (SW Salmon and Naito Pkwy at the River's edge)
The fight for Medicare for All is gaining momentum like never before. Our movement has won the support of nearly half the Democratic members of the House, and that number continues to grow thanks to the work of thousands of activists around the country. However, in spite of the overwhelming popularity of Medicare for All, many Congress members are still dragging their feet . . . members like Oregon's Kurt Schrader.
This summer, we are taking advantage of Congress's August recess to turn up the heat on Schrader. National Nurses United in coordination with HCAO-Action, DSA and iPA are inviting you a People's Assembly on July 28th where we will ask for your help in planning a monthlong pressure campaign designed to put Schrader on notice that the people of Oregon will accept nothing less than full support of Medicare for All from our representatives.
Location: Robinwood Station, 3706 Cedaroak Dr. West Linn, OR
Workers at Fred Meyer, Albertsons, and Safeway grocery stores across the state of Oregon are gearing up to go on a massive strike in a struggle not only for a fair contract in general, but specifically to ensure that women at Fred Meyer are no longer pushed into lower paying wage scales than men. That. Is. Amazing.
On August 2, 2019 from 6-7pm we will be flyering in support of grocery workers who are gearing up to strike all across Oregon in a struggle for equitable pay. We will be at five Portland area Fred Meyer stores in NW, North, NE, and SE Portland, and Clackamas.
Please click this link for specific location and address information, and to fill out the brief form letting us know which stores you are willing to be at. https://forms.gle/miWb4SKLAuXZzYmy8
On Tuesday, August 13th, Commissioner Jo Ann Hardesty is teaming up with APANO (Asian Pacific American Network of Oregon) for our next community conversation at the brand new Orchards of 82nd!
RSVPs are REQUIRED to be guaranteed entry.: http://bit.ly/HardestyEPDX
Doors open at 5:30pm, Event begins at 6pm.
Upon arriving, attendees will indicate the issue most important to them. The top 3 issues will be discussed amongst attendees in facilitated breakout conversations.
This is a solutions-oriented event series that aims to bring Portland residents together around concerns specific to their neighborhood and community. We ask you to bring your best ideas about what you want to see from Portland City Council.
"Portlanders know best what is happening in their communities and how to improve their neighborhood. Their experiences can and should inform how we develop solutions to our city's most pressing issues," says Commissioner Hardesty. "People deserve to engage with City Council beyond the 2-3 minutes of public testimony allowed at City Hall."
The ideas shared during these events will be used to inform the Commissioner's priorities and policies moving forward.
Location: 8118 SE Division St. Portland
______________________________________________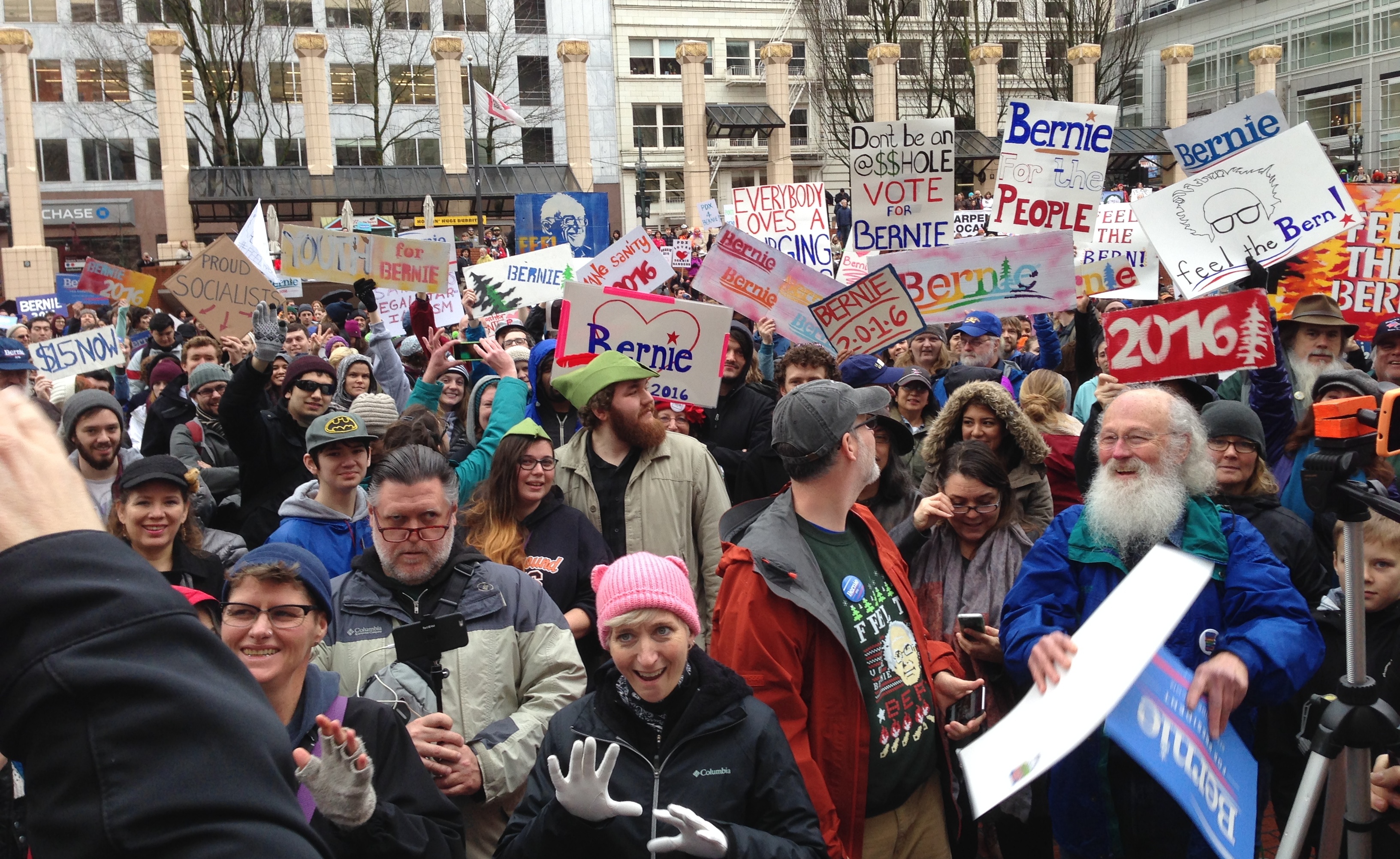 March for Bernie Rally, January 23, 2016