We recommend clicking the links for updates on time and location.
BerniePDX Events
Location: 2311 N Blandena St.
PHONEBANK DETAILS:
Join BerniePDX every Sunday, 3-6pm, to call voters and propel Bernie to victory! The first primary is just days, and Bernie needs our help to become the next president!
**Please bring a laptop or tablet and a phone.**
Since Oregon's primary is so late, the best way for us to help Bernie is to call early primary states (like California, which has over 400 delegates and moved their primary from June to March). That's why BerniePDX is hosting phonebanks! Making these calls is fun and doing it together is a great way to hang out with and meet like-minded people!
Training and snacks will be provided.
Bernie's first election of 2020 is finally here! Join BerniePDX to celebrate and watch the Iowa Caucus election results!
All are welcome. Food and drinks available for purchase.
Location: Stingray Cafe, 240 N Broadway
Join BerniePDX and our Bernie friends from Vancouver to paint 2 big Bernie banners! Have brushes or supplies you can bring? Let us know by emailing info@berniepdx.us!
Feel free to bring poster board and art supplies if you want to make your own Bernie signs, too!
Location: Watershed PDX, 5040 SE Milwaukie Ave.
Every Thursday, 1:30-3:30pm: Text for Bernie!
Some BerniePDXers are getting together every Thursday to text for Bernie! Bring a laptop and ear buds. Visit berniesanders.com/text to take the texting webinar before the event. We'll also discuss other ways to support Bernie!
Questions? Email info@berniepdx.us.
Location: Tabor Space Cafe, 5441 SE Belmont St
Text for Bernie from home! You can text for Bernie and help him win crucial early primary states! Sign up for a training at: berniesanders.com/text
Local Events
The Washington primary is March 3, and they start voting by mail in mid-Feb! Join us in celebrating our successes so far and find out what's to come! Meet the Washington Bernie 2020 campaign field organizer, progressive candidates, potluck, and enjoy music with friends. Please RSVP for this event.
Speakers will include: Rhonda Walker – Chair, Our Revolution Wa Berniecrats Coalition; Shaun Scott – Field Organizer, WA Bernie2020 Campaign; Cahri Citron – ILWU; Adam Aguilera – Educator; Carey Wallace – Nurse and Whole Washington; Phillip Englund – Sunrise Movement; Dorothy Gasque – Army Veteran
Location: ILWU Local 4, 1205 Ingalls St.
On Saturday, January 25 in cities across the globe, there will be protests against a new war in the Middle East.
The Trump administration is threatening war with Iran, the US is disregarding the Iraqi Parliament's vote to expel US troops from their country, and the US continues to occupy Afghanistan and more… Oh and the US is increasing sanctions designed to kill ordinary Iranians.
People in the US need to stand up to our government and their war machine to say NO MORE WAR AND OCCUPATION! Join the newly forming Portland Anti-War Coalition in a rally and demonstration on January 25th. The only way we can beat back the drums of war is together, and it is time to get organized!
Location: Meet in front of the Pioneer Courthouse, 700 SW 6th Ave (across from Pioneer Courthouse Square) at 2:30 PM sharp.
A new presentation by Ahjamu Umi on the historical origins of systemic white supremacy based on the concepts in his latest book "The Paradox Principles" with the following key points:
A. The Importance of colonized voices in leadership in the struggle for justice
B. The Importance of women and non men in leadership in the struggle for justice
C. Building community defense models to support this work
D. Being an effective accomplice against white supremacy
*Childcare, ASL interpretation and snacks provided. Accessible Space.
Doors open at 6pm, event begins at 7pm
Ahjamu Umi is an organizer for the All African Peoples Revolutionary Party he has engaged in Pan African work on three continents and the Caribbean. He holds a Masters Degree in Econ/Poly Sci, and he is the author of four books, including 2019″s "The Paradox Principles"
Location: 6401 SE Foster Rd.
Commissioner Jo Ann Hardesty will be joining us at our general membership meeting on Tuesday, January 28, starting at 7:00 PM to discuss Street Response, a pilot program launching exclusively in Lents this Spring, that is about responding to low-risk 911 calls involving people who are homeless.
Along with the Commissioner, we will also be joined by Kaia Sand, executive director of Street Roots, an organization that's been at the forefront of launching Street Response. We've also reached out to Firefighter Tremaine Clayton, the manager of Portland Fire & Rescue's Community Health Assessment Team (CHAT), who will be directly involved with Street Response in Lents, and we're waiting to hear back on whether he'll be able to join us as well.
Location: 8815 SE Woodstock Blvd
There hasn't been any logging in the Zigzag District of Mt. Hood in almost 25 years. Salmon recovery in the Sandy River watershed has had a disproportionately large impact on populations across the Pacific NW. Fast growing, carbon-rich forests are bouncing back from a century of clear cut logging and the recreation opportunities are world-class. Is it really a good idea to bring large-scale, mature forest harvest back to Zigzag? Unfortunately, the Mt. Hood Forest Management Plan designates much of this well-loved area for commercial logging and directs the Forest Service to 'get out the cut'. For now, the only way to stop this senseless destruction is people power.
Meet with Bark staff and volunteers to plug in to this campaign to keep large-scale, commercial logging out of Zigzag! Bark's Associate Director will give an overview of the threat posed by this project and the process for intervention. Attendees will be able to sign up for different roles, responsibilities, and actions to take over the next few months.
Location: Bark, 351 NE 18th Ave.
Q center is now hosting a free community self defense workshop! Drop in at our biweekly workshop and learn practical self defense geared towards the LGBTQ2SIA+ community. All ages are welcome. No supplies are needed, but please wear comfortable clothes and no belts/zippers (or other items that might scratch).
Please contact Page at page@pdxqcenter.org if you have any questions!
Location: Q Center, 4115 N Mississippi Ave.
---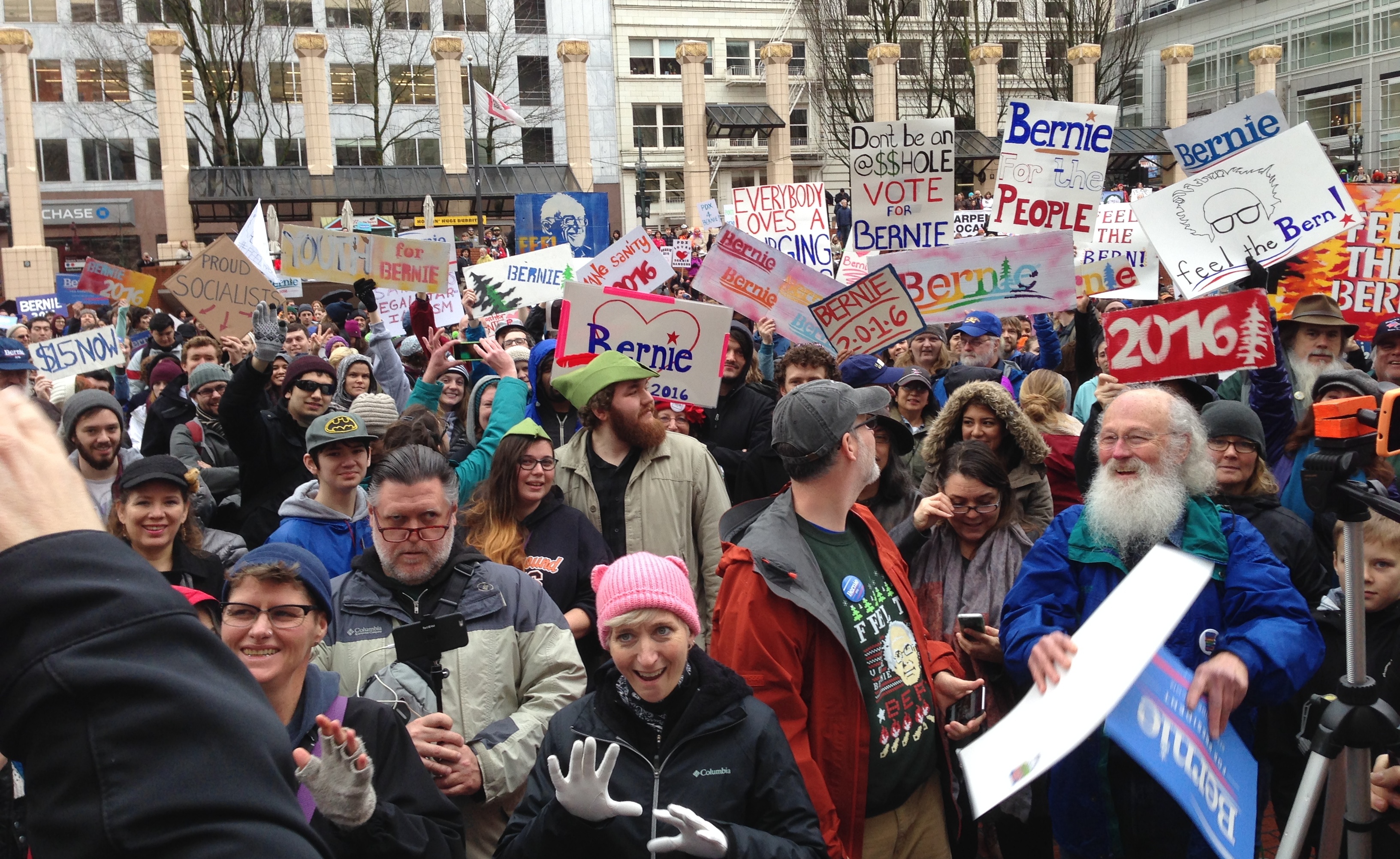 March for Bernie Rally, January 23, 2016