We recommend clicking the links for updates on time, location, or any other changes.
WEDNESDAY, MARCH 29, 6:30PM: Public Forum on Labor, Veterans, Healthcare Profiteering, and the Fight Against Privatization
*The organizers are looking for someone to record or livestream this event, please email info@berniepdx.us if you can do it!*
Union members, military veterans, and healthcare reformers around the country are demanding that the Biden Administration stop its privatization of traditional Medicare and the VA hospital system, two of our best working models for single-payer healthcare.
At the USPS, which employs more than 100,000 veterans, workers are also resisting the continuation of Trump-era policies designed to replace our national network of post offices with private mail delivery firms.
At this March 29 labor-community discussion, find out more about these critical anti-privatization campaigns – and what's at stake for Medicare recipients, VA patients, Postal Service customers, and all private and public sector union members.
Location: First Unitarian Church, 1211 SW Main St.
THURSDAY, MARCH 23, 8:50AM: Rally – PDX Says No to Adidas Wage Theft 
On March 23rd at 8:50 a.m., Portland labor and community members will rally outside the Sentinel Hotel at 614 SW 11th Ave. in downtown Portland to protest adidas North America president Rupert Campbell's speaking event and call attention to the massive wage theft throughout the adidas supply chain. While raking in billions during the pandemic, adidas stole from workers producing their apparel. In Cambodia alone, 30,000 workers are owed $11.7 million dollars in wages. Garment workers unions are organizing across borders and fighting back, demanding that adidas pay back stolen wages and negotiate with the workers who produce their apparel!
Portland is adidas North America's headquarters, and the Portland community has outsized leverage in pressuring adidas to meet with garment workers. While garment worker unions, part of the Pay Your Workers union coalition, organize in Cambodia, Indonesia, India and more, we can organize in solidarity here in Portland to amplify their demands!
Can you make it out to support garment workers? You can e-mail the US campaign director at billy@payyourworkers.org
Location: Sentinel Hotel at 614 SW 11th Ave.
SATURDAY, MARCH 25, 2-4:30PM: Rally for Sick Pay – Burgerville Workers Union
Spreading to five stores, Burgerville Workers Union (BVWU) became the first in the U.S. to ratify a fast-food union contract covering all stores in December 2021! BVWU's historic first contract expires on May 1, 2023.
It took years of struggle and the support of a community-labor movement to encourage workers to fight one day longer and win, despite rampant unfair labor practices by Burgerville corporate all along the way. Workers continue to face targeted retaliation, harassment, wrongful termination, and unilateral changes to working conditions. Recently, workers have faced increasing pressure to work while sick. Workers need Sick Pay!
As BVWU prepares to bargain for a strong, successor contract, let's mobilize community support for their demands which include Sick Pay, and let's hold Burgerville corporate accountable for their unfair labor practices!
Location: Hawthorne Burgerville, 1122 SE Hawthorne Blvd
THURSDAY, APRIL 6, 4-6PM: Rally to Support the PSU Adjunct Faculty Union 
PSU's adjunct faculty union, PSUFA, represents over 1000 adjunct faculty and researchers who teach almost 40% of all classes at PSU. They are entering into bargaining sessions to advocate for fair pay, cost of living increases that keep up with inflation, and access to meaningful benefits. We need to end the exploitation caused by the academic gig economy and stand strong together in support of public higher education that protects workers so we can provide the best to our students.
Location: PSU Urban Plaza, 506 SW Mill
APRIL 17-23: Medicare for All Strategy Conference – Online
Join hundreds of activists around the country for a 100% online week of inspiration and strategy to win Medicare for All! The "live" conference will take place during the weekend of April 22-23. During the preceding week, each evening we'll release pre-recorded panel discussions and presentations addressing key issues in the fight for Medicare for All.
This year's conference, "Everybody In: Racial Equity & Medicare for All," will be focused on centering race in our conversations about healthcare and building the multi-racial healthcare justice movement we need to win Medicare for All. We'll be featuring speakers, workshops, interactive discussions, and more! We are still developing the agenda, but we'll be adding more information to the schedule as we confirm sessions!
THURSDAY, APRIL 20, 6PM: Rumble on the River Community Forum 6: What's Up with Zenith Energy and the CEI Hub in Portland?
Join us for "Rumble on the River Community Forum 6: What's Up with Zenith Energy and the Critical Energy Infrastructure Hub in Portland."
A coalition of 26 neighborhood, river and climate advocacy organizations sponsor this series of free forums to increase public awareness of the safety, health and seismic risks associated with the Critical Energy Infrastructure (CEI) Hub and Zenith Energy. Each forum is different in its approach to examining the 6-mile stretch of aging tank farms that line the North Reach of the Willamette River within a seismic liquefaction zone.
In addition to the existing and potential harms of the CEI Hub, the panelists will also discuss the City's recent and unexpected approval of the Land Use Compatibility Statement for Zenith Energy, which lies within the Hub.
SPEAKERS:
– Yumei Wang – Affiliate Faculty and Senior Advisor in the Civil Engineering & Environmental Engineering Dept. and the Institute For Sustainable Solutions-PSU
– Cager Clabaugh – Rank and File Member and Washington Area District Council Delegate with Local 40 (Marine Clerks & Supercargoes) of the International Longshore and Warehouse Union
– Sharon Meieran – Multnomah County Commissioner-District 1, Emergency Physician
– Sarah Taylor – Midwife, Educator, Linnton Neighborhood Association President, Portland Harbor Community Advisory Group, Braided River Campaign
The CEI Hub is a six-mile stretch of old tank farms, located in NW Portland along the Willamette River just upstream from its convergence with the Columbia River. The CEI Hub holds more than 90% of all liquid fuel in Oregon. Located within the CEI Hub is Zenith Energy, the source of dangerous oil trains plowing through our communities.
Location: St Johns Church, 8044 N Richmond Ave, Portland, OR, 97203
SATURDAY, MAY 6, 9AM-4PM: Portland Troublemakers School
Bringing together union members, labor activists, and local officers, a Troublemakers School is an incredible space for networking, building solidarity, and sharing successes, strategy, and inspiration. It's a real shot in the arm for newbies and seasoned activists alike.
Members who attend will get inspired. Hear speakers from the front lines of recent struggles.
They'll also get trained. The one-day conference features interactive workshops, panels and meetings, ranging from crucial basic skills like helping your colleagues beat apathy to advanced topics like organizing a winning contract campaign.
When: 9 a.m. – 4 p.m. on Saturday, May 6, 2023
Where: McDaniel High School, 2735 NE 82nd Ave Portland, OR 97220
Cost: $10, Registration fee includes a light breakfast, coffee, lunch, and workshop materials.
For more information, email the organizing committee at labornotespdx@gmail.com
Location: McDaniel High School, 2735 NE 82nd Ave. 
Volunteer for Our Endorsed Campaigns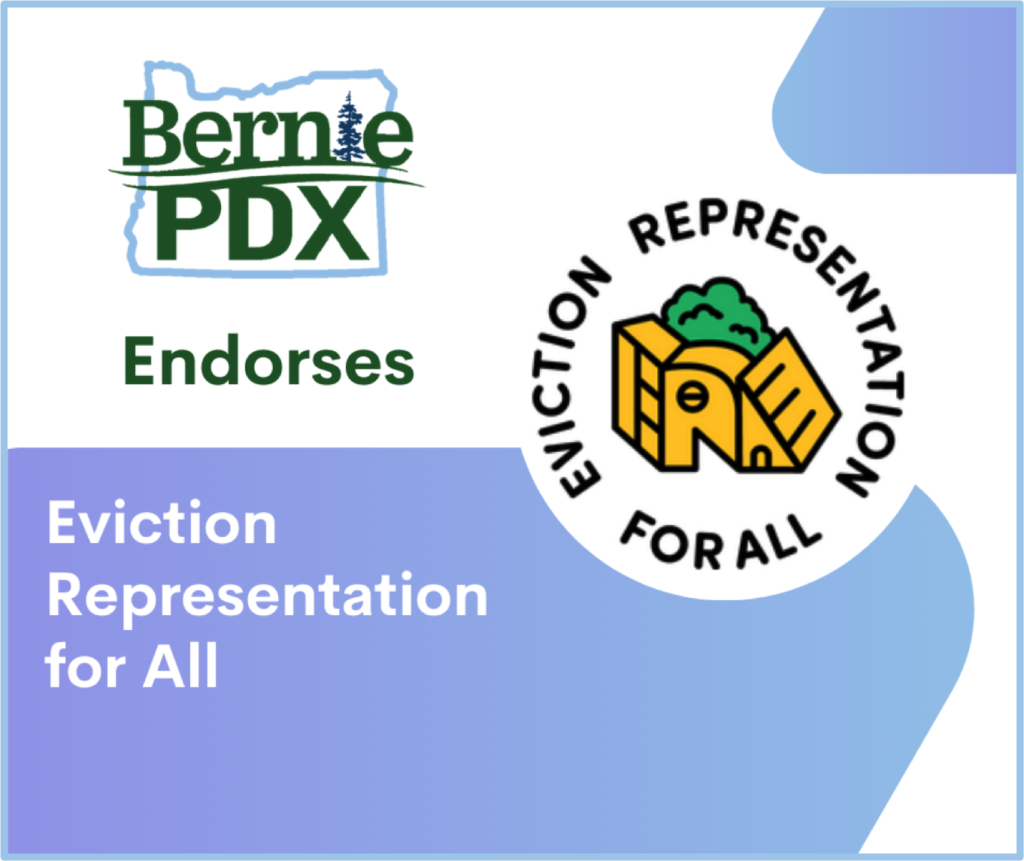 MEASURE 26-238, EVICTION REPRESENTATION FOR ALL (May 2023 Ballot): Volunteer!
Canvass for ERA on the weekends! 
THURSDAYS, MARCH 23 & APRIL 20, 7PM: Eviction Representation for All BINGO NIGHT! Win prizes, pick up some merch, and support the campaign! Worker's Tap, 101, SE 12th Ave.
BerniePDX endorses Eviction Representation for All Multnomah County, because every tenant deserves quality representation in court!
---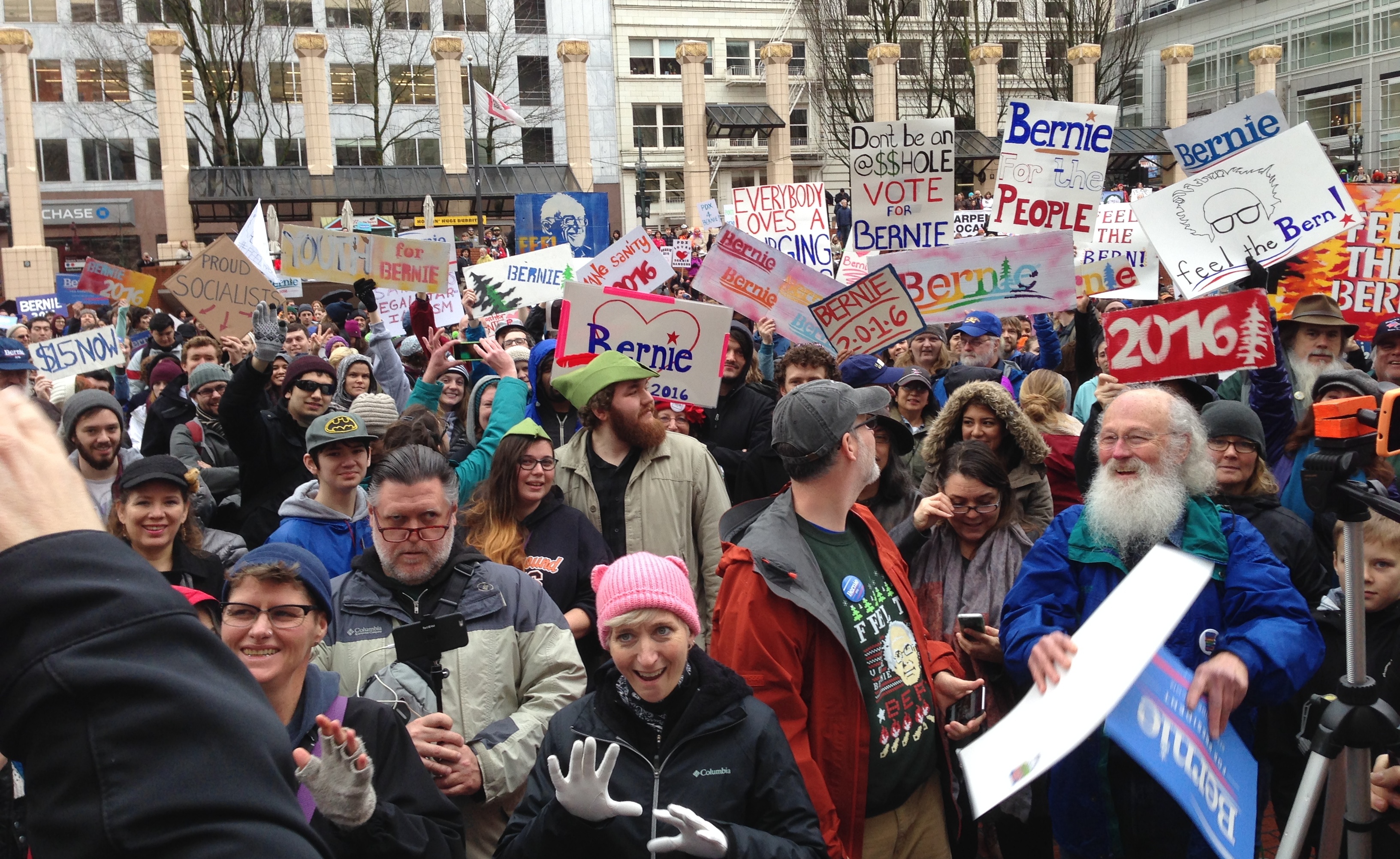 March for Bernie Rally, January 23, 2016