You can also view upcoming events in a Google calendar format on our Calendar page, or check out past events here. We recommend you visit Facebook event pages for updates on time and location.

BERNIE PDX EVENTS
Meet the potential BerniePDX Portland City Council candidates of 2018: Jo Ann Hardesty (Pos. 3), Julia DeGraw (Pos. 2), & Andrea Valderrama (Pos. 3)! Ask them your questions, and hear about their plans for our City! We're meeting in a different location this time: Waverly Heights Church, 3300 SE Woodward St.

ABOUT ANDREA VALDERRAMA:
Andrea Valderrama is a community leader, a first-generation Peruvian American, a mom, and the first person of color to serve on the David Douglas School Board. Her family came to the United States from Peru as political refugees and worked as day laborers when they arrived in the United States. After her mom survived domestic violence, Andrea grew up in a single parent household and experienced housing and economic instability. She helped support her family by cleaning houses after school and put herself through college, earning a bachelor's degree from the University of Oregon. Today, Andrea lives in outer East Portland with her partner, two-year old daughter, and rescue dog. As a City Commissioner, her top priorities will include taking immediate action to address our housing crisis, community safety and the livability of our neighborhoods, and increasing the number of good paying jobs in Portland so families can stay, grow, and thrive here. Learn more at valderrama4pdx.com.
ABOUT JULIA DeGRAW:
Julia DeGraw is running for Portland City Council (Position 2) because it's time for City Hall to prioritize the needs of the people over developer profits, corporate interests, and complacent politicians. Julia has a history of winning campaigns that do this, like preventing Nestlé from bottling public water in the Gorge. Join Julia in creating a bold future for Portland that includes a home for everyone in need, living wage jobs & union rights for workers, and permanent Net Neutrality with municipal broadband. Working with people across the city, we will end Portland's Jim Crow-era at-large election system by creating City Council districts to achieve equitable representation for all. Julia won't accept contributions from corporations or developers; she stands with the people. Learn more at julia4pdx.com.
ABOUT JO ANN HARDESTY:
After serving in the Navy, Baltimore native Jo Ann Hardesty found her home in Portland, OR when she began community organizing for Oregon's Black United Fund in 1990. Jo Ann later served in the Oregon House of Representatives from 1995 to 2001, representing North and Northeast Portland. Jo Ann was elected as president of the NAACP Portland Chapter in 2014, after her efforts to revitalize the oldest civil rights group in Portland. She also is currently a member of the East Portland Action Plan and Vice Chair for the board of Human Solutions. As a community leader and activist, Jo Ann has a long history of standing for the city's most disadvantaged communities for nearly 30 years. She is a firm believer that opportunities to thrive in Portland should not depend on someone's zip code or background. Jo Ann is the only candidate who proactively challenged incumbent Dan Saltzman for his City Council seat. Her campaign platform focuses on access to government, green and living wage jobs, affordable housing, and police reform. Learn more at joannforportland.com.
–> Can't make the meeting? Don't worry, we still want your input! Keep your eyes on your inbox for the BerniePDX candidate endorsement poll.
Location: Waverly Heights Church, 3300 SE Woodward St.

One year exactly into the Trump presidency, spend the night with your fellow BerniePDXers at one of our members, Joe Jatcko's new political comedy, THE HIGH CAPTAIN. In these times of endless negativity, spend an evening among friends, laughing, discussing, and growing stronger as a community. Group-rate tickets only $5! Money will be collected at Tuesday's (1/9) meeting.
Location: Clinton Street Theater, 2522 SE Clinton
____________________________
LOCAL EVENTS
Theme: Strengthening and Expanding Black Leadership in Oregon
The goal of the Black Caucus is to have REAL TALK with community members (open Q&A) on the topic of Expanding Black Leadership.
INVITED GUEST PANELISTS include Sen. Lew Frederick and Sen. James Manning, Rep. Janelle Bynum, NAACP Portland President JoAnn Hardesty, Pastor E.D. Mondaine, Senate Candidate Kayse Jama, Washington County Commissioner Candidate Shabba Woodley, Democratic National Committee Member Travis Nelson and more!
Location: Hollywood Senior Center, 1820 NE 40th Ave.
Our Second Saturday organizing events will now be hosted in Northeast Portland at the Woodlawn Mic our new residence for Social Justice outreach and education based organizing. Join us for the inaugural meeting !!! More Space and a Brand New Year🍼
Location: Woodlawn MIC, 1425 NE Dekum St
Senator Jeff Merkley will be joining us on Sunday, 1/14 at 10:00AM to kick-off day two of our three-day weekend of service in honor of Dr. Martin Luther King, Jr. REGISTER HERE: yesforhealthcare.org/RSVP
Senator Merkley is a long-time champion for working families and affordable healthcare. He's stood up for Oregonians time and again, and now he's doing his part to pass #YesOn101 this January! With less than ten days from Election Day on January 23, the weekend of 1/13-1/15 will be a critical time to knock doors across the city to let Oregonians know to vote YES on Measure 101, because EVERYBODY deserves access to healthcare.
We need hundreds of supporters to join us, so please share and invite friends! Everyone is welcome, including first-timers! A short training, snacks and all materials will be provided.
Location: SEIU Local 503, 6401 SE Foster Rd.
The FCC won't let us be! Let's rally for a city and neighborhood controlled internet infrastructure!
2:00 pm: Guest speakers to discuss the logistics of building a people powered internet
3:00 pm: Group discussion on how we can start building DIY internet infrastructure now.
4:00 pm: head to city hall to deliver our demands!
5:00 pm: wrap up and contact exchange.
Location: 808 SW Stark St., Portland
The 4th Annual Children's March for Social Justice is our most important action of the year!! This year all of the organizers are children and the theme is Freedom and Unity.
Location: Peninsula Park Community Center, 700 N Rosa Parks Way
REGISTER HERE: yesforhealthcare.org/RSVP
Just over a week before Election Day on January 23rd, join the Yes for Healthcare team in Portland for a day of service in honor of Dr. Martin Luther King, Jr. on Monday, January 15! We'll rally and then knock doors across the city to let Portlanders know to vote #YesOn101, because EVERY Oregonian deserves access to healthcare.
We need hundreds of supporters to join us, so please share and invite friends! Everyone is welcome, including first-timers! A short training and all materials will be provided.
Location: SEIU Local 503, 6401 SE Foster Rd.
Come see the three Democratic Candidates running for Oregon Senate District 24 answer questions from our moderator and the audience.
Location: The Rosewood Initiative, 16126 SE Stark St.
From the Supreme Court to the shop-floor, unions are under the fiercest attack in more than a generation. Corporations, and the politicians who carry their water, are pushing to slash wages, abolish pensions, outsource jobs, and gut public services.
Join us for brunch and a lively discussion of how rank-and-file activists around the country are fighting back, and what union members in the Pacific Northwest are doing to build the resistance.
Location: Portland Association of Teachers, 345 NE 8th Ave.
Bringing #MeToo into the Streets! Build a mass movement to fight sexism! The Portland branch of Socialist Alternative invites community members to join us in a #MeToo March and SpeakOUT on the first anniversary of Trump's inauguration.
The most notorious sexual predator in the U.S. sits in the White House. The majority of Americans now believe Trump should resign because of the growing allegations of sexual harassment against him. The #MeToo campaign has a crucial role to play in the overall fight to drive Trump's hateful administration out of office.
Location: Pioneer Courthouse Square
We are marching to make a loud and clear statement to Trump, his cronies, and his police state:
We are the majority and we are not going away. We stand united against Trump.
Do not under-estimate the power of a woke, outraged and organized community.
We have never been more steadfast in our resolve.
We start locally, we don't stop until we take our country back.
Join us!
Location: Downtown Portland, check FB page for updates
Justice Democrats is a political organization that endorses and supports progressive candidates for federal House and Senate races throughout the country. Their platform is essentially Bernie's platform and places particular emphasis on getting money out of politics: https://www.justicedemocrats.com/platform.
This meeting will provide an opportunity to learn about:
– who the Justice Democrats are
– how they have organized successfully so far
– how you can help continue the political revolution here in PDX and have lots of fun doing it.

Location: NW Library, 2300 NW Thurman
Our work to protect health care access for the 1 in 4 Oregonians who count on Medicaid – including 400,000 children – would not be possible without the work of our 160+ amazing coalition partners and thousands of incredible volunteers and supporters across the state.
Join us on Election Night, Tuesday, January 23, from 7:00-9:00 PM to watch the results roll in together and celebrate your hard work! We're so grateful for each and every one of you, and we hope to see you there! Free and open to the public. Family and friends (of all ages, even kiddos under 18!) are welcome to attend!
RSVP here: bit.ly/M101Party
Location: Holocene, 1001 SE Morrison St.
Join the Burgerville Workers Union in demanding an end to retaliations. Come out to the picket line and let's show Burgerville that Portland is a union town! We will meet at the statue of MLK Jr. outside the convention center at 4:30pm to march on Burgerville by 5:00pm.
January 27th, 2018 is the first anniversary of Trump's Muslim Ban. Trump has labeled our neighbors, community members, and their relatives back home as "a threat" & treated them like "terrorists." He reduced the number of refugee arrivals from 110,000 to only 45,000 this fiscal year. We will honor individual community members who have been affected by this un-American action at this peaceful event. I urge ALL Americans to join us and show your support! Bring your friends, families and signs!
Location: Portland International Airport
JOIN US!! This month we are collaborating with area Progressive groups who will be tabling at the show and hope to have film maker, Reed Lindsay available to answer questions after the show!
Confirmed groups so far: Clackamas County Democrats Justice Committee, Democratic Socialists of America, LO for Love, Progressive Democrats of America, Working Families, More to come!!
Location: Lakeside Theater and Cafe, 106 N Lake St., Lake Oswego
______________________________________________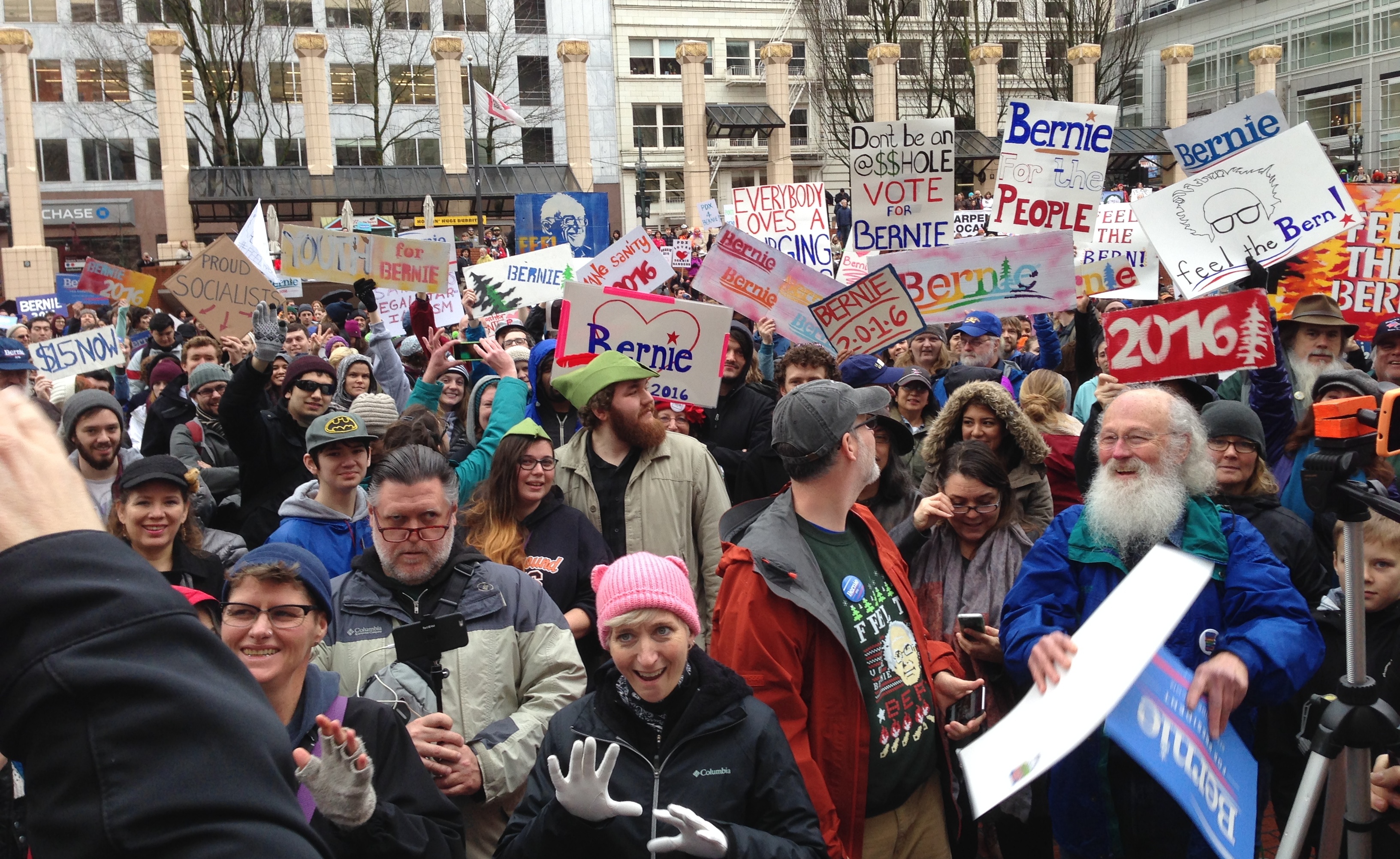 March for Bernie Rally, January 23, 2016