We recommend clicking the links for updates on time and location.
Know of an event BerniePDX members would be interested in? Let us know! Email info@BerniePDX.us
BerniePDX Events
Location: 2311 N Blandena St.
Location: TBA
PHONEBANK DETAILS:
Join BerniePDX every Sunday in November, 3-6pm, to call voters and propel Bernie to victory! The first primaries are just 3 months away, and Bernie needs our help to become the next president!
**Please bring a laptop or tablet and a phone.**
Since Oregon's primary is so late, the best way for us to help Bernie is to call early primary states (like California, who has over 400 delegates and moved their primary from June to March). That's why BerniePDX is hosting phonebanks every Sunday in November! Making these calls is fun and doing it together is a great way to hang out with and meet like-minded people!
Training and snacks will be provided. ✓ MARK YOUR CALENDARS: Nov. 3 (SE) • Nov. 10 (NE) • Nov. 17 (N.) • Nov. 24 (TBA)
Celebrate Bernie's AOC endorsement by cheering him on in the next Democratic debate surrounded by your local Bernie community! We'll also discuss ways to get involved to help Bernie win!
Yummy food and drinks available for purchase. Location is wheelchair accessible, and upstairs restrooms are all-gender. Elevator available.
Location: Stingray Cafe, 240 N Broadway
Local Events
Despite Oregon's progressive and forward-thinking reputation, our history tells another story – indeed, many refer to Oregon as the South of the North, as we have historically embraced segregation, exclusion and displacement. Now, the disparities between communities of color and white people are extreme. Participants in this course will spend four weeks delving into our state's history and our current realities. We will collectively build an understanding of how Oregon's whiteness, historically and today, has functioned, an understanding that will help us move forward to develop a better future for us all.
Details: TUESDAYS, Nov. 5, 12, 19, and 26, 6:30-9 p.m.
Advanced registration is required for this class: https://www.firstunitarianportland.org/events/white-supremacy-in-oregon-history-and-current-issues-2/
Location: First Unitarian Portland, 1211 SW Main St
On November 12, 2019, the U.S. Supreme Court will hear arguments on the termination of DACA and decide whether to uphold the highly successful program or put immigrant youth at risk of deportation.
The Home is Here coalition is fighting to protect DACA recipients, their families, and all immigrant communities on a national scale. DACA is legal, constitutional, and it works. But if the Supreme Court Justices let the Trump Administration end DACA, it will endanger the futures of hundreds of thousands of members of our communities. Without protection, DACA recipients could lose their homes and their livelihoods. They could be added to the list of those in constant danger of being deported and could be separated from their families.
No one that was raised in Oregon should be forced to pay and prove to the government that they deserve to stay in their home. Thousands of DACA recipients have to submit paperwork and pay up to $1000 to remain in their own homes. This isn't right and we're asking you if you could donate towards scholarship renewals today. If you can help contribute to this fight that would mean a lot.
Join us on November 12th at Terry Schrunk Plaza where we will create an atmosphere where immigrants raised in Oregon can share their stories. Our goal is to begin to shift the narrative of what the undocumented experience is. We are more than what the media says we are, we are Oregonians.
For more information follow the Oregon DACA Coalition and https://www.nilc.org/2019/10/02/daca-coalition-launches-home-is-here/
Location: Terry D. Schrunk Plaza, 364 SW Madison St.
Knocking on thousands of doors and hosting multiple town halls, I [Rep. Rachel Prusak] continue to hear concerns about transportation. As a first term legislator I introduced legislation to take necessary steps to solve for our outdated infrastructure. I have had conversations with constituents, agencies and local elected officials on what the next steps should be and believe the most important part of this conversation is community feedback.
Join Representatives Prusak and Meek, Metro Councilors Lynn Peterson and Christine Lewis, Clackamas County Commissioner Paul Savas and representatives from TriMet and the Oregon Department of Transportation to discuss the future of transportation in our region.
Location: West Linn Adult Community Center, 1180 Rosemont Rd.
Bark's volunteer organizers, educators, and activists are the force behind our successful campaigns against destructive logging of the forests of Mt. Hood. This training will focus on Bark's defensive forest campaign strategy to stop logging in Mt. Hood.
The Forest Service is ramping up logging for the first time in 20 years on the Zigzag District of Mt. Hood National Forest. This signals the end of an informal moratorium on logging in the area since the incredibly controversial Enola Hill timber sale. Those who've frequented this area over the last two decades may be shocked to learn that the Forest Management Plan was never updated to protect this popular recreation area and the headwaters of Still Creek and the Sandy, Salmon, and Zigzag rivers. For this training, we will workshop a campaign plan for the Zigzag Timber Sale and identify the initial actions and steps for volunteers to plug into this winter.
This workshop is part of Rad◦i◦cle, Bark's activist training program. With courses on forest ecology, forest management policy, timber sale monitoring, forest first aid and hike leading, public lands advocacy and community organizing, Rad◦i◦cle is designed to cultivate powerful forest defenders who are ready to take action to protect clean water, biodiversity, and the incredible forest ecosystems where we live and around the world.
Email courtney@bark-out.org to RSVP
(RSVP is not required, but it is great to let us know you are coming!) free + open to all
Location: BARK, 351 NE 18th Ave.
Come to this community forum and provide your input on why our next police contract must have real accountability for bad officers and independent civilian oversight. We have been told that the City will have key decisionmakers at this event and will use the community feedback to craft their priorities for the contract they are about to start bargaining.
Location: PCC Cascade Campus Student Union Room 203 & 204
Rally to tell Governor Brown: the time is NOW. (**WEAR RED**)
Governor Brown, communities across the Pacific Northwest are calling on you to join them by stopping the Jordan Cove LNG export terminal and fracked gas pipeline. For over a decade, this project has threatened private and public lands, tribal sites and cultural resources, public safety, and existing jobs in fishing, tourism, and more. Governor Brown cannot claim to be a climate champion while remaining silent on a proposed fracked gas export project that would become Oregon's single largest climate polluter.
That's why our communities will join together at a rally at the state capitol to tell Kate Brown that the time is now: deny all state permits, challenge the Federal Government's power grabs, and join us in protecting health, safety, and our climate from Jordan Cove LNG.
Location: Oregon State Capitol, 900 Court St. NE, Salem
There is no bigger economic problem facing our state and nation than economic inequality. That's why we're excited to invite you a talk by Les Leopold, one of the most insightful thinkers on the issue of economic inequality and author of Runaway Inequality.
What brought us to the extreme inequality of today? And how can we organize to confront the problem? Les will break it down for us.
Cost: $5 -20 donation requested. No one will be turned away for lack of funds. A copy of Runaway Inequality is included with your donation (first 100 only).
Location: First Unitarian Church, Buchan Reception, 1011 SW 12th Ave.
Every holiday season Portland Jobs with Justice comes together to celebrate our community, and to vote for the winner of the not-so-coveted annual Scrooge of the Year Award.
This award is voted on by the community (that's you!) and is given each year to a bad boss, a politician, a corporation, or some other deserving institution that has been particularly nasty in the past year.
Admission tickets are $15 in advance, $20 at the door. Admission tickets come with 20 free votes and can be purchased online or in person at the JwJ office beginning on November 4th at 6pm when the nominees are announced. The Scrooge of the Year Award Party is a potluck. Once tickets are available an online sign up sheet will also be available to sign up for a dish to bring and share.
Location: SEIU Local 49, 3536 SE 26th Ave
---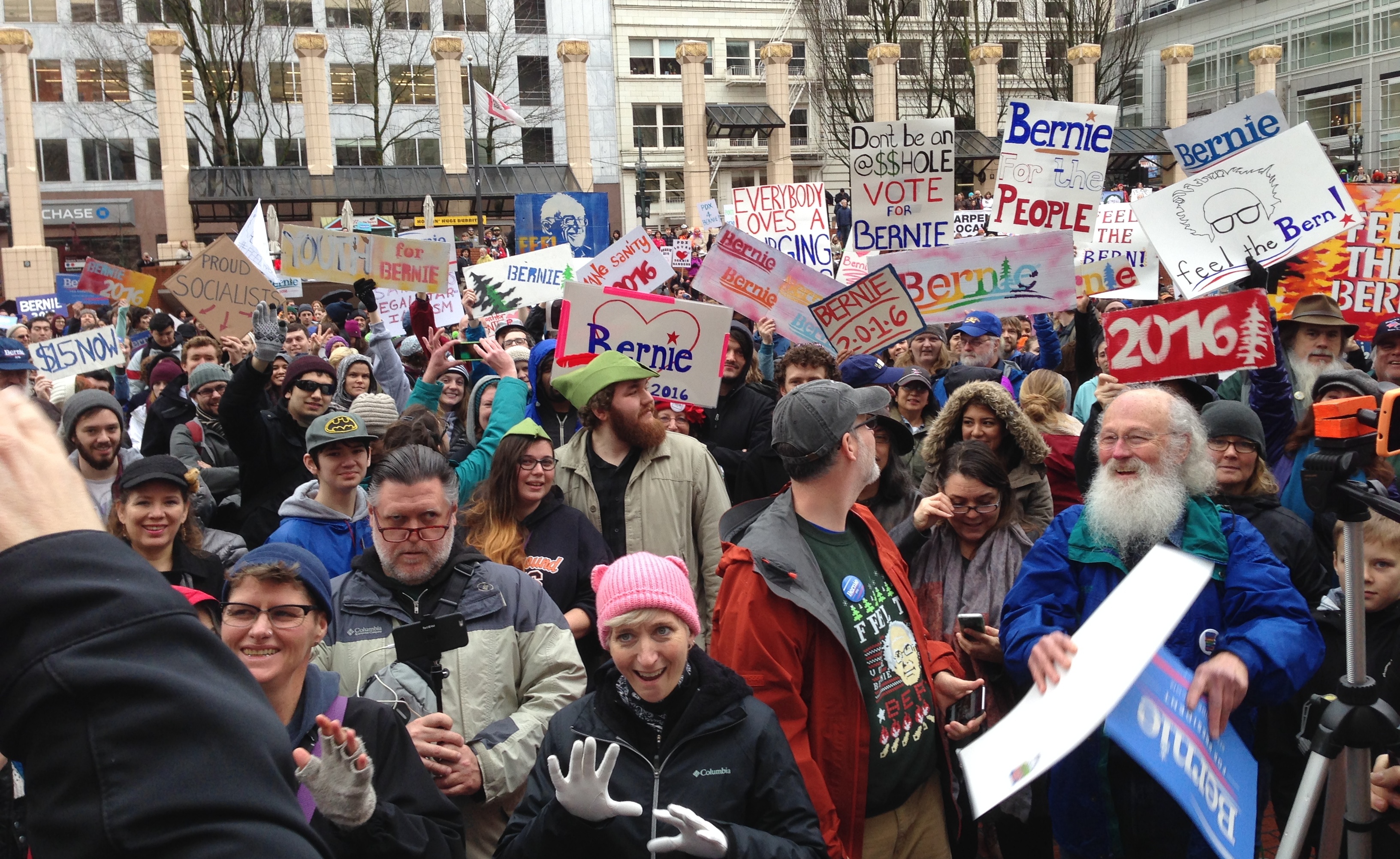 March for Bernie Rally, January 23, 2016