We recommend clicking the links for updates on time, location, or any other changes.  
Upcoming Events
Join Commissioner Hardesty for a "Neighborhood Association Open House" – open to all members of Neighborhood Associations and District Coalitions operating in the City of Portland.
The Virtual Open House is a meet & greet opportunity for members of Portland's neighborhood associations to meet and ask questions to Commissioner Hardesty, who recently became the Commissioner in charge of the Office of Community & Civic Life.
Details & Registration Link below.
Tuesday, March 9th, 6pm – 7:30pm.
Registration closes on Friday, March 5th at noon.
Registration is open to all active Neighborhood Association and District Coalition members.
This meet & greet opportunity with Commissioner Hardesty will be hosted on Zoom. NA members can register online and a link will be sent out closer to the event.
Join Internationalism From Below, Haymarket Books, the Arab Studies Institute, the Middle East Research and Information Project (MERIP), and Democracy for the Arab World Now (DAWN) for this forum on the horrific state of repression in Egypt today and how we can build solidarity with Egyptian activists and political prisoners.
Since 2016, the tyrannical regime of Egyptian president Abdel Fattah el-Sisi has built 30 new prisons to house the estimated 70,000+ political prisoners incarcerated since Sisi seized power in 2013. Egyptian civil society activists and journalists have been especially targeted. But the Sisi regime also routinely imprisons anyone whose speech, writing, or actions express the slightest criticism or deviation from its official line: be they doctors speaking out about deficiencies in Covid-19 treatment, lawyers denouncing corruption, Facebook posters or Tik-Tok influencers. Prisoners of conscience are disappeared, held in solitary confinement without trial, and denied access to food, health care, and family visits. Torture is widespread.
Despite this, Western countries continue to maintain warm relations with Egypt. French president Emmanuel Macron recently presented Sisi with his country's highest public award, the Légion d'honneur. Trump famously referred to Sisi as his "favorite dictator," but there is no sign that US-Egyptian relations will be any different under President Biden: just days after Egyptian security forces detained family members of human rights activist and dual US-Egyptian national Mohamed Soltan, the State Department announced it is considering a sale of missiles to Egypt worth $197 million.
Please join us for an urgent discussion about this situation and how to build solidarity with Egyptian activists facing this horrific repression.
Nurses at Providence hospitals throughout Oregon have been struggling for months to win a "COVID-19 Bill of Rights" from their employer to protect themselves and our community. This live streamed panel hearing will include first-person testimony from frontline nurses (members of the Oregon Nurses Association) about their concerns, and invite Providence to share their testimony as well. Experts on nurse and patient safety in acute care hospitals will also be invited to speak.
Panelists will include:
– Barbara Dudley, Oregon Working Families Party Senior Policy Advisor
– Commissioner Sharon Meieran, MD, JD, Multnomah County District 1
– Rev. Jack Mosbrucker, Archdiocese of Portland, retired
– Mary King, Professor of Economics Emerita at Portland State University
Event is live on the Portland Jobs With Justice Facebook page. 
People are suffering from compounding climate, racial justice and economic crises. This is a time of urgency. We must create a Green New Deal to confront climate change while uplifting frontline communities.
Join Chuck Willer of the Coast Range Association, members of the Sunrise Movement PDX & experts working in forestry on Thursday, March 11 from 5:30-7:00 pm for a webinar presenting a Green New Deal Proposal for Oregon's Industrial Forests. Oregon's forests are outstanding carbon storehouses. Yet, Oregon's private industrial forests are being sacrificed for investor profits. This exciting proposal calls for land reform and the transfer to democratic social benefit enterprises on Oregon's 4.4 million acres of corporate industrial forests.
A Grand Alliance has fought to stop post office closures, restore postal service standards, stop job cuts at the post office and, most recently, to successfully defend against overt attempts to privatize the Postal Service.
Now we must create an agenda for the future of the Postal Service that serves our communities with expanded and enhanced services. We will also identify what obstacles stand in our way and define the policy objectives we must meet to build the Postal Service we all deserve. This summit will be the first step in developing what we are calling The People's Postal Agenda.
This summit will allow for high level strategic conversations where we discuss and debate the role of the Postal Service and how we expand and enhance vital postal services. We will cover our campaigns to expand postal financial services, imagine new ways to use the postal network to better serve our communities, and explore how the Postal Service is at the center of our democratic rights.
As we all have an important voice in this matter, we hope you can be a part of this conversation. After registering, an agenda will follow.
Visit Facebook event for sign up details. 
Two talks from activist, author and labor historian Toni Gilpin on radical industrial unionism in the USA.
"Class Collaboration or Class War? The Battle to Define Profit, Progress, and the Purpose of Unionism in the 20th Century Labor Movement," Tuesday, March 16, 12:30pm CT
"'We're Not Going to Be Second Class Citizens in the South': the Radical, Interracial Organizing Model of the Farm Equipment Workers in Louisville, Kentucky," Wednesday, March 17, 12:30pm CT
Toni Gilpin is a labor historian, writer, and activist who holds a Ph.D in American History from Yale University. She is the author of The Long Deep Grudge: A Story of Big Capital, Radical Labor, and Class War in the American Heartland (Haymarket Books, 2020) and is co-author (with Gary Isaac and Dan Letwin) of On Strike for Respect: The Clerical and Technical Workers' Strike at Yale University, 1984-85 . Her writing has been published in progressive media outlets and labor-connected journals like Jacobin and In These Times , and she was the recipient of the 2018 Debra Bernhardt Award for Labor Journalism. She contributes frequently to the labor activist magazine Labor Notes , including an ongoing series of movie reviews about films with working class content.
Mt. Hood National Forest is one of the Pacific Northwest's greatest treasures. It's known for its scenic beauty, bMt. Hood National Forest is one of the Pacific Northwest's greatest treasures. It's known for its scenic beauty, bountiful wildlife, and sparkling lakes and rivers. Beloved by locals and visitors alike, Mt. Hood National Forest is managed by the US Forest Service. Unfortunately, the Forest Service's own rules for running the forest—the Mt. Hood Forest Management Plan—were written in 1990. Thirty years of science has taught us a lot about how forests work and how important they are to protecting our drinking water, providing homes to wild animals, and fighting climate change. However, the Mt. Hood Forest Management Plan doesn't reflect any of this science.
In fact, the current Forest Management Plan emphasizes converting natural forest into manageable timber. It's time for a better plan!
Free Mt. Hood is a campaign to make Mt. Hood National Forest a 21st century model of public forest management. Our climate is changing, and we need to make sure that management is climate-smart. Management priorities have to reflect our region's commitment to preserving drinking water sources, protecting native species, restoring wildlife habitat—and safeguarding our cultural and economic future.
Join Bark in pushing the Forest Service to update the Mt. Hood Forest Management Plan. Because it's time to FREE MT. HOOD.
Visit the Fb event for more info.
UPDATE: We will host the monthly vigils online until it is safe to meet in person again. If you would like log-in information, please message this page or Justice For Keaton Otis here on Facebook.
Keaton Otis was a young Black man murdered by the Portland police over six years ago, May 12, 2010. The police admitted they stopped him for "looking like a gangster". They shot him 23 times after tazing him twice while he sat in the driver's seat. Later police said Keaton had a gun, but have yet to produce it.
Keaton's father Fred Bryant started the monthly vigil on the 12 of the month after his son's murder on the spot where Keaton's life was taken. Fred Bryant did this for over three years, fighting for justice for his son, every single month in the rain, the dark, the heat, the snow. Fred Bryant passed away October 29, 2013.
His family and community have committed to continuing the vigils every month on the 12th, until justice is achieved for Keaton, for Fred, for our whole community.
Please join that struggle this month and help to spread the word.
Visit the Facebook page for more info.
Do you ever wonder why 50% of Oregon is managed by the federal government? Or wonder why logging can happen in National Forests, but not National Parks? Do you know if clearcutting is legal, and whether threatened Spotted owls are really protected? Do you have other questions about why and how the Forest Service manages our local forests? Do you know how to influence the management if we, the public, do not like it?
Bark's successes in protecting Mt. Hood forests and rivers are only possible because of our volunteer organizers, educators, and activists. This training, facilitated by Bark's policy coordinator and staff attorney, Brenna Bell, will answer these questions and more, as we learn about how half of Oregon came to be managed by the federal government and what factors drive federal agency (mis)management of our public lands.
This workshop is part of Rad◦i◦cle, Bark's activist training program. With courses on forest ecology, forest management policy, timber sale monitoring, forest first aid and hike leading, public lands advocacy and community organizing, Rad◦i◦cle is designed to cultivate powerful forest defenders who are ready to take action to protect clean water, biodiversity, and the incredible forest ecosystems where we live and around the world.
Trans Voices Festival affords an opportunity for trans and non-binary people and our allies to come together and spend time learning about and from each other, in the realm of music.
Honoring trans and non-binary voices – singing out, speaking out, hearing each other.
For our allies and loved ones – supporting you as you support the trans and non-binary people you care about.
Visit the event link for more info.
---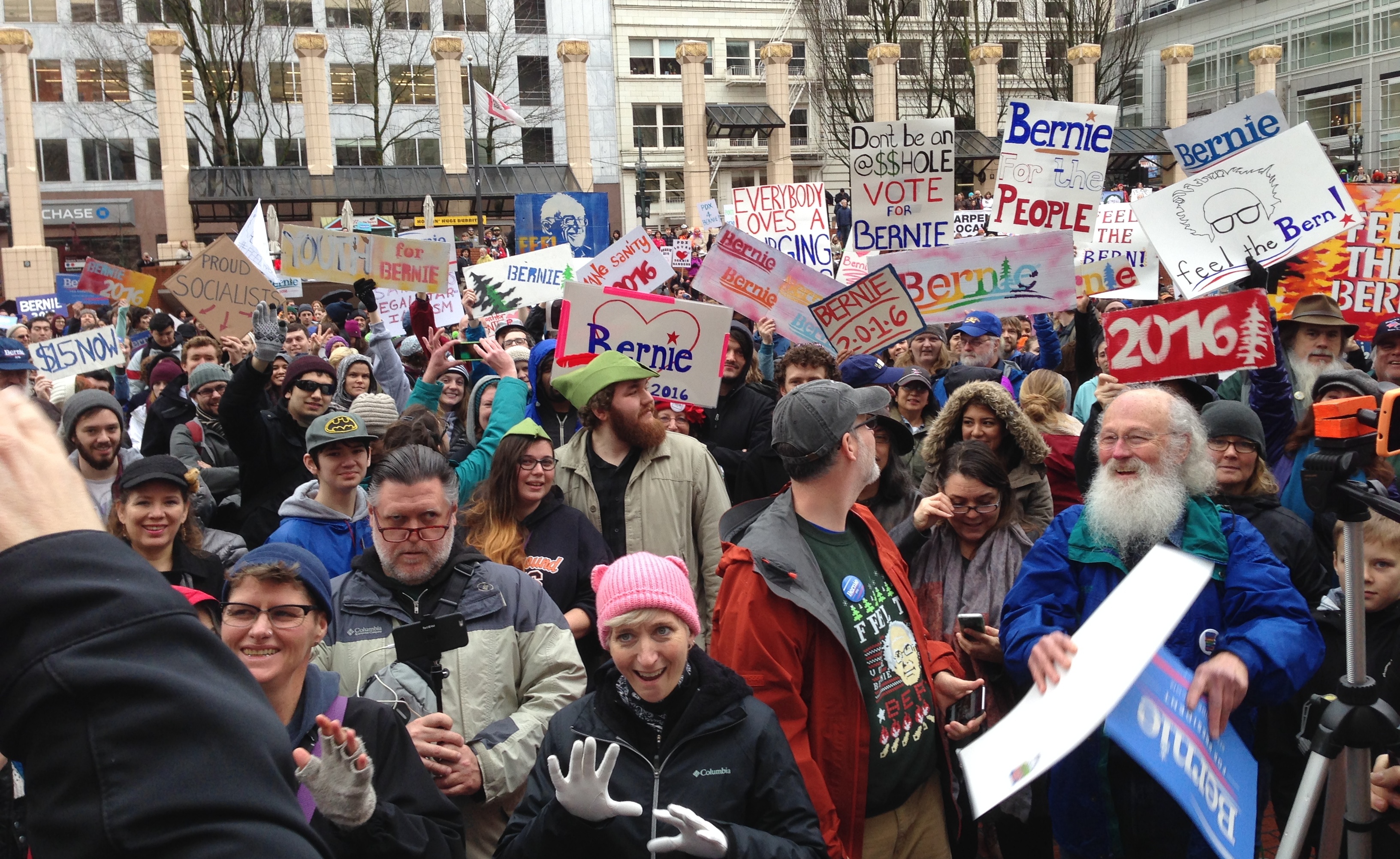 March for Bernie Rally, January 23, 2016