You can also view upcoming events in a Google calendar format on our Calendar page, or check out past events here. We recommend you visit Facebook event pages for updates on time and location.

BERNIEPDX EVENTS
Sick and tired of a Republican-run Congress? 2018 is time to flip some seats! Dorothy Gasque is an amazing Berniecrat running to replace Jaime Herrera Beutler, our closest Republican Congress member, representing Washington's Third District, just across the river. Herrera Beutler, who votes in line with Trump about 88% of the time, clearly does not represent the people. Dorothy herself is a long time BerniePDX member, a combat vet and a powerful progressive political organizer. She is uniquely qualified to win this seat with a progressive peoples' platform, and her military background enables her to bring conservatives on board, boosting her chances in an open primary state.
We at BerniePDX can create the change we want to see by helping oust Jaime Herrera Beutler and electing a representative we can believe in, Dorothy Gasque! Let's have a mailing party for her! Dorothy will be there herself, so if you haven't met her, this is your chance! While we're stuffing envelopes, she'll be talking about her amazing platform and the things we can do to help her campaign, like canvassing and holding phone banks in Portland.
Location: Watershed, 5040 SE Milwaukie Ave.
Come out to join us in supporting two Bernie-rific candidates in Washington County! Shabba Woodley is running for Chair of the Washington County Commission. Dana Carstensen is running for Metro District 4. Please join us to raise the profile of these great candidates!
Location: TBD
__________________________________
VOLUNTEER OPPORTUNITIES
María García wants to make Multnomah County government more accessible and responsive to the people! Let's start by meeting our neighbors in District 2 and introducing them to the candidate who will bring their voices into the decisions that affect Multnomah County!
Sign up here: https://goo.gl/forms/REIOlsKpFhu5tGO42
Location: TwentySix Cafe, 2723 NE 7th Ave.
Come join us for Happy Hour and meet and support an incredible candidate Kayse Jama for State Senate! Bring your friends and family!
This is a super easy way to support a local progressive candidate and enjoy good food and company! Kayse Jama is Executive Director of Unite Oregon. He is an amazing bridge builder and community organizer. He is also not taking any corporate donations! We're excited to see you all!
Click here to see multiple volunteering opportunities for Kayse Jama!
Location: 1811 NE 58th Ave.
Come join us to tell our community about TWO amazing progressive candidates- JoAnn Hardesty for Portland City Council and Kayse Jama for State Senate District 24! These community advocates will not only represent us, but will amplify the voices of our neighbors. Come let people know they can vote for two candidates who will work WITH us to solve the problems that our community faces every day.
Bring your walking shoes, your friends, your family, and we'll provide the materials and any training you might need. We'll also provide snacks! See you there!
Location: Somus Boba Cafe, 11906 SE Division St.
__________________________________
LOCAL EVENTS
We've had enough. Thoughts and prayers are not enough to honor the victims of gun violence. What we need now is action.
On March 24, 2018, students will rally in Washington D.C and in local communities across the country to demand action from our leaders. Join us in the March For Our Lives here in PORTLAND as we fight for an America that is free from gun violence.
Location: North Park Blocks

Location: IRCO, 10301 NE Glisan
This months event will have a focus on music with a series of performances by musicians who care about net neutrality and municipal broadband. More details to be added soon!
Location: Portland City Hall
Hosted by Unite Oregon, OPAL and the Community Alliance of Tenants.
Location: St Anthony Catholic Community, 9905 SW McKenzie, Tigard
Martin Luther King Jr., American clergyman and civil rights leader, was fatally shot at 6:01 p.m. at the Lorraine Motel in Memphis, Tennessee, on April 4, 1968. He was rushed to St. Joseph's Hospital, where he was pronounced dead at 7:05 p.m. CST.
We Carry His Name and Reclaiming His Work! What Would King Do?
Location: King Elementary School, 4906 NE 6th Ave.
In the Portland metropolitan area, a municipalist movement is also taking shape. In 2016, a vibrant tenants rights movement galvanized voters to defeat an incumbent City Commissioner. This victory demonstrates an opportunity for grassroots forces to change Portland for the better.
Our goal is to create a Portland metro area that's a healthy and nurturing place for everyone and every community who calls it home, and not just an enclave of the 1%. Toward that end, the Portland Metro People's Coalition (PPC) is organizing a People's Convention to ratify a Bill of Rights and platform for collective action.
Location: SEIU 503, 6401 SE Foster Rd.
7th Annual Inner City Blues Festival "Healing the Healthcare Blues": a Benefit for the campaign towards Universal Healthcare and HEALTH CARE FOR ALL~OREGON
ADVANCE TICKETS: $20.00 DOOR PRICE: $25.00
Location: North Portland Eagle's Lodge, 7611 N Exeter Ave.
______________________________________________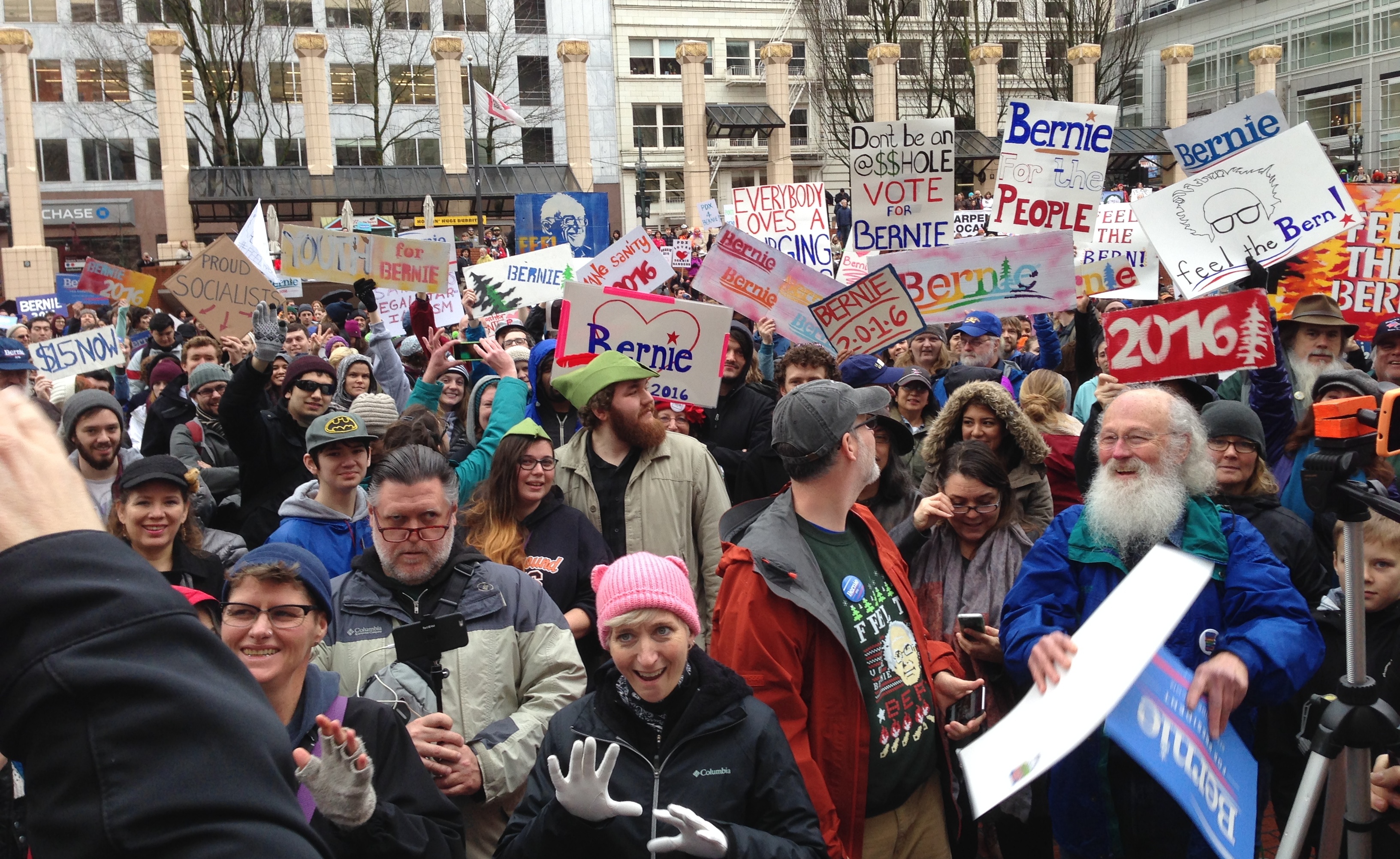 March for Bernie Rally, January 23, 2016