We recommend clicking the links for updates on time, location, or any other changes.
THIS WEEKEND, SEPT. 22-24: Community Art Build for Public Education
Portland teachers are fighting for Safe, Sustainable and Equitable Schools for Every Student. To win this union contract will take all of us — teachers, parents, students, and community members. 
Join the Community Art Build for Public Ed! We will be painting banners, screen printing posters, and assembling other pieces in preparation for coming campaigns to win the public schools all Portland students deserve. Local and national artists have designed most of the work being used in the art build. No art experience is necessary!
Friday, 9/22: 5:00-9:00pm
Saturday, 9/23: 10:00am-9:00pm
Sunday, 9/24: 10:00am-5:00pm
Location: Portland Association of Teachers, 345 NE 8th Ave. 
FRIDAY, SEPT. 22, 7:30-10PM: The Immigrant Story Live
The Immigrant Story, in collaboration with Portland Center Stage, is honored to bring our acclaimed live storytelling event, The Immigrant Story Live, to The U.S. Bank Main Stage at The Armory. We invite you to hear four compelling first-person tales of courage, fortitude and resilience in the face of unimaginable challenges by members of our community from Afghanistan, Zimbabwe, Mexico and India.
Join us for a night of stories and music from Oregonians, about the places they built, the traditions they brought, and what it has meant to truly belong in their hometown. This live event will celebrate the broader meaning of global diversity by drawing attention to the rich diversity in our communities and investing in their stories and traditions.
Location: The Armory, 128 NW 11th Ave
WEDNESDAY, SEPT. 27: Protest "Who Will Own the Forest?" Conference
On Wednesday, September 27 grassroots activists and leaders from the forest defense & climate justice movement will converge at the World Forestry Center for a massive demonstration to confront these Wall Street capitalists and put them on notice that managing forests to maximize profits for the rich & stall climate action will be met with increasing resistance. There will be speakers, music, marching bands, theatrical performances, art & creative resistance, and more–come out to show these Wall Street elites that extractive forestry and false solutions will be risky investments in the face of staunch grassroots opposition!
Location: World Forestry Center in PDX, RSVP Here for more info
THURSDAY, SEPT. 28, 10AM-5PM: Forests Over Profits Conference
Communities and forests need real solutions to the climate emergency, industrial logging, and colonial land grabbing. On Thursday, September 28 come to the Forests Over Profits conference in Portland. In contrast to the corporate 'Who Will Own the Forest?' conference, communities and activists will come together to elevate real solutions and the need for fundamental systems change in the face of capitalist exploitation and the climate & biodiversity crises.
From 10am-5pm we'll learn from speakers & panelists about approaches to forest management that support ecosystems, empower communities, and grow climate resilience, including Land Back and other indigenous land management systems, community forestry & land trusts, and sustainable forest management. Through presentations and discussions, participants will be encouraged to support real alternatives to corporate, profit-driven management.
FRIDAY, SEPT. 29, 7PM: Sorry to Bother You Film Discussion with Portland Rising
We usually gather on zoom to watch and discuss a film on the same night. This time, because our film, Sorry to Bother You, is longer than our typical fare, we are asking people to watch the film on their own and then join us on Zoom to discuss it on Friday, September 29, at 7 pm Pacific Time. Please write portlandrisingprograms@gmail.com for the Zoom login!
Sorry to Bother You is a 2018 surrealist dark comedy written and directed by the musician and activist Boots Riley. The film follows a young black telemarketer (played by LaKeith Stanfield, later an Oscar nominee for "Judas and the Black Messiah") who adopts a white accent to succeed at his job. Swept into a corporate conspiracy, he finds he must choose between selling his soul to the company for money or joining with his friends to organize its workers. One reviewer captures the film as follows: "Boots Riley's 'Sorry to Bother You' is an adrenaline-shot of a comedy and a fearless dissection of identity politics, corporate malevolence, and the American tendency to look the other way when confronted with horror." Check out the trailer here to get a sense of the adventure that awaits.
RSVP by emailing portlandrisingprograms@gmail.com
TUESDAY, OCT. 3, 7-9PM: Socialist Job Fair
*Sick and tired of your current employment / under-employment / unemployment?
*Alienated and alone at work, without a socialist in sight?
*Get a job organizing with other socialists!
Location TBA
---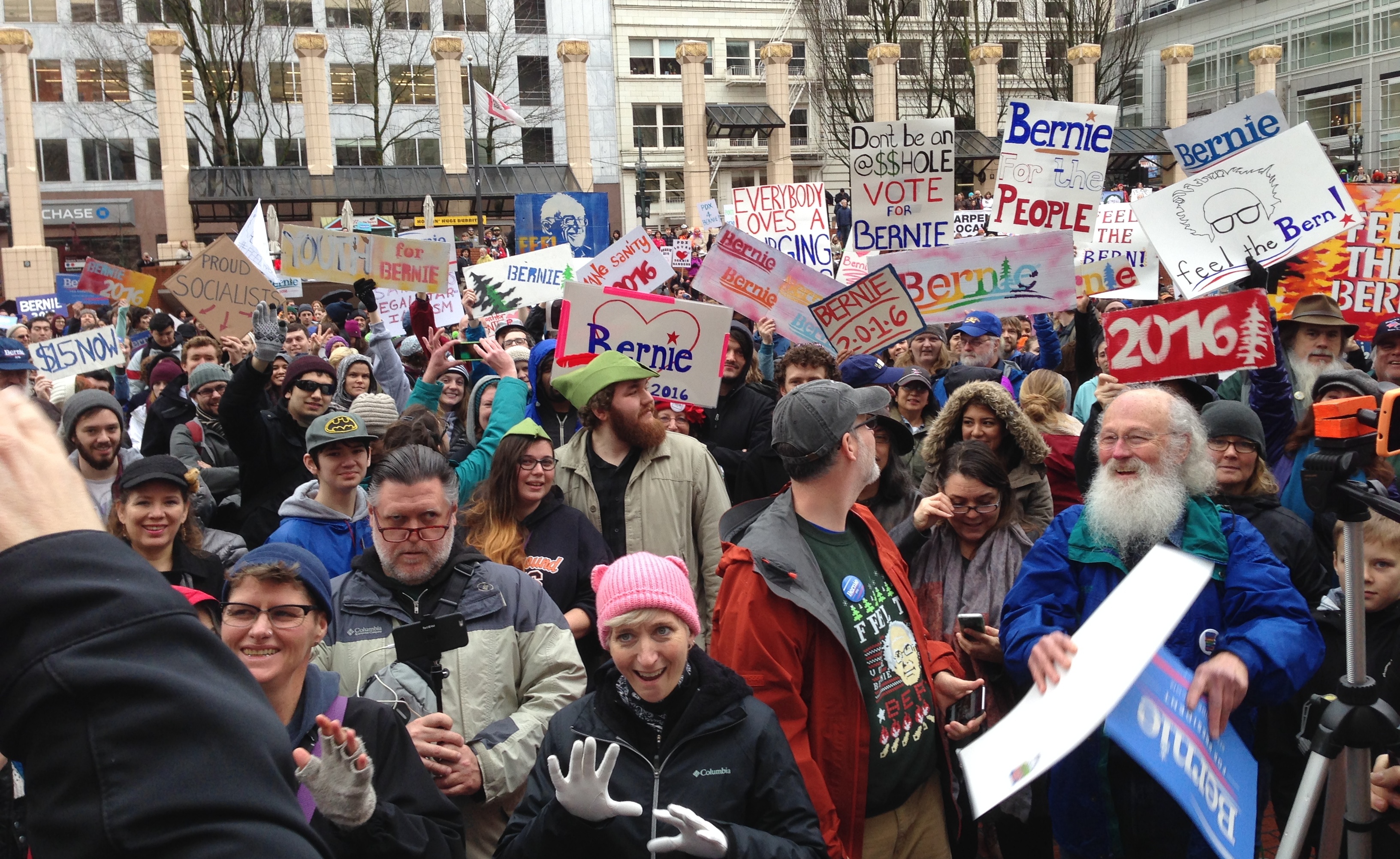 March for Bernie Rally, January 23, 2016