We recommend clicking the links for updates on time and location.
Know of an event BerniePDX members would be interested in? Let us know! Email info@BerniePDX.us
BerniePDX Events
Join BerniePDX to canvass for Bernie 2020 at the Hollywood Farmers Market! We'll provide a clipboard and a brief training. Just bring a pen and your enthusiasm for Bernie =)
Meet at 10:30am at the corner of NE 44th and Hancock.
Location: NE 44th and Hancock, Hollywood Farmers Market
Local Events
We obtained a list of all community center customers. We will be using this list to host our FINAL phone-banking session at our Union office.
Food will be provided!
We are going to be urging community center users to attend the May 22nd City Council vote and to make clear they want parks FULLY funded!
We are getting very close to voting time, and everyone's efforts count! Please attend these phone banks if you can, this is an opportunity to activate people that we know regularly use and enjoy the services you and community centers provide!
Location: Laborers' Local 483, 1125 SE Madison St, Portland
A budget is a moral document, and our document is worth $6 billion. We have the resources to do what we need to do to support all Portlanders – it's just the matter of making the choice to fund services and programs that align with our communities' values and show we're listening to what they need and want.
If you agree we should invest in community over incarceration, please show up on May 22nd to City Hall and make your voice heard.
Read the event description for the list of amendments JoAnn is proposing.
Location: Portland City Hall, 1221 SW 4th Ave. 
​​​Communities across the country are standing against fossil fuel corporations, so the current administration is attempting to silence us.
​​​​​The Trump administration signed two executive orders last month that would inhibit local intervention and resistance to the perpetuation of the fossil fuel economy by limiting the environmental review process. These orders aim to circumvent input from local and impacted persons and groups, ultimately further concentrating decision making power in the hands of federal policy makers who decide in favor of personal profit rather than long-term consequences for all.
Pembina Pipeline Corp. just last week dropped their spending from $120 million to $50 million, likely responding to the lack of outside investment interest and support. This unpopular and unnecessary project could be forced through by the current administration unless we come together to fight and win.
The proposed Jordan Cove pipeline project would be the largest CO2 emitter in our state. And we may lose our opportunity to resist it.
This is why Portland Rising Tide is calling for a rally and action to let our voices be heard! The Jordan Cove pipeline project, owned by Pembina, has loomed over future generations, indigenous communities, landowners, and–ultimately–all of us affected by climate change for too long.
Location: NW Park and Couch (North Park Blocks)
We are in a crisis situation! Wages remain low while housing becomes more and more expensive, throwing many low income people and families into deeper poverty. This causes many people to be /or about to be homeless. Affordable housing is in short supply creating additional stress, over burdening the community as a whole and creating friction between the housed and unhoused. This is not just a urban situation. People of color, migrants, the elderly and disabled people are disproportionally affected.
In light of these problems we are asking the Governor and the Oregon Legislature to do the following:
• Declare a statewide Housing State of Emergency
• Stop the inhumane and unconstitutional sweeps when there is no place for people to go
• We demand affordable housing for all
• We demand an end to the targeting of homeless people by the police
• We demand basic services, water, trash, and toilets
• We demand that self-governing, peer run, innovative communities are allowed
You may join us in many ways, from walking the whole way with us to attending many of the events (some still being finalized) along the way.
*******If you are intending to participate in anyway, big or small please go to our website: thegiveusshelter.com
Scroll down to "How to Participate." Click on the purple "register" near the bottom and fill out the form. Thanks!
Location: Glenwood City Park to Salem
The NW ICE Breaker Summit will bring together activists, artists, students, academics, organizations, and directly impacted communities from around the northwest to get connected and organize for the next stages in the nationwide battle against our brutal immigration system. The summit will bring together a diverse group to learn from each-other, strategize and build momentum towards a national coalition.
Join us for a weekend of workshops, presentations, crafting, and community building! Full event program to be released soon!
Location: TBA
Location: Oregon State Capitol, 900 Court St NE
We'll be gathering our members, activists, stewards, and concerned community members to show OHSU that we will not stand for further takebacks. Enough is enough.
This will take place on the Marquam Hill campus. Dinner and solidarity will follow. More details soon.
Location: AFSCME Local 328, 6025 E Burnside St.
______________________________________________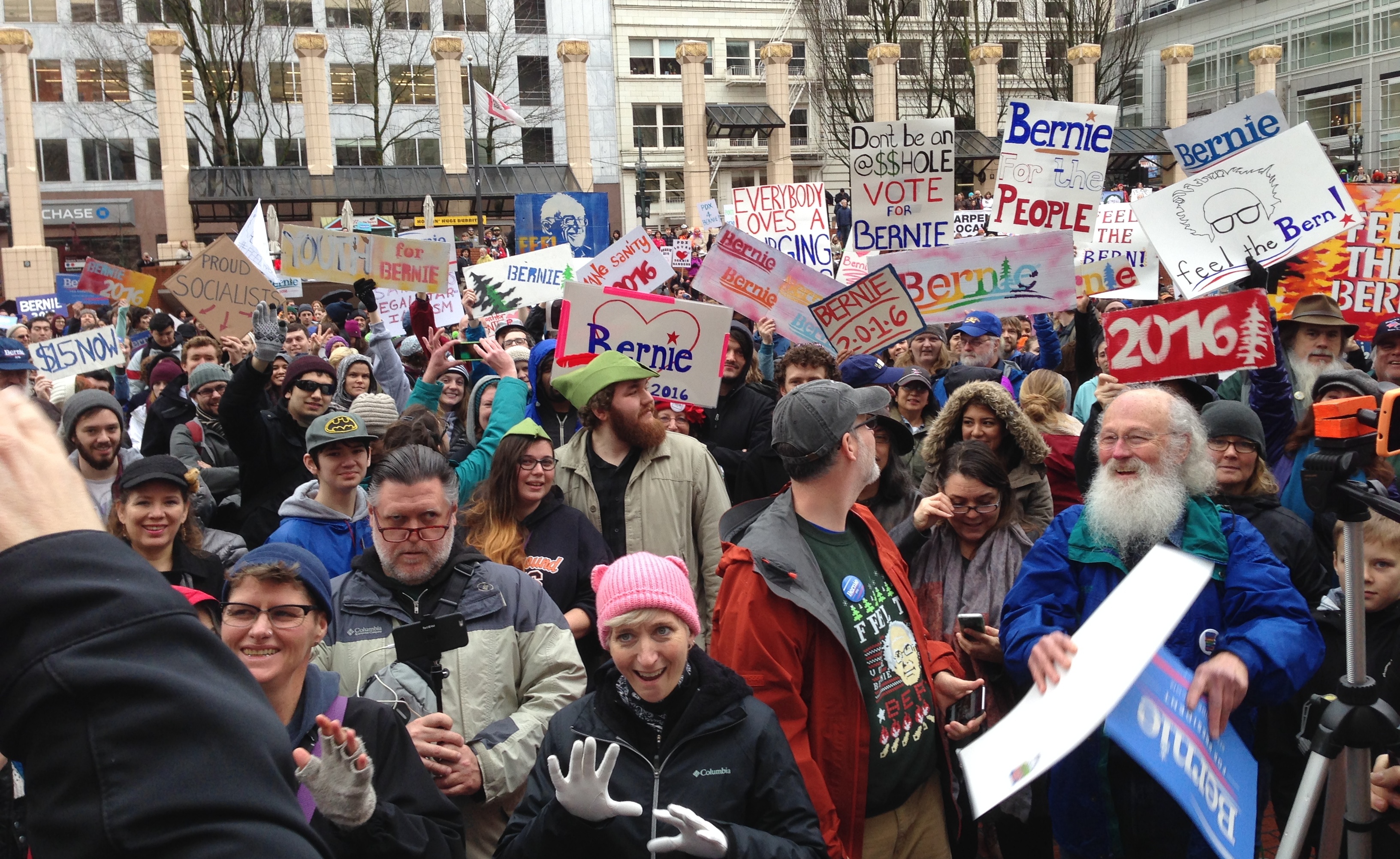 March for Bernie Rally, January 23, 2016