We recommend clicking the links for updates on time and location.
BerniePDX Events
Local Events
Causa and APANO will be hosting a workshop to discuss the importance of giving immigrants the chance to apply for a driver license. We will also talk about the necessity of paid medical leave for families. Workshop attendees will have the opportunity to learn about campaign messaging and the best way to take action. With your help, we'll send a message that our community is committed to making Oregon a better place for all.
RSVP at: https://secure.everyaction.com/z0cj0tuBY0q7igV9ZMEgRw2
Location: Oregon AFL-CIO, 3645 SE 32nd Ave.
The Joint Committee on Ways and Means is holding a public "hearing" in the MAHB at PCC-Cascade in response to their proposed budget, which slashes Oregon school funding by an additional $100 million dollars, and under-funds the QEM by over $2 billion in the coming biennium. It is clear they have chosen NOT to hear us or this proposal would not exist.
Join together in front of the student union building with educators, students, and community members as we rally together and share our stories. Let's make sure everyone is heard. Loud and Clear.
Location: PCC Cascade, 705 N Killingsworth St.
Would you like to see the City of Portland ditch banking with Wells Fargo? Would you like to see all OUR (taxpayers) money the city invests stay in the Portland region?
Believe it or not such a world is possible! With a public bank (also known as a Municipal Bank).
Join us and the Portland Public Bank campaign to learn about what a public bank is, why it matters, and where we're at in the campaign to start a public bank of Portland. If you're curious to learn more about the topic ahead of time you can visit http://www.publicbankinginstitute.org/
Location: Lucky Lab, 1700 N Killingsworth St.
Join local activists and immigrant rights organizations for a weekend of workshops, presentations, crafting, and community building!
A core focus of this event will be developing strategies for the growing national coalition fighting to abolish ICE.
More details to be announced soon!
Location: Geodesic Collective, 1006 SE Grand Ave. Ste. L100
Join Represent.Us Vancouver to watch Unbreaking America starring Jennifer Lawrence. Then stay for a discussion on how corruption affects us and what we can do about it.
Location: Three Creeks Library, 800 NE Tenney Rd. Bldg. C, Vancouver, WA
REGISTER NOW: https://labornotes.org/pdx
Join union members, labor activists, and community organizers for a day of skill-building and strategy discussions to create a stronger workers' movement.
Workshops on: Secrets of a Successful Organizer, contract campaigns, building labor-community alliances, winning strikes, defending our unions, new worker organizing, and lots more!
Registration: $10. Registration fee includes a light breakfast, coffee, lunch, and workshop materials.
REGISTER AT: https://labornotes.org/pdx
Childcare stipends, transportation, and Spanish translation available. Email labornotespdx@gmail.com or call 971-998-7340.
Location: Pacific NW Carpenters Institute,  4222 NE 158th Ave
______________________________________________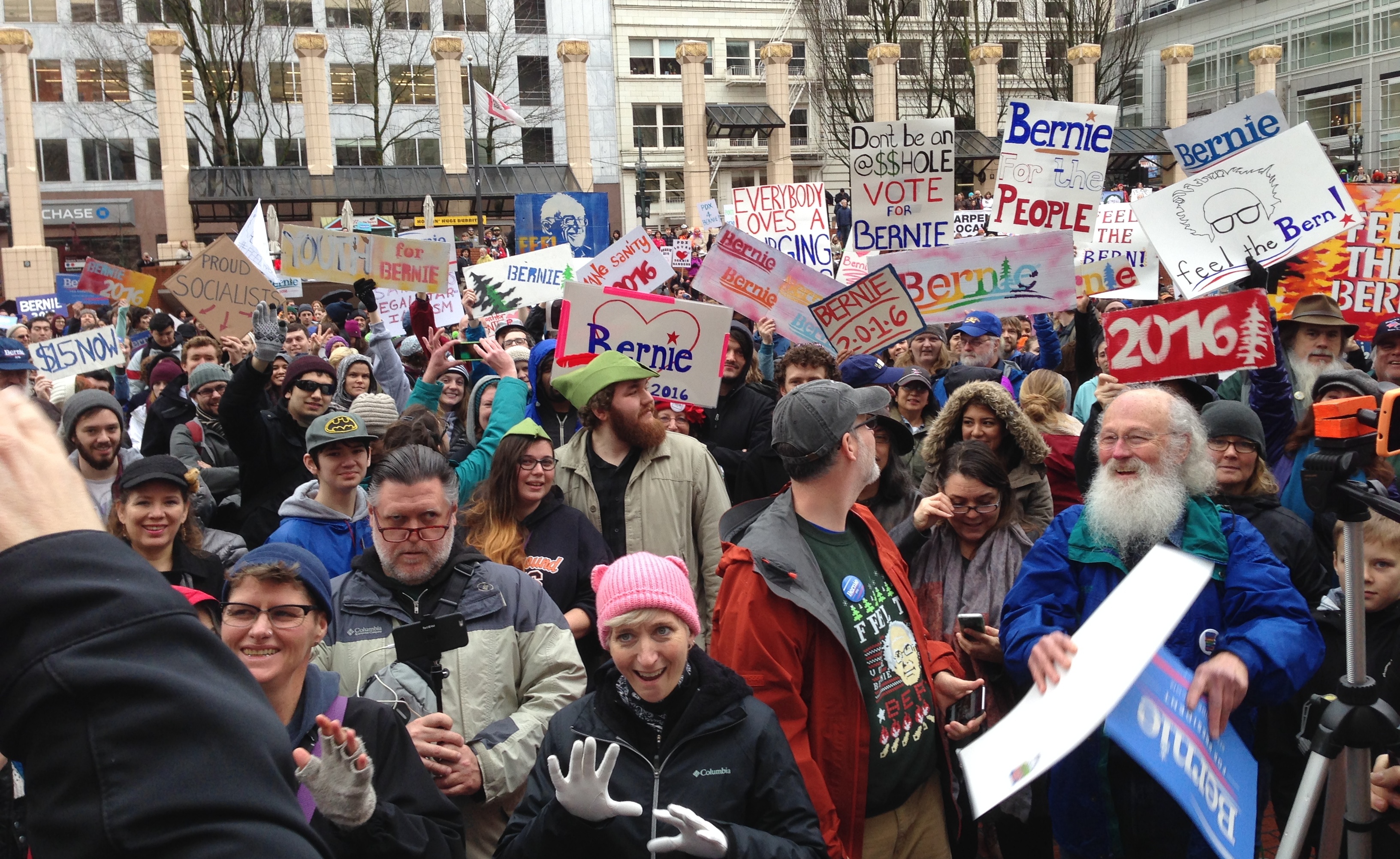 March for Bernie Rally, January 23, 2016