You can also view upcoming events in a Google calendar format on our Calendar page, or check out past events here. We recommend you visit Facebook event pages for updates on time and location.

BERNIEPDX EVENTS
Dorothy Gasque needs our help reaching out to voters in her district. Please join us to make calls using the JD automated dialer – it's easy, fun, rewarding, and you'll get to meet like-minded community members! All you need is a charged cell phone and a laptop or tablet. If you have a headset or a spare laptop or spare charger, bring that too. And don't forget to invite a friend to take an hour to call also! You don't need to know everything about the campaign or be an issue expert to make a huge difference! Let's continue Alexandria Ocasio-Cortez's momentum! See you all this coming Wednesday!!!!
Location: Portland Mercado, 7238 SE Foster Road.
__________________________________
LOCAL EVENTS
Join occupiers for a few hours or for days, in solidarity with detained refugees and separated immigrant families, and to abolish ICE!
Location: ICE building, 4310 SW Macadam Ave.
We need your help building out the sleeping pods at Right 2Dream Too. As a community we have raised money so that R2DToo members have a place to sleep when they aren't working or operating the rest area. Now it's time to build them!
· We will be meeting in the 999 N. Thunderbird site and building in the surface parking lot just north of Right 2 Dream too.
· Sign up for a 3 hour shift, or more if you can. We need about 5 people per shift, so get a group of friends together and make light work of this task!
Our annual picnic/potluck is a fun time to mingle with elected officials, candidates and other Democrats. We provide burgers & hotdogs (both meat & veggie), buns, condiments, soda and water. You provide the potluck – so feel free to bring chips, salads, dips, desserts, veggie/fruit trays, etc. Please mark any containers you bring with your name. NO ALCOHOL ALLOWED in the park.
Location: Red Sunset Park, 2400 NE Red Sunset Drive, Gresham
Come spend a Saturday afternoon with the Democratic Socialists of America and help build the movement for Medicare for all and single-payer healthcare! We'll train everybody on how to canvass, have them pair into two-person teams, load up into cars and head out to the turfs. We will be knocking doors in neighborhoods in the Kenton area.
Click this link to RSVP and get updates on the event! https://tinyurl.com/ydhl5lxm
Location: 2249 E Burnside St.
On July 17, one month after the Portland rally and vigil that sparked the national #OccupyICE movement, we are calling for a National Day of action against ICE. The #OccupyICE movement began with one tent and a few sleeping bags; within 2 days, Portlanders from all walks of life had successfully forced the shutdown of the local I.C.E detention facility. What started with a dozen activists who took a stand in Portland has transformed into a national movement, with people from all walks of life, united under one goal: Abolish I.C.E. From coast to coast, take a stand against the American Gestapo! The louder we become, the more that the government tries to silence our dissent to their crimes against humanity. But the people will not be silenced. Join us.
Location: 4310 SW Macadam Ave.
A criminal shouldn't get to pick their judge. We are continuing our resistance of this bogus SCOTUS nomination by holding a rally and protest of Brett Kavanaugh. We are calling on Democrats to do everything they can do to delay the vote until after the midterm elections. We are also calling on Republicans to vote against the nominee.
A women's right to choose, marriage equality, money in politics, criminal justice, environmental justice, regulatory efforts, our every right and more are all at risk if we do not stand up against this pick. The impact of a successful confirmation will be devastating to marginalized communities. We have a responsibility to meet this nomination with resistance at all levels.
The only way we can stop this confirmation is with a massive movement. Please join us to rally, protest, speak and write letters and resist this administration's efforts.
Location: Chapman Square, SW 4th Ave.
When Immigration and Customs Enforcement (ICE) agents separate families and detain immigrant members of our communities, the impact on health and healthcare is devastating.
Join people of faith, care providers and healthcare consumers to bear witness and protest the abusive treatment of immigrant workers and consumers. We will be holding a vigil and protest at the Portland office for ICE, and will be highlighting the unique way immigration instability affects care providers and the people they provide care for.
This vigil is a joint projects of Oregon CareWorks and the Interfaith Movement for Immigrant Justice (IMIRJ).
Location: 4310 SW Macadam Ave.
Stop Cuts, Closures and Privatization! Defend the Postal Service, Schools, and Hospitals from the Administration's Attacks!
Location: Main Post Office, SW Hoyt & Broadway
One man's journey from what was once called "the most dangerous city in the world" – Medellin, Colombia – to Princeton and Harvard Medical School to become one of the top cardiac surgeons in New York State. As a 13 year-old, he and his 11 year-old brother traveled with 10 adult strangers in a tiny wooden boat through the treacherous Bermuda Triangle during hurricane season to join his parents in America, from whom they had been separated for years. Suggested $10-20, all proceeds will go to support Immigrant Legal Aid and KBOO Community Radio. No one turned away for lack of funds!
Location: Clinton Street Theater, 2522 SE Clinton St.
______________________________________________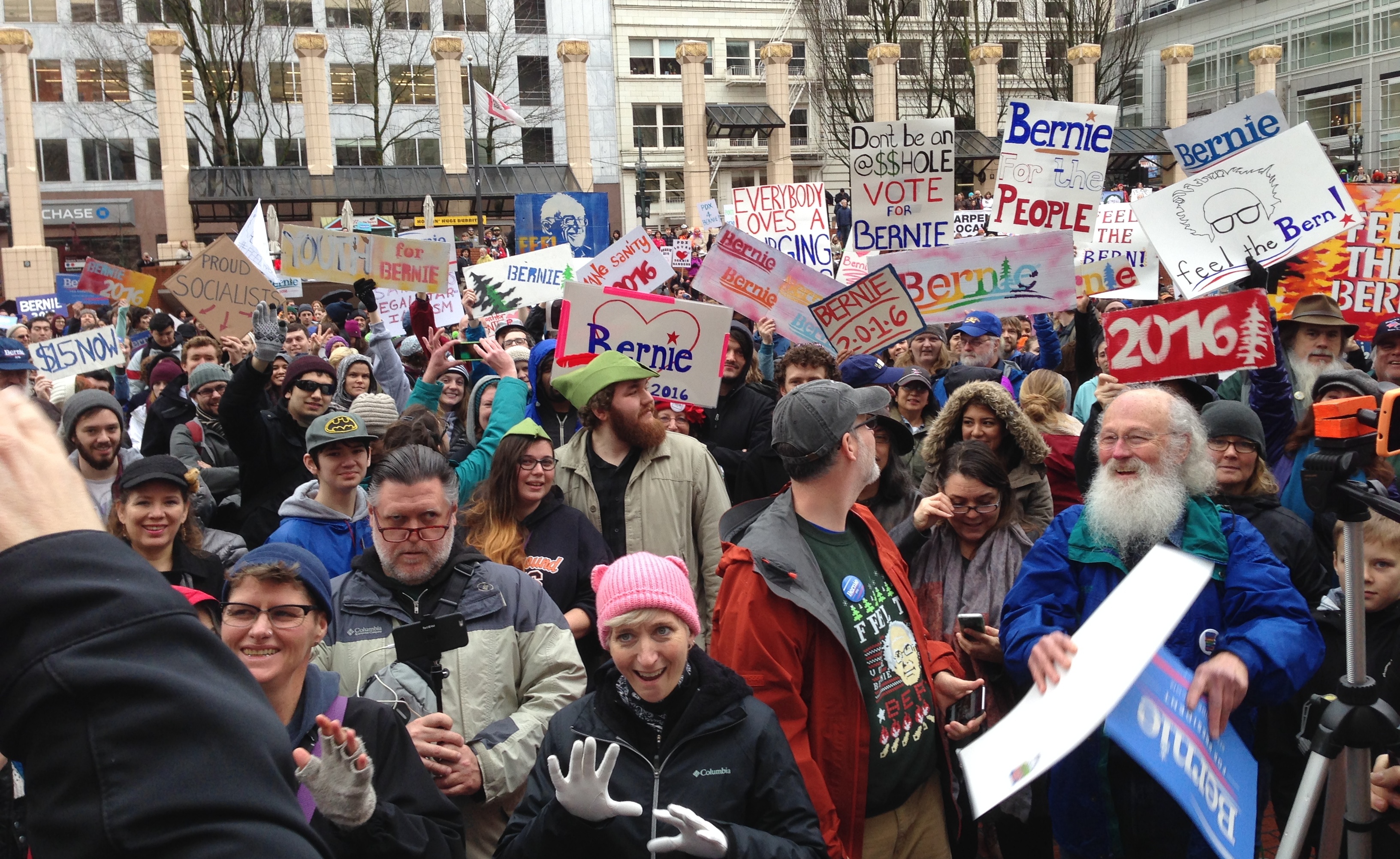 March for Bernie Rally, January 23, 2016