We recommend clicking the links for updates on time and location.
BerniePDX Events
Location: 5415 NE Cesar E Chavez Blvd and 3007 NW Wilson Street
Location: 2311 N Blandena St.
PHONEBANK DETAILS:
Join BerniePDX every Sunday, 3-6pm, to call voters and propel Bernie to victory! The first primary is just days, and Bernie needs our help to become the next president!
**Please bring a laptop or tablet and a phone.**
Since Oregon's primary is so late, the best way for us to help Bernie is to call early primary states (like California, which has over 400 delegates and moved their primary from June to March). That's why BerniePDX is hosting phonebanks! Making these calls is fun and doing it together is a great way to hang out with and meet like-minded people!
Training and snacks will be provided.
Join the Multnomah County Democrats, BerniePDX, and East County Rising for our 2020 Portland Mayoral Candidate Forum on Tuesday, Jan. 21! Bring your questions and your friends!
In the race for Portland's highest office, residents want to know what candidates will do to address widening income inequality, lack of affordable housing and increasing houselessness, and whether mayoral hopefuls will use the newly-adopted public campaign finance system.
Hear where the candidates stand on police contract negotiations, transportation, combating climate change, and more.
The following candidates are participating:
Willie Banks
Ozzie Gonzalez
Sarah Iannarone
Teressa Raiford
Location: Sunnyside Community House, 3520 SE Yamhill St.
Bernie's first election of 2020 is finally here! Join BerniePDX to celebrate and watch the Iowa Caucus election results!
All are welcome. Food and drinks available for purchase.
Location: Stingray Cafe, 240 N Broadway
Every Thursday, 1:30-3:30pm: Text for Bernie!
Some BerniePDXers are getting together every Thursday to text for Bernie! Bring a laptop and ear buds. Visit berniesanders.com/text to take the texting webinar before the event. We'll also discuss other ways to support Bernie!
Questions? Email info@berniepdx.us.
Location: Tabor Space Cafe, 5441 SE Belmont St
Text for Bernie from home! You can text for Bernie and help him win crucial early primary states! Sign up for a training at: berniesanders.com/text
Local Events
The 6th Annual Children's March for Social Justice is our most important action of the year!!
Once again Children Lead with parents, community and neighbors supporting the promotion of free speech for our demands of Human Rights and Dignity!! We stand together in solidarity for social change.
The Children's Art and Social Justice joins forces annually to celebrate the legacy of the Reverend Dr Martin Luther King Jr with several community groups, unions, sponsors and partner organizations.
Once again we will collect food and clothing for local families which is distributed all year Long via our partnership to support the Community Feed In programming at Hughes Memorial.
Join us for our sign making event this year at the Portland Art Museum (bring your family and neighbors !): https://portlandartmuseum.org/event/dont-shoot-portland-printmaking-workshop/?instance_id=31050
Help us get the space at Hughes Memorial ready by signing up to volunteer: https://www.dontshootpdx.org/community-clothing-tree-2/
Reclaim MLK Annual March for Human Rights and Dignity
Guidelines and Accessibility Pledge:
This event is a protest, meant to include everyone as we support and uplift the voices of Black people. We are unapologetic in our movement for Black Lives and we use this event to center the voices of our children, who are most vulnerable to the systemic violations of civil liberties. We want everyone to feel welcome to support and participate in this movement work to uplift the Black family and our entire community. Not many events center the voices of children to uplift the Black community so we reclaim Dr. Martin Luther King Jr. Day for this purpose. Our children deserve to be centered and celebrated by our diverse community because when we center the voices of our most marginalized then we are truly doing the work of change agents.
This community action is for EVERY BODY, focusing, amplifying and centering the voices of our children and most marginalized members of our community.
Location: Peninsula Park, N. Albina, between Rosa Parks and Answorth
Please Join Critical Resistance Portland for our monthly Mail Program!
Each month we gather as a mail crew and volunteer team to host an open letter writing + work party to connect with folks looking to get involved. We receive anywhere from 20-40 letters a month and we offer political education, resource information, and books and articles Folks can help out by writing letters to people in OR/WA prisons, typing notes or archiving correspondence, as well as other things that help our chapter running. This is the best time to connect with chapter members and learn more about upcoming projects, events and build coalitions among accomplices for abolition.
All materials will be provided and CR PDX has a P.O. box for folks to write back to. One of the best parts about mail program work parties is that we put out all of the political education materials we use, both for events and our mail program. Come read some stuff and maybe help inventory our supplies. The #4, #44, and #72 bus lines all run near by. Kids are totally welcome! Donations of stamps, pens, lined paper, and envelopes are always needed and welcome.
Location: Dismantle Change Build Center, 14 NE Killingsworth St
Patagonia is joining forces with the Center for Sustainable Economy for a panel discussion with activists fighting tar sands in the Pacific Northwest. Come and learn about the risks, how the industry figures into the broader context of climate change and fossil fuel development, and ways you can get involved. Don't forget to BYO (Cup)! Refreshments will be served thanks to Hopworks Urban Brewery and JuneShine.
A number of organizations that Center for Sustainable Economy works with will be present, including Columbia Riverkeeper, Friends of the Columbia Gorge, and the Stop Zenith Collaborative.
Location: Patagonia, 1106 W Burnside St.
A new presentation by Ahjamu Umi on the historical origins of systemic white supremacy based on the concepts in his latest book "The Paradox Principles" with the following key points:
A. The Importance of colonized voices in leadership in the struggle for justice
B. The Importance of women and non men in leadership in the struggle for justice
C. Building community defense models to support this work
D. Being an effective accomplice against white supremacy
*Childcare, ASL interpretation and snacks provided. Accessible Space.
Doors open at 6pm, event begins at 7pm
Ahjamu Umi is an organizer for the All African Peoples Revolutionary Party he has engaged in Pan African work on three continents and the Caribbean. He holds a Masters Degree in Econ/Poly Sci, and he is the author of four books, including 2019″s "The Paradox Principles"
Location: 6401 SE Foster Rd.
Commissioner Jo Ann Hardesty will be joining us at our general membership meeting on Tuesday, January 28, starting at 7:00 PM to discuss Street Response, a pilot program launching exclusively in Lents this Spring, that is about responding to low-risk 911 calls involving people who are homeless.
Along with the Commissioner, we will also be joined by Kaia Sand, executive director of Street Roots, an organization that's been at the forefront of launching Street Response. We've also reached out to Firefighter Tremaine Clayton, the manager of Portland Fire & Rescue's Community Health Assessment Team (CHAT), who will be directly involved with Street Response in Lents, and we're waiting to hear back on whether he'll be able to join us as well.
Location: 8815 SE Woodstock Blvd
There hasn't been any logging in the Zigzag District of Mt. Hood in almost 25 years. Salmon recovery in the Sandy River watershed has had a disproportionately large impact on populations across the Pacific NW. Fast growing, carbon-rich forests are bouncing back from a century of clear cut logging and the recreation opportunities are world-class. Is it really a good idea to bring large-scale, mature forest harvest back to Zigzag? Unfortunately, the Mt. Hood Forest Management Plan designates much of this well-loved area for commercial logging and directs the Forest Service to 'get out the cut'. For now, the only way to stop this senseless destruction is people power.
Meet with Bark staff and volunteers to plug in to this campaign to keep large-scale, commercial logging out of Zigzag! Bark's Associate Director will give an overview of the threat posed by this project and the process for intervention. Attendees will be able to sign up for different roles, responsibilities, and actions to take over the next few months.
Location: Bark, 351 NE 18th Ave.
Q center is now hosting a free community self defense workshop! Drop in at our biweekly workshop and learn practical self defense geared towards the LGBTQ2SIA+ community. All ages are welcome. No supplies are needed, but please wear comfortable clothes and no belts/zippers (or other items that might scratch).
Please contact Page at page@pdxqcenter.org if you have any questions!
Location: Q Center, 4115 N Mississippi Ave.
---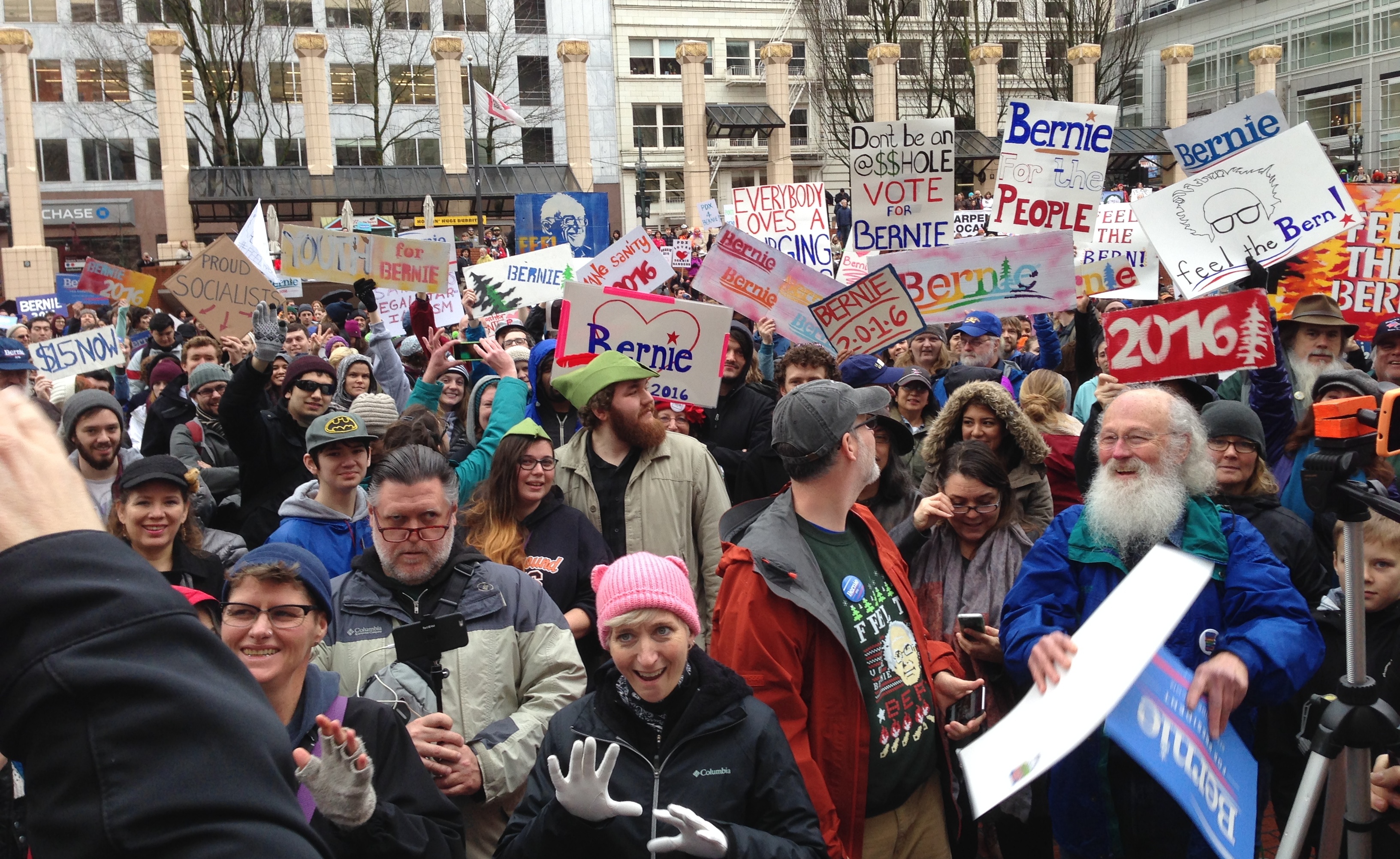 March for Bernie Rally, January 23, 2016