You can also view upcoming events in a Google calendar format on our Calendar page, or check out past events here. We recommend you visit the Facebook event page for updates on time and location.

BERNIE PDX EVENTS
This is still an ACTION MEETING, we'll be writing letters to Senator Wyden asking him to co-sponsor Bernie's new Medicare-for-All bill, and strategizing on lobby visits, language, and other ways to move Wyden and others.
But we've also decided to make that a fun social evening, so please note the CHANGE OF VENUE: We'll be meeting at Migration Brewery! See you there!
Location: Migration Brewery, 2828 NE Glisan St.
____________________________
LOCAL EVENTS
Have you been wanting to get more involved with PTU but not sure where to start? Join us for informal fun while getting questions you've got answered!
$1 off all draft beers and buy 1 get 1 half off entrees! Open to members and non-members. Friends and friends of friends also welcome. If you want to join the union, you can sign up online today and we'll have your union card ready at happy hour (Membership is sliding scale $5-$20/month. Low income waiver also available). Here is the link: www.pdxtu.org/join
Location: The Firkin Tavern, 1937 SE 11th Ave.
On Friday, October 20 at 8:00 a.m. a Rally will take place at the Immigration Customs Enforcement (ICE) building and several cars with banners and signs will depart in a CARAVAN to the office of US CONGRESSMAN GREG WALDEN. The Car Caravan will make stops in Woodburn, Salem, Corvallis, Lebanon, and Sisters. Our destination will be the Office of US Congressman Greg Walden for a Rally located at 1051 NW Bond St, Suite 400, Bend, OR 97701 for a Rally. Join DREAMERS, DACA RECIPIENTS, RELIGIOUS LEADERS, LATINO FAMILIES, AND ALLIES.
Location: ICE Building, 4310 SW Macadam Ave., Portland
All are welcome at the Village Coalition's General Assembly meetings, where we gather to discuss resources, service opportunities, values and vision, and partnerships.
Location: Q Center, 4115 N Mississippi Ave.
On the 3rd Saturday of every month the members of Hughes Memorial Church host a community meal. This year we have been joining in to help! Not everyone has access to food regularly and this is one way to help distribute and collect resources. We take to the streets to deliver food to the houseless community. Please join us on October 21st at 10:00 am to volunteer, donate, learn more!
Location: Hughes Memorial United Methodist Church, 111 NE Failing St.
Come and register to vote every Tuesday at Portland Mercado (Locations can vary) from 2pm to 6pm. Energize yourself and others. At this times more than ever is important to get out the vote in our vulnerable communities in order to impact our local elections. #Getoutthevote
Location: Portland Mercado
Join the staff and supporters of the Working Families Party for a once-a-month community happy hour where we can come together to talk about the issues that matter. We want to hear how you are engaging with the #Resist movement!
Location: The Firkin Tavern, 1937 SE 11th Ave.
We are honored to present Idle No More Washington's Decolonizing Our Activism Workshop presented by Sweetwater Nannauck. All are welcomed to attend this FREE life-changing training which incorporates traditional Native American teachings through stories, exercises, and discussions that are even more relevant and needed today. We are all hurt by systems of colonization. We will offer some suggestions on how to be a good ally and form partnerships with the traditional stewards of this land. 'Decolonizing Our Activism workshops are conducted in a respectful way that is both healing and empowering. Together we can do this vital liberation work.
IMPORTANT – must follow link to register and to guarantee your spot: http://bit.ly/2hRmMgf

Location: NAYA, 5135 NE Columbia Blvd, Portland
Join us at our Southeast community meeting to learn about Improved Medicare for All, share healthcare stories, and find out how we can organize & fight for a better medical system for everyone. This event is a potluck! Feel free to bring food and beverages to share.
Location: SEIU, 6401 SE Foster Road
We invite you to join the Civil Liberties Defense Center for a 4 hour intensive training structured to build our collective knowledge and skills to increase the security of individuals and political organizing groups. This training will include a Know Your Rights session and cover security culture, legal observing/copwatching, digital security for activists, and the various ways we are facing state repression (Grand Juries, SLAPP Suits, RICO) and how to effectively combat it.

Location: Multnomah Friends Meeting – Quakers, 4312 SE Stark St.
Come help plan next steps for our campaign to keep Portland free of any complicity in Israel's illegal occupation of Palestinian lands. Help preserve the partial victory of banning city investments in corporations that profit from the occupation and human rights violations.
Location: Taborspace, 5441 SE Belmont St.
Buddhist Peace Fellowship, The Ziji Collective, and Interfaith Movement for Immigrant Justice (IMIrJ) invite all concerned about the criminalization of immigration to join in a monthly walk of compassion and solidarity. The goal is to have all four sides of the I.C.E. building wrapped in a continuous stream of compassion. Participants need not be Buddhists or member of any faith. Instruction in the practice of moving meditation will be given at the start of each event.
Location: ICE Building, 4310 SW Macadam Ave., Portland
______________________________________________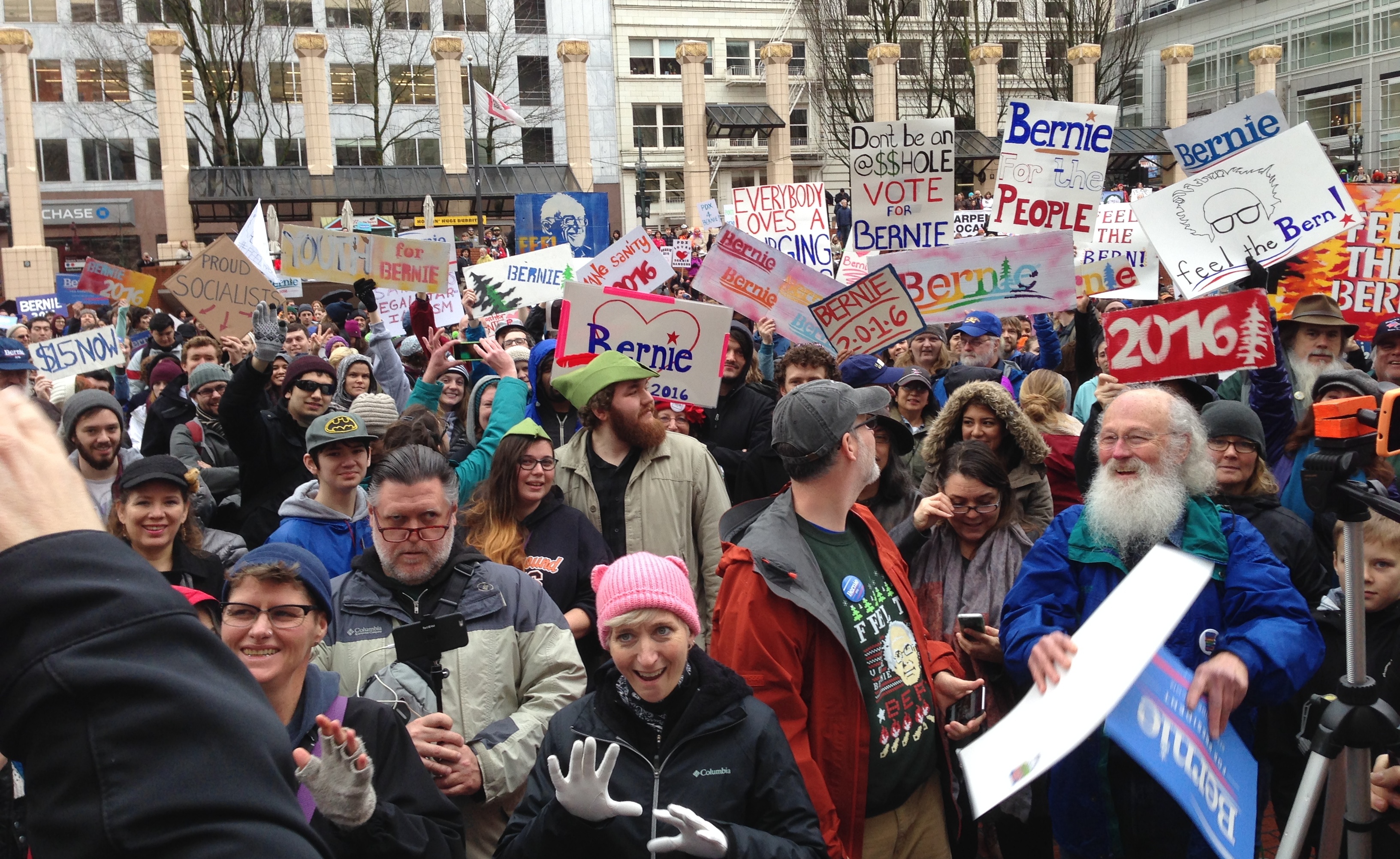 March for Bernie Rally, January 23, 2016