We recommend clicking the links for updates on time, location, or any other changes.  
Local Events
Higher education has been transformed over the last several decades. State funding has been dramatically reduced, tuition fees have exponentially increased, tenure track jobs have been replaced with adjuncts and graduate students, and staff have laid off and those that remain forced to work longer and harder for less.
The pandemic and recession have triggered an enormous crisis in this neoliberal model of higher education, putting not only jobs but entire institutions in jeopardy. This panel, organized by Spectre Journal, will address how faculty, staff and graduate students can organize and defend their jobs, programs, and higher education in the US.
Register through Eventbrite to receive a link to the video conference on the day of the event. This event will also be recorded and have live captioning.
Wednesday, November 25th, marks the 6 month anniversary of George Floyd's murder at the hands of police. Half way through the daily BLM Solidarity Protest we will remember George Floyd and kneel in solidarity for change and equity for all – Justice for George! At 1PM we will silence the music, lay down our signs, take a knee, and raise our fists for 8 minutes 46 seconds. Community, please join us, even if just for 10 minutes during your lunch break. Help us fill all four corners of Rosa Parks Blvd & N Denver Ave – Arbor Lodge.
Location: Rosa Parks Blvd & N Denver Ave.
UPDATE: We will host the monthly vigils online until it is safe to meet in person again. If you would like log-in information, please message this page.
Keaton Otis was a young Black man murdered by the Portland police over six years ago, May 12, 2010. The police admitted they stopped him for "looking like a gangster". They shot him 23 times after tazing him twice while he sat in the driver's seat. Later police said Keaton had a gun, but have yet to produce it.
Keaton's father Fred Bryant started the monthly vigil on the 12 of the month after his son's murder on the spot where Keaton's life was taken. Fred Bryant did this for over three years, fighting for justice for his son, every single month in the rain, the dark, the heat, the snow. Fred Bryant passed away October 29, 2013.
His family and community have committed to continuing the vigils every month on the 12th, until justice is achieved for Keaton, for Fred, for our whole community. Please join that struggle this month and help to spread the word.
Message the Facebook page to attend
4th Wednesday of the Month (except it's the 3rd Wed. in Nov.): BARK Free Mt. Hood Campaign Committee
Join via Zoom.
Registration here: https://us02web.zoom.us/meeting/register/tZMsfuCtqT8uGNMOdttQzFHTzsp8L2zirO7-
While Bark has been successful in stopping thousands of acres of commercial logging on these public lands, the root source of these destructive projects is the Mt. Hood Forest Management Plan itself, which remains focused on commercial timber extraction and each new project is more destructive than the last.
The Free Mt. Hood campaign is calling for a critical update to the Mt. Hood Forest Plan.
With nearly two decades of experience bringing people to the forest, Bark is in a unique and compelling position to catalyze our active community and bring the management of these public lands into the movement for greater climate resiliency for communities around the region. We love Mt. Hood, but more than that, we rely on this forest to sustain our local communities. Join our work to free this incredible forest ecosystem from decades of misguided and exploitative management.
---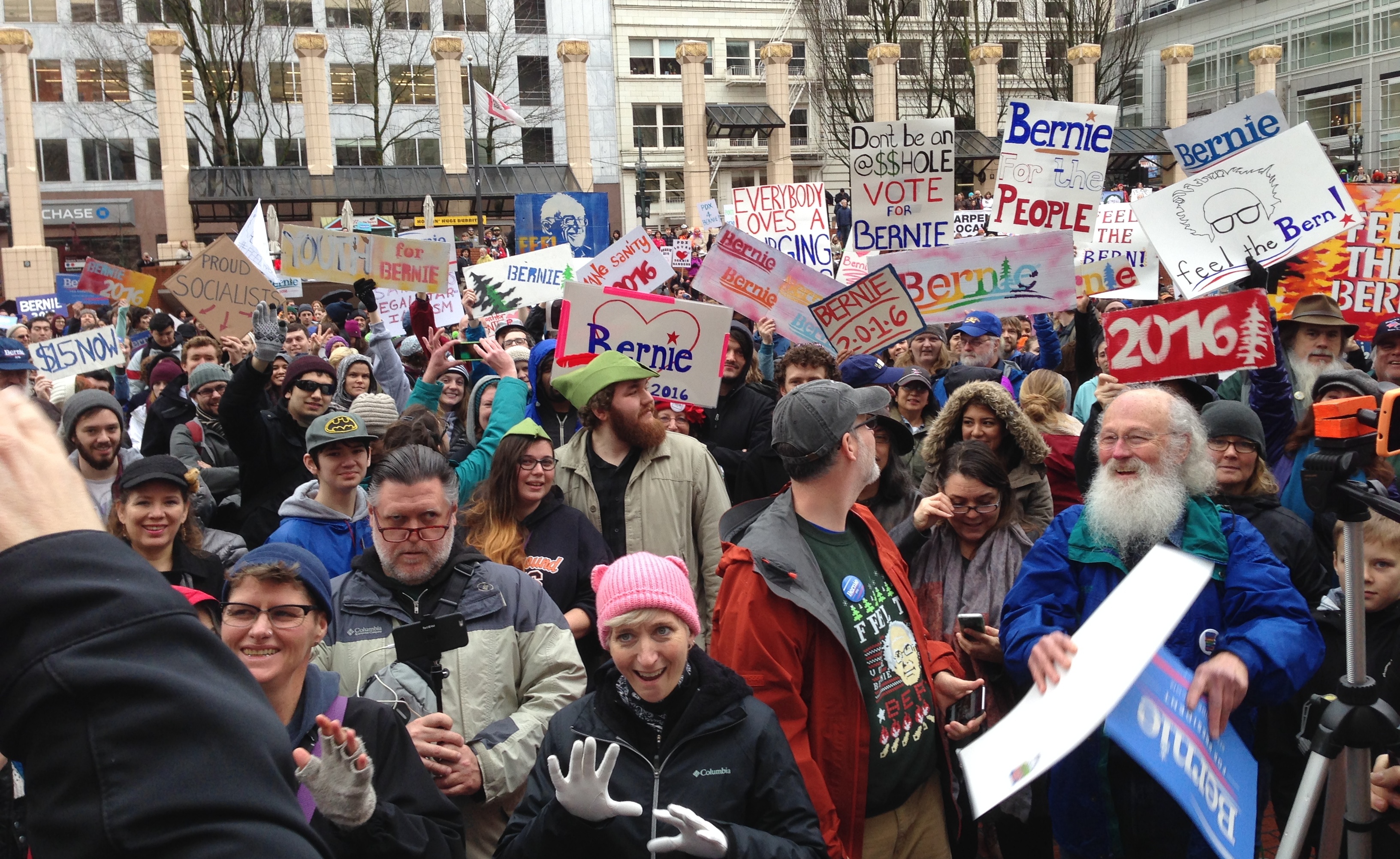 March for Bernie Rally, January 23, 2016