We recommend clicking the links for updates on time and location.
Know of an event BerniePDX members would be interested in? Let us know! Email info@BerniePDX.us
BerniePDX Events
Join BerniePDX to help Bernie win California!
California has moved up their primary from June to Super Tuesday (March 1) this year and they have a YUGE number of delegates — over 400. What the Bernie campaign needs most from us in Oregon right now is to call CA voters! Training and snacks will be provided.
* Please bring a laptop and a phone. We will be using the 'Bernie dialer.'
We'll be phonebanking from 3-6pm, but you don't have to stay for the whole thing =)
Location: 7230 NE Tillamook St #1, Portland
Local Events
Our world and our future is demanding the attention of our society and those in positions in power. On September 20th, 2019 the young people are coming together with the adults of our world to show our government the people want change.
The dangers of fossils fuels are being ignored by big oil companies and political leaders, destroying our future and the right to life, liberty, land, and the pursuit of happiness. Join us to demand change NOW, too!
RSVP here for updates and more details -> http://bit.ly/pdxclimatestrike
See what's going on over Oregon (and find resources to spread the word) -> climatestrikeoregon.org
Volunteer on the day! –> https://forms.gle/Cd58jBAPi9mKbwhd6
Come together with your friends, family, and neighbors to join our historic campaign to defeat Trump and transform America.
Bernie understands that when you stand up and fight for working people, when you do not cower to Wall Street and the mega-corporations and billionaires who rigged our economy and our democratic system, when you do this for your whole life, you give people real motivation to vote.
Bernie has given us hope. He has changed the narrative and the sense of what is possible in the entire country. He has spent his life on picket lines and in the halls of Congress fighting for working class people.
Now it's up to all of us to get him into the White House.
Come to my Plan to Win party to hear what it's going to take to win the primaries and complete the political revolution.
Please RSVP: https://events.berniesanders.com/event/118072/
Location: 3022 NE Everett St. Portland
Join with activists from labor, racial, and climate justice in an evening of training provided by legendary activist Lisa Fithian. Drawing on her decades of experience organizing mass labor and climate mobilizations, Lisa will provide training on the best tactics and tools to plan mass actions, and will offer a space for labor and climate activists to meet and build relationships.
Location: The Old Church Concert Hall, 1422 SW 11th Ave.
Come for an exciting evening with Heather Booth herself! We'll be hosting an organizer panel before the screening and a Q & A with Heather afterwards.
Heather Booth has been called "the most influential person you've never heard of." You can watch the trailer for the film here: https://heatherbooththefilm.com/trailer/
Thank you to our sponsors and event partners: IBEW Local 48, Community Development Project, KBOO Community Radio, Oregon Education Association, and Oregon Working Families Party
PROGRAM
4:30 VIP Reception
5:00 General Reception & Check-In
5:45 Welcome & beginning of program with ECR & Emcee Commissioner Jo Ann Hardesty
6:00 Organizing to Change the World Panel
7:00 Movie showing
8:00 Q&A with Heather Booth
8:30 Adjourn
ABOUT HEATHER BOOTH
Heather Booth is one of the leading strategists about progressive issue and electoral campaigns.
She has been an organizer starting in the civil rights, anti-Vietnam War and women's movements of the 1960s and continuing through today. She created JANE, an underground abortion service started before Roe.
She was the founding Director and is now President of the Midwest Academy, training social change leaders and organizers. She has been involved in political campaigns and was the Training Director of the Democratic National Committee. In 2000, she was the Director of the NAACP National Voter Fund, which helped to increase African American election turnout by nearly 2 million voters. She was the lead consultant, directing the founding of the Campaign for Comprehensive Immigration Reform in 2005.
In 2008, Heather was the director of the Health Care Campaign for the AFL-CIO. In 2009, she directed the campaign passing President Obama's first budget. In 2010, she was the founding director of Americans for Financial Reform, fighting to regulate the financial industry. She was the National Coordinator for the coalition around marriage equality and the 2013 Supreme Court decision. She was strategic advisor to the Alliance for Citizenship (the largest coalition of the immigration reform campaign). She was Field Director for Americans for Tax Fairness to stop the tax cuts for millionaires that may lead to cuts in Medicare, Medicaid, and education.
Location: Mt. Hood Community College, 26000 SE Stark St, Gresham
It's no secret that Portland has blazed many trails, but the racism in Oregon's history remains a thorn in the stem of the diverse city we have become. The only way to accomplish the call to action stated in our event's theme, "Removing the Thorns of Racism in the City of Roses", is by making a commitment to understand our communities and to aggressively challenge racist ideologies, both covert and overt. When we can actively work together to face it, acknowledge it and abolish such instances, we will be laying a formidable foundation for future generations of Portlanders.
Join Us!
Location: DoubleTree Hotel, 1000 NE Multnomah St.
In recognition of Civil Rights Month, the League of Minority Voters Oregon is organizing a forum on Criminal Justice Reform.
The event is free, but space is limited. Please rsvp to reception@minorityvoters.org.
Location: The Benson Hotel, 309 SW Broadway
There is no bigger economic problem facing our state and nation than economic inequality. That's why we're excited to invite you a talk by Les Leopold, one of the most insightful thinkers on the issue of economic inequality and author of Runaway Inequality.
What brought us to the extreme inequality of today? And how can we organize to confront the problem? Les will break it down for us.
Cost: $5 -20 donation requested. No one will be turned away for lack of funds. A copy of Runaway Inequality is included with your donation (first 100 only).
Location: First Unitarian Church, Buchan Reception, 1011 SW 12th Ave.
______________________________________________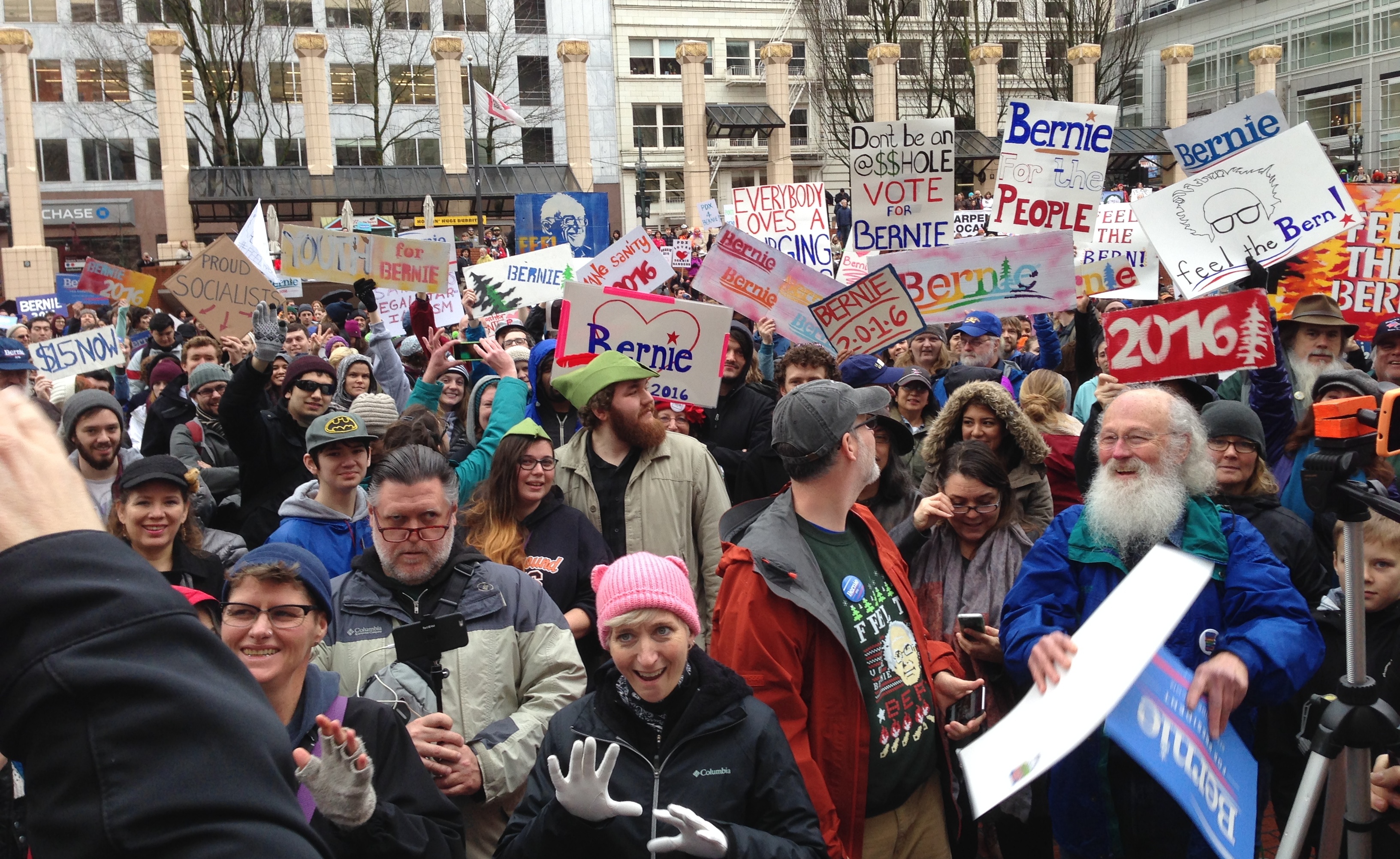 March for Bernie Rally, January 23, 2016