We recommend clicking the links for updates on time, location, or any other changes.  
Upcoming Events
Wednesday, Dec. 8, 12-1pm: Rally to Dump DeJoy, Protect the Vote
Postmaster General Louis DeJoy must go! His Ten-Year Plan is slowing the mail, raising prices, cutting and closing postal facilities, outsourcing postal work, paving the way for privatization of the US Postal Service.
We must protect vote-by-mail. We must protect the timely delivery of medicines, legal papers, and parcels. We must protect our vulnerable communities who depend on reliable postal service – seniors, veterans, rural and low-income residents, small businesses.
December 8th ends the terms of Trump-appointees Chair Ron Bloom and John Barger of the Postal Board of Governors. President Biden has nominated Derek Kan (Republican) and Dan Tangherlini (Democrat) to the PBOG. Only the PBOG can fire DeJoy. We may be at a turning point. Now it's time to escalate the pressure to replace DeJoy and save our national treasure, the USPS.
Location: East Portland Post Office, 1020 SE 7th Ave.
Saturdays 12/4, 12/18, 11:00am-1:00pm: Skilling Up for Climate Action with 350
This fall five FREE online 2 hour training's to skill up members across the 350 group network to ground us in shared principles and empower them to take action. The training's leverage our network skills and encourage peer learning and building bonds.
Many new volunteers are stepping up to take action, and these training's will help jump start your activism skills, stimulate your thinking, and create stronger connections with peers across the country.
All members/supporters of 350 affiliates in North America are welcome! Recordings and materials will be available. Delivered by experienced trainers from local 350 groups in collaboration with 350.org's training department.
All training's are SATURDAYS 11:00 am – 1:00 pm PT // 2:00 – 4:00 pm ET
1. October 16th, 2021 – CLIMATE JUSTICE
2. October 30th, 2021 – STRATEGIC MESSAGING
3. November 20th, 2021 – ORGANIZING and MOVEMENT BUILDING
4. December 4th, 2021 – STRATEGIC CAMPAIGNING
5. December 18th, 2021 – POLICY ADVOCACY
More info, details, and resources will be on our flyer. Copy & Paste this short link to view the flyer: https://bit.ly/350-training-F2021
Sunday, Dec. 12, 6pm: "Not Going Quietly" – A Voice for Universal Healthcare
To celebrate Universal Health Coverage Day on Sunday, December 12, 2021, Health Care for All Oregon is hosting an online screening of the powerful new documentary "Not Going Quietly". This moving film is the story of Ady Barkan's journey as an activist for universal healthcare reform after his ALS diagnosis at age 32. One of TIME magazine's 2020 most influential people, Ady has totally committed himself to organizing throughout the U.S. for universal healthcare.
Net proceeds of ticket sales will benefit Health Care for All Oregon's work to "educate about and advocate for universal healthcare in Oregon and the U.S." More information about HCAO at hcao.org.
You are invited so stay on for the 30 minute post film "Live Broadcast" discussion to reflect on the film with a call to action for the universal healthcare movement.
Tentative panel includes: Melissa St. Louis, Public Citizen's International Campaigns Director; Antonio Germann MD, Medical Director of Salud and Pacific Pediatrics Medical Clinics; and Travis Nelson RN, Oregon Nurses Association Vice President. Moderated by Valdez Bravo, Chief Operating Officer White City VA.
Thursday, Dec. 16, 5:30pm: Measure 110 Harm Reduction Panel
In honor of December being HIV/AIDS Awareness Month, the Health Justice Recovery Alliance and Unite Oregon will host a community forum on harm reduction services covered under Measure 110. Event panelists will include a member of the Measure 110 Oversight & Accountability Council, harm reductionists from the HIV Alliance (Eugene), Benton County Health Department, and from Cascade AIDS Project (Portland). They will share about their work and why these vital services are needed.
Harm reduction focuses on keeping our community members healthy and safe, and is a crucial component of Measure 110 services. Substance use can be difficult to acknowledge, but we know it happens in all communities regardless of race, class, citizenship status, etc. Drug use is not a moral failing, but rather a health issue deserving of medical care.
Harm reduction works toward destigmatizing substance use while preventing overdose deaths and reducing negative health outcomes for people who use drugs. Measure 110 is a transformative law that creates a comprehensive system of care to meet individuals where they are in their unique journey. Join us for an in depth discussion on why harm reduction is an essential component of Measure 110.
Visit the event page for RSVP info.
Saturday, Dec. 18, 4-8pm: Las Posadas at the Portland Mercado
Join us at the Portland Mercado on December 18th for a community celebration of "Las Posadas".
We will have live music, vendors, free champurrado, food and drinks, and a vaccination clinic from (1pm to 6pm) with the 1st dose, 2nd dose, booster shots, and vaccines for kids 5 years and older!
For people who get vaccinated:
-We offer 1 box of food (non-perishable)
-First aid kit (alcohol gel, thermometer, masks, and recommendations on the side effects and recommendations of the different vaccines).
-Gifts for children (books, pencils, erasers, stickers)
-Virtual gift cards from the @kuto.app
We hope to see you and your family!
Location: Portland Mercado – 7238 SE Foster Rd
---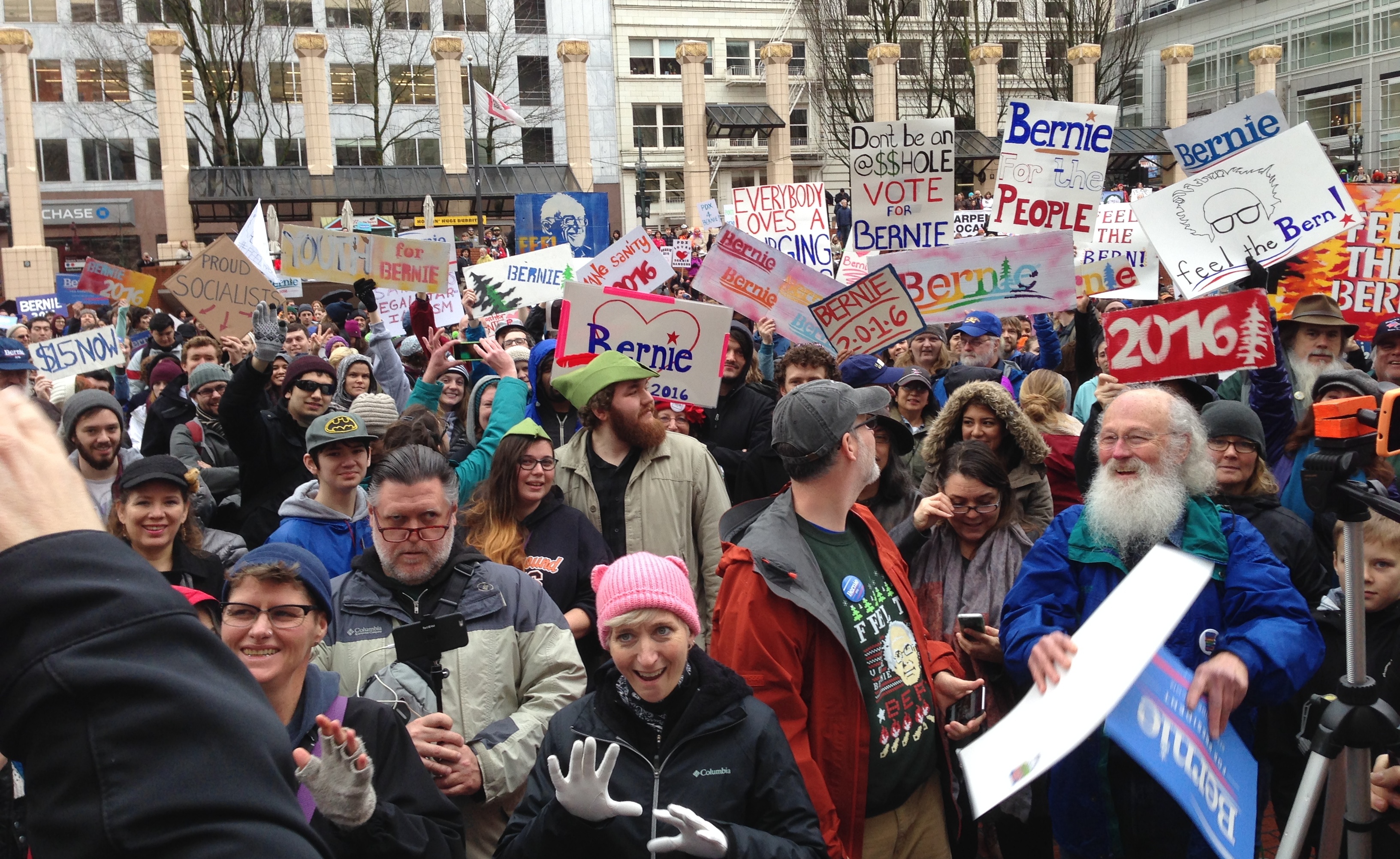 March for Bernie Rally, January 23, 2016