You can also view upcoming events in a Google calendar format on our Calendar page, or check out past events here. We recommend clicking the links for updates on time and location.

Election Day is quickly approaching! Join BerniePDX to volunteer for the campaigns our members voted to endorse: JoAnn Hardesty for PDX City Council, Rachel Prusak for State Rep, Portland Clean Energy Initiative (PCEF), Honest Elections, and STAR Voting. Learn more at berniepdx.us/2018endorsements
BerniePDX Events
Join BerniePDX to canvass for TWO important ballot measures: Portland Clean Energy Fund and Honest Elections!
Honest Elections is a coalition for campaign finance reform in Portland and throughout Oregon. Initiative PDX-03 is similar to the measure approved by 89% of Multnomah County voters in 2016: at the city-level, it would prohibit donations by corporations, limit campaign contributions to $500 per individual, and require stronger public disclosure of large contributors.
Portland Clean Energy Fund (PCEF) is a ballot measure that would raise $30 million per year through a 1% business license surcharge on billion-dollar retailers, in order to weatherize homes, build rooftop solar, provide job training, grow local food and fund green infrastructure, with priority to low income households and people of color.
Training will be provided.
Location: Tea Chai Te, 7983 SE 13th Ave, Portland
Join BerniePDX to canvass for Universal Healthcare advocate Rachel Prusak for State Rep, and help turn HD-37 Blue! *Text 410-458-5220 for event address or email info@BerniePDX.us*
Rachel is running against Republican Julie Parrish, who is best known for sending Measure 101 to the ballot in an effort to gut our healthcare.
Rachel is a nurse and proud union member. Her priorities include increasing investment in public education, protecting our environment, and healthcare. Rachel is the pro-labor, pro-universal healthcare candidate we need in the Oregon legislature!
Want to carpool from Portland? Email info@BerniePDX.us
Location: Deschutes Ln and Haskins Rd, West Linn, OR. *Text 410-458-5220 for event address or email info@BerniePDX.us*
Local Events
September's film offering is a DOUBLE FEATURE! First up, in collaboration with Health Care for All Oregon: Big Money Agenda; Democracy on the Brink. Our second feature is Priceless.
Please plan to stay after the movies for a Q & A with local clean-election advocates. These movies may be shown with open captions.
Doors open at 5:30 so you have time to mingle, order some popcorn and a soda, and get settled. The first movie will begin at 6 p.m. The second movie will begin at 7 p.m. Cost: As with all iPA events, admission is sliding scale – $2.70 – $27, with no one turned away for lack of funds.
Location: Robinwood Station, 3706 Cedaroak Drive, West Linn
On June 29th at 1:30 a.m. PSU campus police brutally killed Jason Washington, a Black man who was non-violently deescalating a fight on campus outside of the Cheerful Tortoise. Since then, PSU has attempted to evade accountability for the senseless murder of this man, father, grand father, husband and kind community member. PSUSU has made the call to #DisarmPSU campus security since 2013, two years before campus security were officially armed. We know that armed police officers on campus do not create safety — but only increase state capacity to oppress, putting brown and black bodies just like Jason Washington's at risk of violence. On the first day of fall term in the PSU Park Blocks at noon, stand with PSUSU and the Washington family to say it's time to #DisarmPSU and time to get #JusticeforJasonWashington.
Location: PSU Park Blocks
Celebrate democracy in the best way by updating your voter registration, registering to vote for the first time, or helping others to do so. We will be having events all day long and encouraging online voter registration at beregistered.org. Democracy is built from the ground up and key decisions that affect our communities are determined locally, so #BeVocalVoteLocal and come #celebrateNVRD with us. We will be continuing the party the night of the 25th at Patagonia Portland downtown from 7-9:30pm!
Interested in volunteering National Voter Registration Day? Email Maddie at maddie@busproject.org.
Location: Bus Project, 333 NE 2nd Ave.
Portland City Council candidates Jo Ann Hardesty and Loretta Smith will appear in a public forum to discuss the many ways that arts and culture intersect with other important community issues, and to help educate voters for the November election.
Join us at The Immigrant & Refugee Community Organization, Monday October 1st.The event is free and open to the public. Refreshments will be provided. Childcare, ASL and language interpretation services are available. Doors open at 6pm and the forum begins at 6:30. Please RSVP using the Eventbrite page (link on Facebook page).
Location: IRCO, 10301 NE Glisan St.
The Portland Buddhist Peace Fellowship and Interfaith Movement for Immigrant Justice (IMIrJ) invite all concerned about the criminalization of immigration to join in a monthly walk of compassion and solidarity. Participants need not be Buddhists or member of any faith. Instruction in the practice of moving meditation will be given at the start of each event. An area for sitting practice will also be available.
Location: 4310 SW Macadam Ave., Portland
Join us in rallying against the Trump Administration's actions to pursue deportation of US citizens, and for the abolition of ICE. Speeches will begin shortly after 2:00, with a march, followed by a ✨special reveal✨ and vigil!
Location: 4310 SW Macadam Ave.
______________________________________________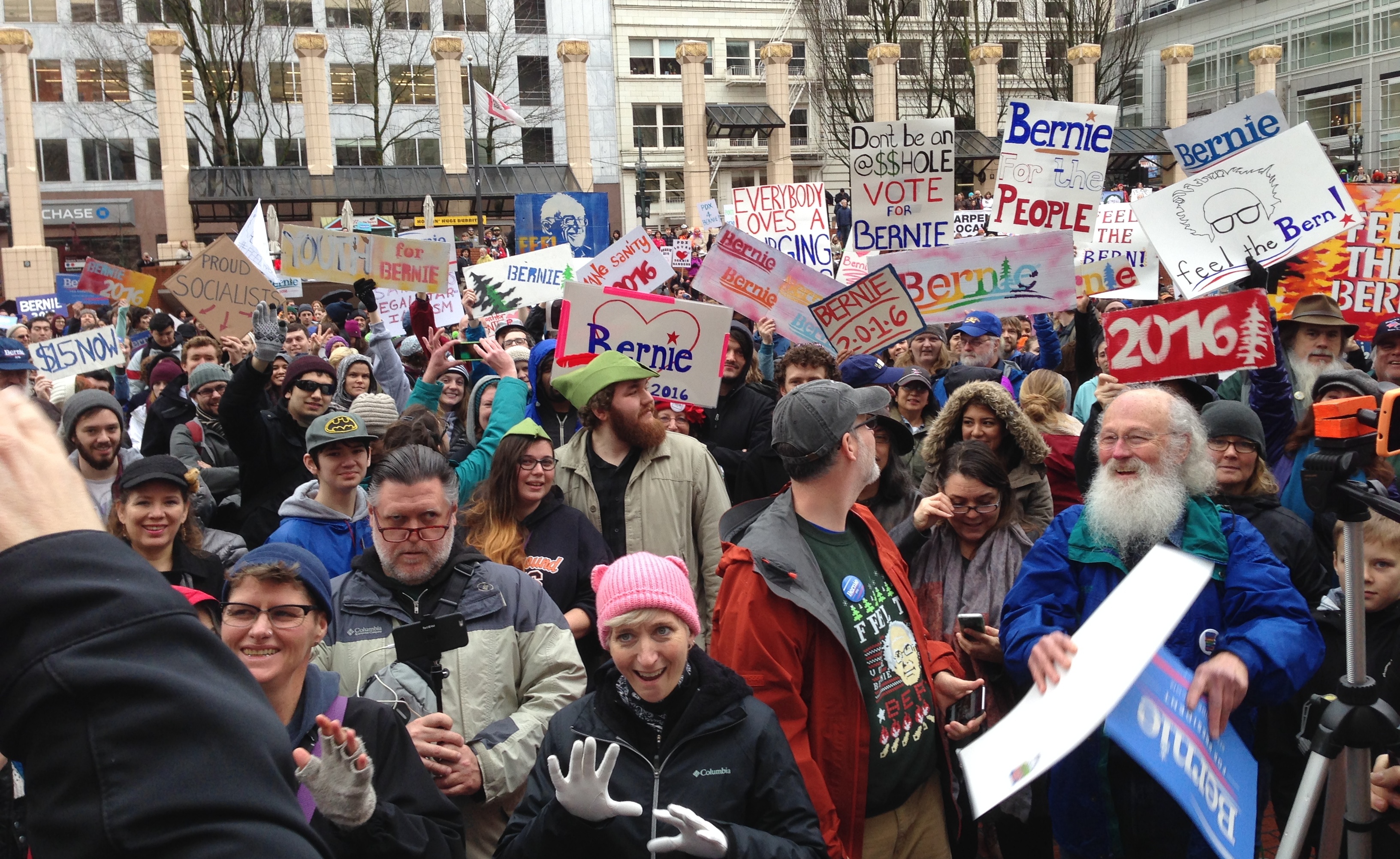 March for Bernie Rally, January 23, 2016