We recommend clicking the links for updates on time, location, or any other changes.

TUESDAY, JUNE 28, 5PM: Heat Week Climate Resiliency Ride
Remember last year when it was SO HOT during this week? And it was so much hotter in some neighborhoods than others because of heat islands and lack of shade? Commemorating last year's heat dome and its unequal effect on Portlanders, this ride will travel from Lents to Laurelhurst through neighborhoods with different levels of tree canopy and shade. We'll end at Colonel Sumner Park for snacks and a night of climate justice actions with 350PDX.
Location: Lents Park, SE 92nd and Steele Blvd.
TUESDAY, JUNE 28, 6:30-8:30PM: 350PDX Action Night
The Heat Week Pedalpalooza ride will end at Colonel Summers Park (SE 20th & Belmont), where 350PDX is hosting a 350PDX Action Night! We'll share food, drinks, art and actions calling on the city to prioritize planning and funding a better response to the climate emergency. And if you can't join the bike ride, we'd still love to have you join us for the Action Night!
Location: Colonel Summers Park (SE 20th and Belmont)
SATURDAY, JUNE 25, 10AM-3PM: Rally for Salmon
When: Saturday, June 25, 2022. 10am to 3pm PT
Where: Willamette Park, 6500 S Macadam Ave, Portland, Oregon
Who: Salmon/Fishing/Orca Advocates, Tribal communities, sport/commercial fishing people, conservationists, outdoor recreation businesses and people, and all people of good will!
Why: To celebrate the gift of wild salmon and generate attention and demonstrate strong public support for a decision by U.S. Sen. Patty Murray and Gov. Jay Inslee, other Northwest policymakers and the Biden Administration to include lower Snake River dam removal in the comprehensive regional salmon restoration plan due by or before July 31st, 2022!
Location: Willamette Park, 6500 S Macadam Ave. RSVP Here.
THURSDAY, JUNE 30, 11AM-1PM: Central City Concern Union Rally
Workers at Central City Concern (CCC) have worked for three years experiencing the physical, emotional, and financial impacts of a pandemic and over 8% inflation. Come out to support them and show CCC that their workers deserve more than a 3% raise!
Location: Old Town Clinic, 727 W Burnside St.
THURSDAY, JUNE 30, 4-6PM: AFSCME Invest in Us Rally 
Show up to support AFSCME Local 328 members at OHSU who are fighting for a good contract!
Location: Mackenzie Hall lawn, 3266 SW Research Dr.
SATURDAY, JULY 30, 12PM: Medicare for All Rally
Last summer's Medicare for All Rally had a great turnout, great energy and top-notch speakers and musical acts. We look forward to doing it again this summer!
Location: Shemanski Park, SW Salmon St, Portland
Volunteer for BerniePDX Candidates
JO ANN HARDESTY for City Council: Phonebank, Text, or Canvass
Jo Ann received the most primary votes and is now in a run-off election this November! She has spent her career working to make Portland a better, more equitable place. As City Commissioner, she created the groundbreaking Portland Street Response to help Portlanders in crisis and reduce instances of police violence. Jo Ann championed local jobs and the environment when she helped pass the Portland Clean Energy Initiative. She was also a vocal supporter of the Honest Elections campaign finance reforms.
Big business is spending tons of money to prop up Jo Ann's opponent. But we know that people power can beat big money – join us to volunteer for Jo Ann today! The future of our city is at stake.
FARRAH CHAICHI for HD-35: Phonebank, Canvass, or Flyer
Farrah Chaichi aims to use state policy to meet the critical needs of Oregonians including housing, healthcare, and having a healthy planet on which to live. To that end, Farrah supports Right to Rest, Single-Payer healthcare, and taxing big polluters to pay for green infrastructure projects.
TRAVIS NELSON for HD-44: Phonebank, Canvass, & More
As a nurse, Travis has seen firsthand the harm caused by our current healthcare system. He believes that healthcare is a human right, and he will work to ensure that everyone in Oregon has good, quality healthcare. Travis's other priorities include climate and the environment, housing, equity, and education for working people. It's clear that Travis will be a great representative for the people of Portland.
JAMIE McLEOD-SKINNER for CD-5: Phonebank, Canvass, and More
Jamie McLeod-Skinner brings a background of leadership and public service with progressive values to her run for the newly redrawn 5th Congressional District. She is committed to working to achieve our shared goals of universal healthcare, improving the social safety net, campaign finance reform, addressing the needs of working families, and co-sponsoring legislation to tackle the climate crisis.
---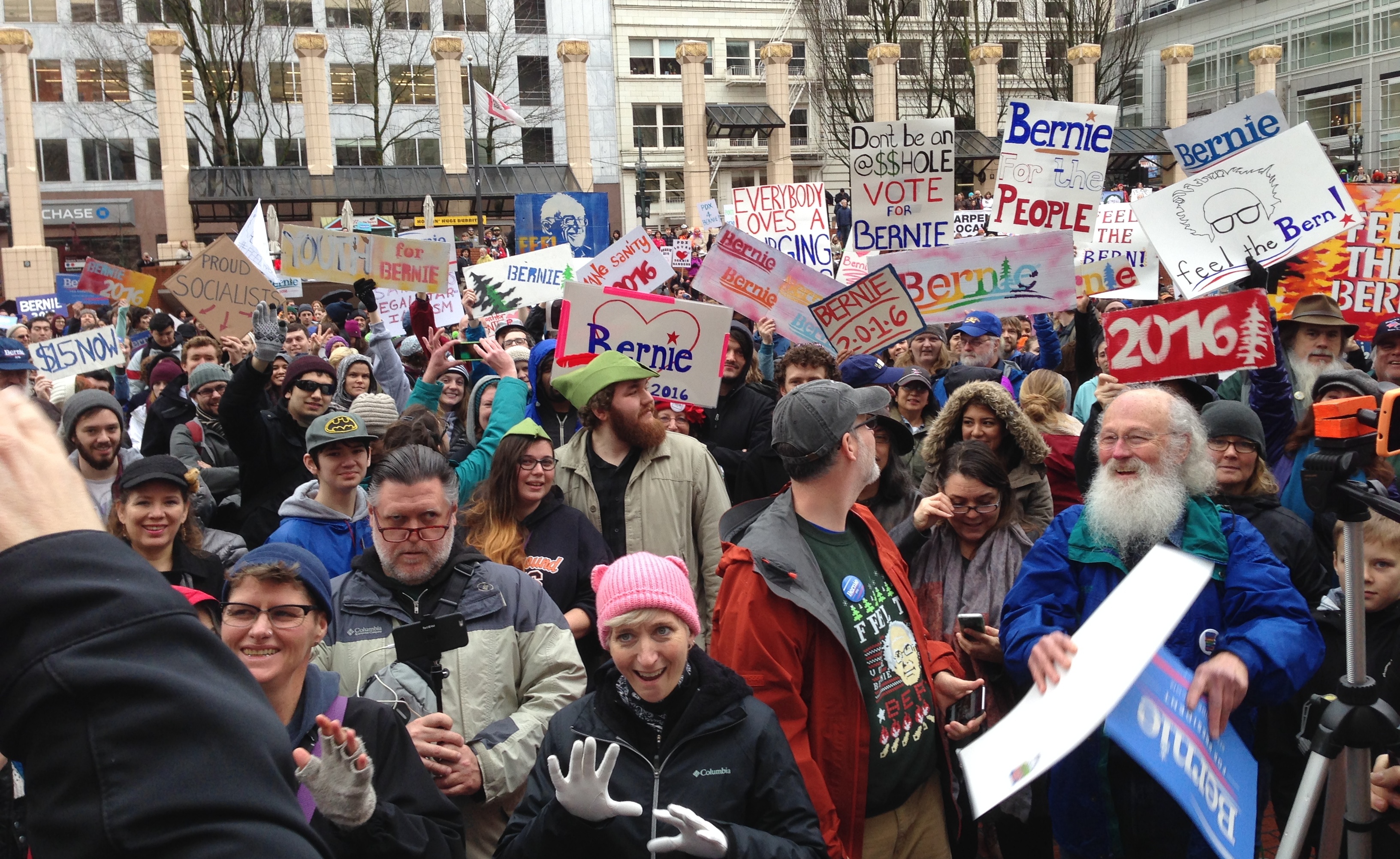 March for Bernie Rally, January 23, 2016