We recommend clicking the links for updates on time and location.
BerniePDX Events
Start off winter right with your Bernie family at the BerniePDX Holiday Party and White Elephant Gift Exchange! All are welcome, and the event is kid-friendly.
What to bring:
– A new or lightly used wrapped gift to swap–or steal!
– Toiletries, packaged food, or winter gear to support the Columbia Shelter
– A dish to share if you're in the mood
We'll have pizza (and vegan pizza), cookies to decorate, tea, kombucha, sweets, and awesome people. You don't need to bring a gift to attend =)
Location: Tea Chai Te, 616 E Burnside
Local Events
Last month, campaign staff for State Representative Teresa Alonso Leon's re-election unanimously agreed to form a union. Since then, management has stalled negotiations at every juncture in a clear bad faith attempt to run out the clock on bargaining.
On Sunday, November 18th at noon, Oregon's first CWG campaign will be outside the FuturePAC offices calling on management to bargain. If Representative Alonso Leon and/or her spokesperson arrive, workers will be prepared to bargain. Otherwise, this will be a public forum to discuss this campaign's historic unionization, the changes workers are fighting for on behalf of all Oregon campaign workers, and to answer questions from the public.
Can't join but still want to help? Sign our petition here: https://actionnetwork.org/petitions/support-unionized-oregon-campaign-workers?source=direct_link&
Location: 825 NE 20th Ave. Portland
Saturday, November 17, 2-5pm: Rally against Denaturalization
Join us in rallying against the Trump Administration's actions to pursue deportation of US citizens, and for the abolition of ICE. Speeches will begin shortly after 2:00, with a march, followed by a special reveal and vigil!
2:00 PM – Rally begins
2:15 PM – Speeches and marching
3:05 PM – Special reveal
3:30 PM – Vigil
5:00 PM – Event ends
Location:4310 SW Macadam Ave.
Community Meeting co-hosted by Portland Democratic Socialists of America and Socialist Alternative Portland
"Mourn the dead; fight like hell for the living"
After decades of hard-fought progress on LGBTQ rights, the Trump reaction threatens to drive us back. As the Trump administration attempts to use executive memos and bureaucratic policy decisions to define trans, nonbinary, and intersex individuals out of existence, we stand firm and refuse to return to the closet. A generation of young people are invigorated to fight for LGBTQ rights, against racism, and against sexism.
Location: First Unitarian Church, 1211 SW Main St.
Every holiday season Portland Jobs with Justice comes together to celebrate our community, and to vote for the winner of the not-so-coveted annual Scrooge of the Year Award. This award is voted on by the community (that's you!) and is given each year to a bad boss, a politician, a corporation, or some other deserving institution that has been particularly nasty in the past year.
Admission tickets are $15 in advance, $20 at the door. Admission tickets come with 20 free votes. Additional votes can be bought online or at the party for $1 per vote.
Location: SEIU 49, 3536 SE 26th Ave.
The Portland Buddhist Peace Fellowship and Interfaith Movement for Immigrant Justice (IMIrJ) invite all concerned about the criminalization of immigration to join in a monthly walk of compassion and solidarity. Participants need not be Buddhists or member of any faith. Instruction in the practice of moving meditation will be given at the start of each event. An area for sitting practice will also be available.
Location: 4310 SW Macadam Ave.
______________________________________________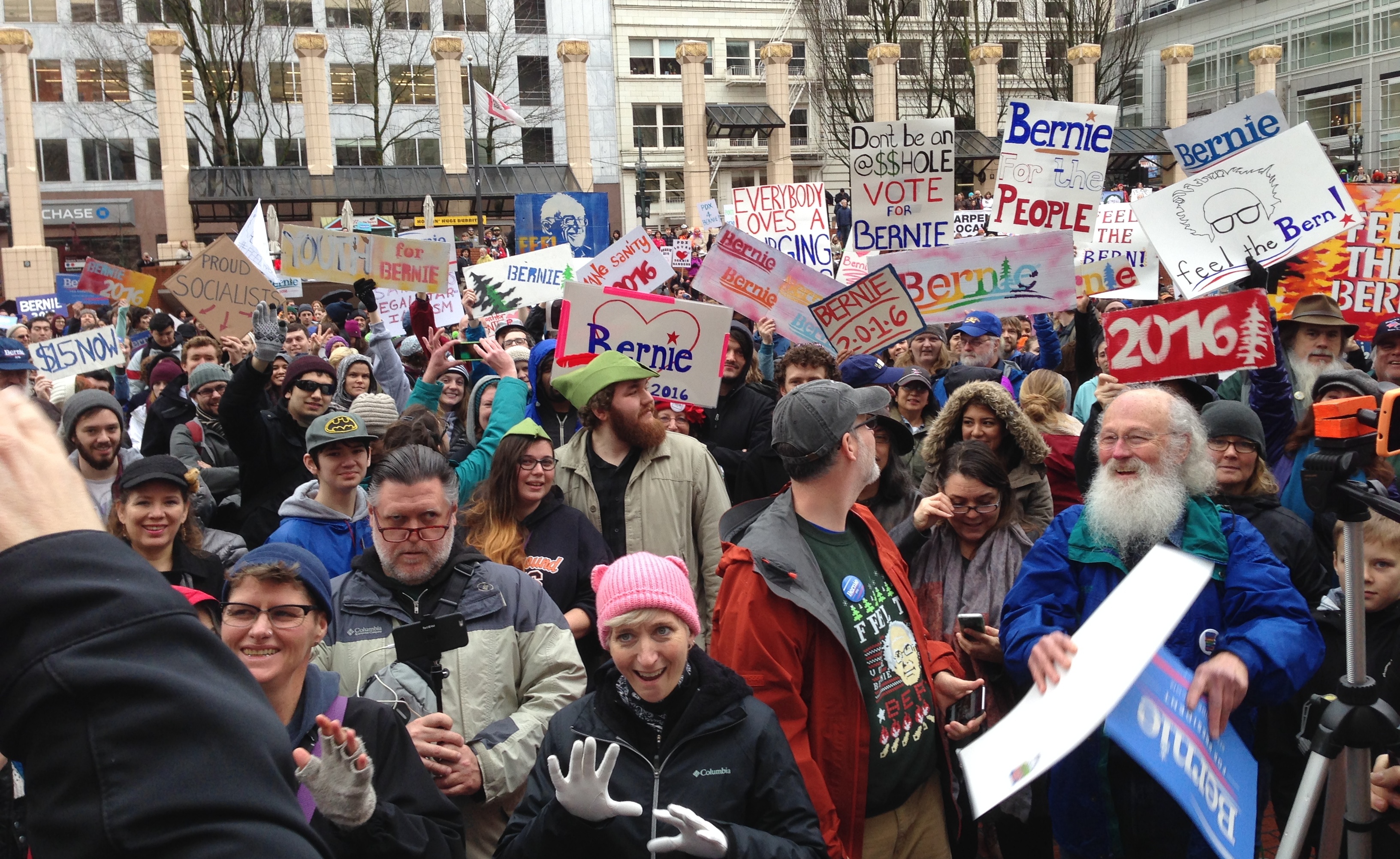 March for Bernie Rally, January 23, 2016