BerniePDX is proud to announce our 2020 endorsements! Scroll down to learn why our members voted to support the following candidates and ballot measure. Thanks so much to everyone who voted!
Although Bernie ended his campaign, he is still asking us to vote for him in the primary to get as many delegates as possible. Having a large number of delegates will give our movement greater influence over the party's decision-making at the convention.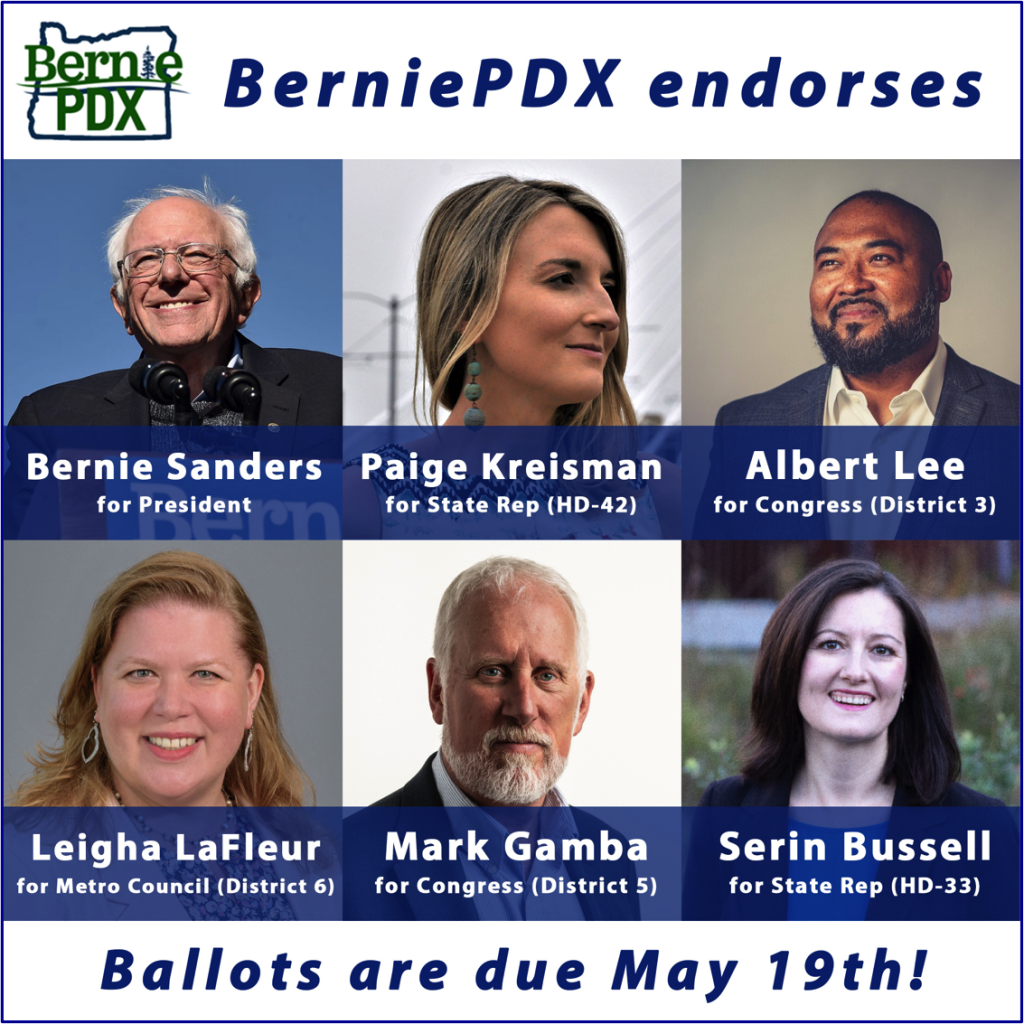 US Congress
Mark Gamba (District 5) – markgamba.com
Albert Lee (District 3) – albertlee2020.com
Oregon State Representative
Serin Bussell (HD-33) – serinforstaterep.com
Paige Kresiman (HD-42) – paige2020.com
Metro Council
Leigha LaFleur (District 6) – lafleur4oregon.com
Ballot Measure
Universal Preschool Multnomah County (UP NOW) – upnow2020.org
---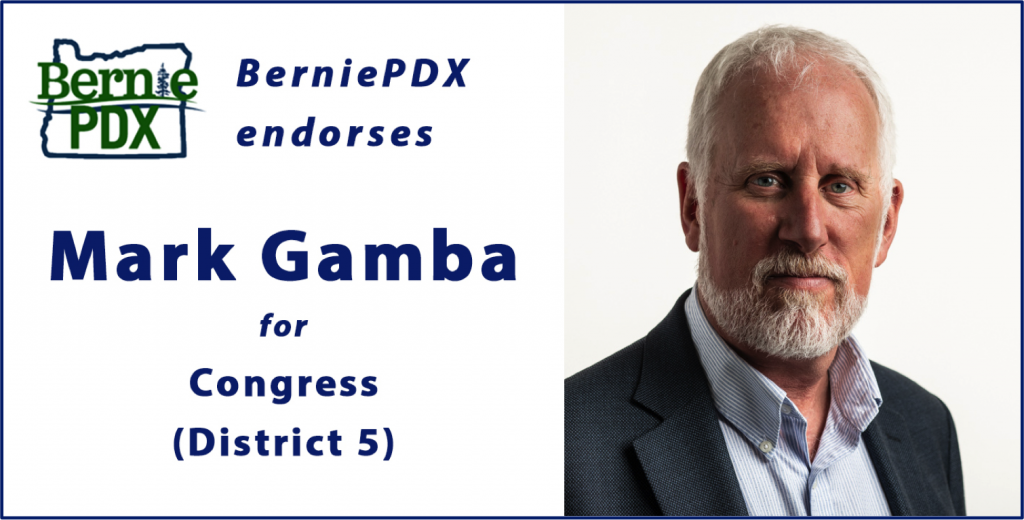 BerniePDX members voted to endorse Mark Gamba for US Congress in District 5! Currently serving as Mayor of Milwaukie, Mark has made a name for himself as a climate-focused leader. He passed an aggressive climate action plan in Milwuakie and will fight for a Green New Deal in DC. He has also worked to fund affordable housing and transit fares for low-income people.
In addition to climate, Mark's priorities in Congress will include Medicare for All, raising the minimum wage to $15, and reversing Citizens United. He will also prioritize raising taxes on the wealthy and reversing their tax cuts. Mark was one of the first Oregon politicians to publicly endorse Bernie Sanders in 2016 and has been a member of the political revolution ever since.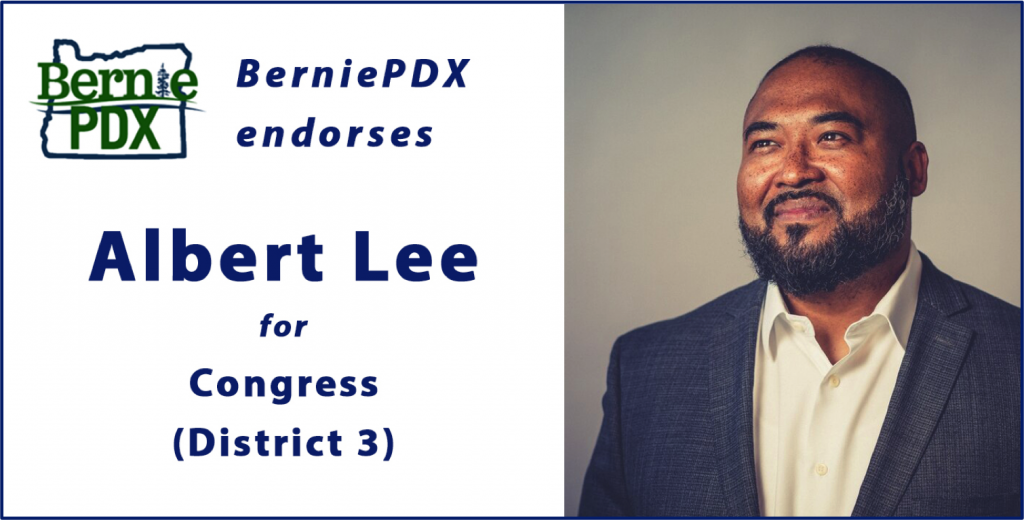 BerniePDX members voted to endorse Albert Lee for US Congress in District 3! Albert's fiery conviction for reform at the federal level is inspiring. His passion for social justice can be seen through his work with APANO and the NAACP. Albert is a veteran from a working class upbringing. His experiences allow him to empathize with the working class and underserved people he would represent.
Albert's priorities include Medicare for All, addressing the climate emergency, and getting big money out of politics. Albert also has a law degree and recently served as an Academic Dean at Portland Community College.
BerniePDX members voted to endorse Serin Bussell for State Representative in District 33! Serin has an extensive background in fighting for the environment, including working to stop Nestle from bottling public water in the Gorge and fighting the Jordan Cove LNG terminal.
Serin is a PERS member, and her priorities include worker protections, housing for all, revenue reform, climate justice, and campaign finance reform. Serin's previous work in and around the Capitol will allow her to hit the ground running when elected. Her experience and values will enable her to hold strong against political pressure.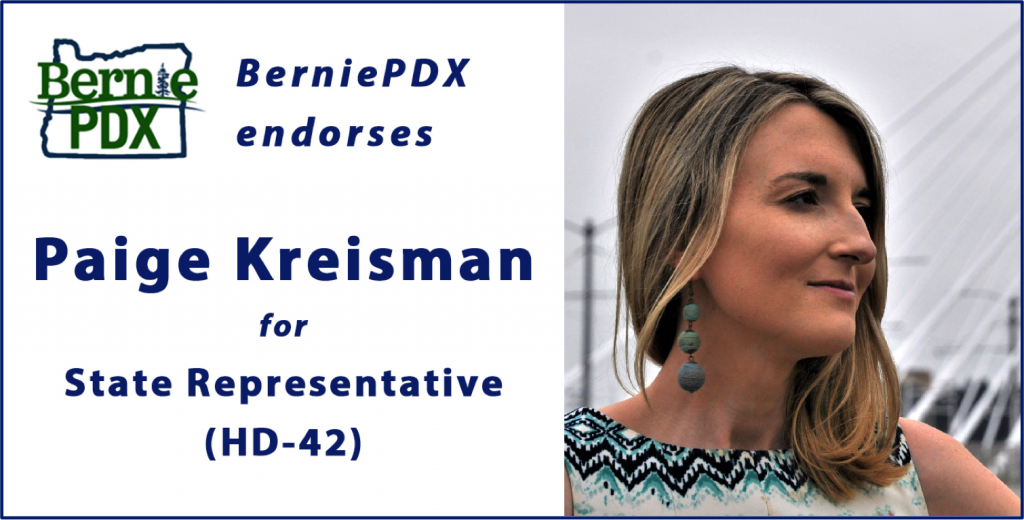 BerniePDX members voted to endorse Paige Kreisman for State Representative in District 42! Paige is a relentless champion of the working class and a veteran. You've probably seen her at rallies wielding a megaphone and publicly denouncing a system in which the rich get richer while everyday Oregonians are struggling.
Paige will bring Democratic Socialism to the Oregon legislature. Her priorities include the Oregon Green New Deal, campaign finance reform, and working to restore the Democratic Party of Oregon as the party of unions and workers. If elected, she would be the first openly trans person in the Oregon Legislature.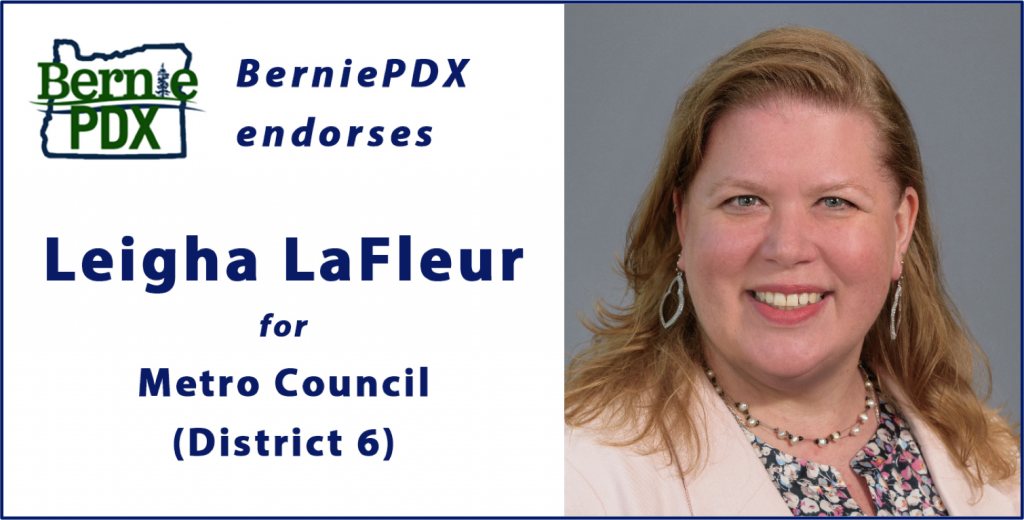 BerniePDX members voted to endorse Leigha LaFleur for Metro Council in District 6! Not only is Leigha passionate about social, economic, racial, and environmental justice, she is a woman with a serious plan about a serious issue: GARBAGE. Her bold vision would radically transform our waste system by converting nearly all of our no longer useful carbon-based waste (including plastics) into energy, using a carbon neutral process.
Leigha also wants to prioritize using Metro-owned land to create long-term affordable housing through community land trusts. Leigha's voice and vision are greatly needed on Metro Council as our waste crisis grows every day.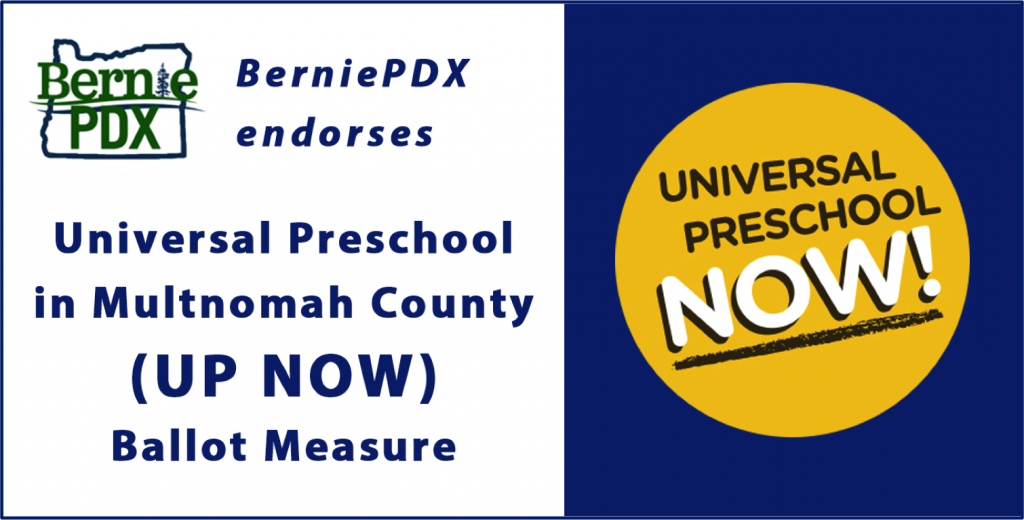 BerniePDX members voted to endorse the ballot measure for Universal Preschool in Multnomah County (UP NOW)! Early childhood education is so important. It has been shown to increase graduation rates, reduce incarceration, and lower unemployment. Unfortunately, preschool is cost prohibitive for many families.
UP NOW will create high-quality preschool for children in Multnomah County by instituting a small tax on the top 5% of income earners. Universal preschool will benefit our children and our community as a whole. It's time for us to join cities like DC, NYC, and Chicago and provide universal preschool to our kids!