BerniePDX Ballot for Nov. 2018:
City Council: Jo Ann Hardesty
Multnomah County Judge: Bob Callahan
HD-37: Rachel Prusak
YES on:
26-200 – Campaign Contribution Limits
26-201- Portland Clean Energy Initiative
NO on:
103 – Misleading, permanent corporate tax dodge; NOT about groceries
104 – Requires supermajority for any funding measure (Koch brothers amendment)
105 – Repeals Oregon Sanctuary Law
106 – Restricts abortion access & reproductive healthcare for low-income women
Note: BerniePDX did not have an endorsement vote for measures 26-199 & 102 (affordable housing) due to timing and capacity. However, many members have said they are voting yes.
November 2018 Endorsements: 
JoAnn Hardesty for Portland City Council Position 3
If you do want to bring Bernie's Revolution to Portland, now is the time, before the November 6 elections, to support Jo Ann Hardesty for Portland City Council (position 3) with your time, money and energy! Jo Ann has long been one of the strongest voices for justice in our community, and Portland needs the wealth of experience and diverse perspective Jo Ann will bring to the table.
Sign up to volunteer / donate @ joannforportland.com
Portland Ballot Measures: Portland Clean Energy Fund and Honest Elections
BerniePDX members have chosen to endorse two progressive initiatives with the potential to deeply change how business is conducted in Portland: PCEF (petition PDX-04) and Honest Elections (petition PDX-03). Both campaigns, thanks to the work of grassroots activists like you and canvassers, have qualified for the November 2018 ballot, and are looking for volunteers!
PCEF, the Portland Clean Energy Fund, formerly the Portland Just Energy Transition, would raise $30 million per year through a 1% business license surcharge on billion-dollar retailers, in order to weatherize homes, build rooftop solar, provide job training, grow local food and fund green infrastructure, with priority to low income households and people of color.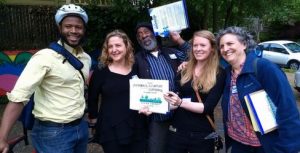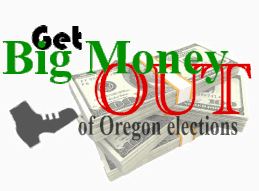 Honest Elections is a coalition for campaign finance reform in Portland and throughout Oregon. Initiative PDX-03 is similar to the measure approved by 89% of Multnomah County voters in 2016: at the city-level, it would prohibit donations by corporations, limit campaign contributions to $500 per individual, and require stronger public disclosure of large contributors.
Rachel Prusak for State Representative (HD 37)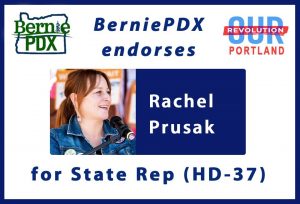 It's time to kick out of office Representative Julie Parrish, main architect of Measure 101! As a nurse and universal healthcare advocate, Rachel has many times witnessed "the tragedy forced upon us by those in power who don't believe that health care is a human right." She will bring much needed expertise, compassion and determination to the Oregon House.
Sign up to volunteer / donate @ rachelforstaterep.com
Bob Callahan for for Multnomah County Circuit Court Judge Position 30
Bob was born and raised in Portland and has 30 years of experience in the courtroom. His pro bono work included representing members of Occupy Portland. Bob supports Multnomah County's Sanctuary policy, is against private prisons, and doesn't accept any campaign contributions from corporations or CEOs. Mass incarceration is a serious problem, and Bob understands that prison is not always the answer.
Bob was an Oregon state Bernie Sanders delegate in 2016. Bernie said we need people to run for office at all levels, and Bob is one of the many individuals answering that call. He is the only candidate challenging a Multnomah County Circuit Court judge in November.
Get involved & donate at www.electbobcallahan.com
____________________________________
Primary endorsements
BerniePDX / Our Revolution Portland members voted to endorse 7 candidates and one ballot measure for the May 15, 2018 primary election, and one candidate for the August primary in Vancouver, WA.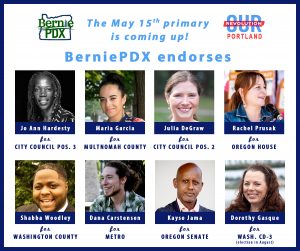 DANA CARSTENSEN FOR METRO COUNCIL DISTRICT 4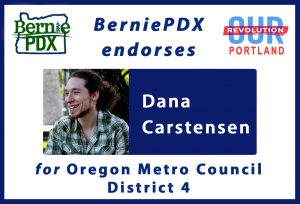 Did you know that Metro is the only directly elected regional government in the United States? This gives Portland region voters a unique opportunity to shape our future together! In the contest for Metro Council District 4, BerniePDX has chosen to endorse the boldly progressive vision proposed by Dana Carstensen. Besides his experience working for Metro (at the Zoo) and organizing Metro workers, Dana has that rare quality: political imagination. His plans to develop waste-to-energy infrastructure, to transition Tri-Met to an all-electric bus fleet, and to encourage community ownership of land, have the potential to completely transform our region by creating living wage green jobs, drastically reducing our carbon footprint, and keeping people in stable housing.
Read more about Dana and his platform, and please volunteer and donate: https://www.danacarstensen.com/meetdana
SHABBA WOODLEY FOR WASHINGTON COUNTY CHAIR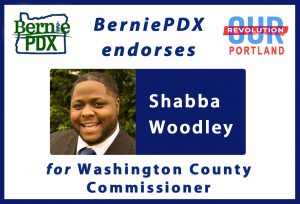 Shabba Woodley is our choice for Washington County Chair. Shabba understands the issues facing working families in our community, from transportation to lack of affordable housing and the prevalence of low wages. But more importantly, what Shabba doesn't understand, he wants to learn by listening to people like us. That's what a servant leader does, so they can truly represent us and develop community-based solutions. We believe in Shabba's dedication, in his passion for equity, and in his drive to create a County board that's inclusive and responsive to the needs of citizens.
Read more about Shabba and his platform / volunteer / donate: http://www.shabbawoodley.com/
MARIA GARCIA FOR MULTNOMAH COUNTY DISTRICT 2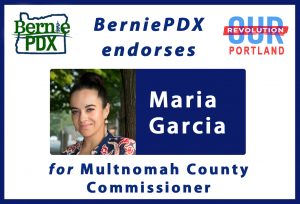 Three progressive women are running to represent Multnomah County in District 2. BerniePDX members voted to endorse María García for the position. María is an activist and advocate with strong ties to the community. Serving on the Multnomah County Commission will be an extension of her lifelong dedication to giving voice and support to underrepresented communities.
Learn more about Maria Garcia, volunteer or donate: https://www.mariaformultnomah.com/
___________________________________
In the crucial race to replace Rod Monroe in Senate District 24, we have not one but two amazing progressives running! We wish all the best to Shemia Fagan, but BerniePDX members chose to endorse Kayse Jama for this race.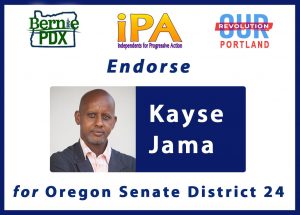 In these times when racists feel emboldened, when immigrants, refugees and people of color live in growing fear of deportation and violence, Kayse's story as a former refugee who loves this country and his vision for an inclusive community where we all belong are incredibly timely and compelling. We believe Kayse, who has shown extraordinary leadership as a lifelong activist, founder and executive director of Unite Oregon, and community advocate on public boards and commissions at the City, Metro and State levels, has the experience and passion to take on Rod Monroe. All he needs is grassroots power and that means US!
Learn more about Kayse Jama, volunteer and donate: http://www.kaysejama.com/
___________________________________
BerniePDX members have spoken!
Many thanks to each and every one of you who took the time to vote in our endorsement poll.
For City Council, we're proud to endorse Julia DeGraw for Position 2 and Jo Ann Hardesty for Position 3.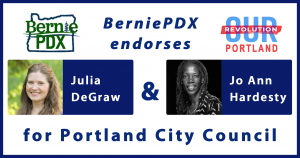 Julia's vision for transforming City Council is truly inspiring, we believe it has the potential to really change how politics is done in Portland. Julia combines passion and experience, she has a track record of effective leadership, and with our support she will be a formidable challenger to Nick Fish and to entrenched business interests!
Sign up to volunteer / donate @ julia4pdx.com
We were very impressed with Andrea's energy and her detailed grasp of policy and we wish her all the best, however, BerniePDX members chose to throw their support behind Jo Ann Hardesty for City Commissioner, Position 3.
__________________________
Multnomah County & Lane County Ballot Measure: STAR Voting
Score Then Automatic Runoff! If successful, we will have elections for the first time EVER where the voting system doesn't play favorites, where every vote makes a difference, and where voting your conscience is the best strategy. This is what democracy looks like!
To support this campaign, visit: https://www.equal.vote/campaigns