We are thrilled to announce our first round of 2022 endorsements! Thanks to everyone who voted to endorse these great candidates!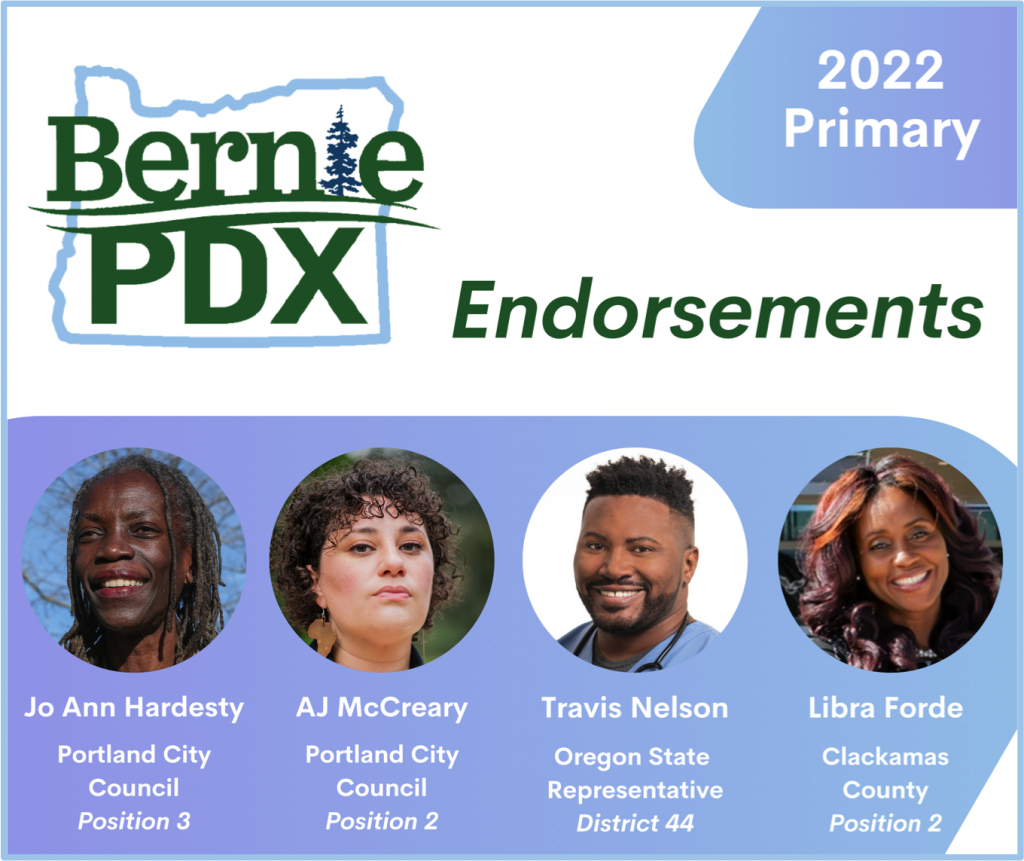 ---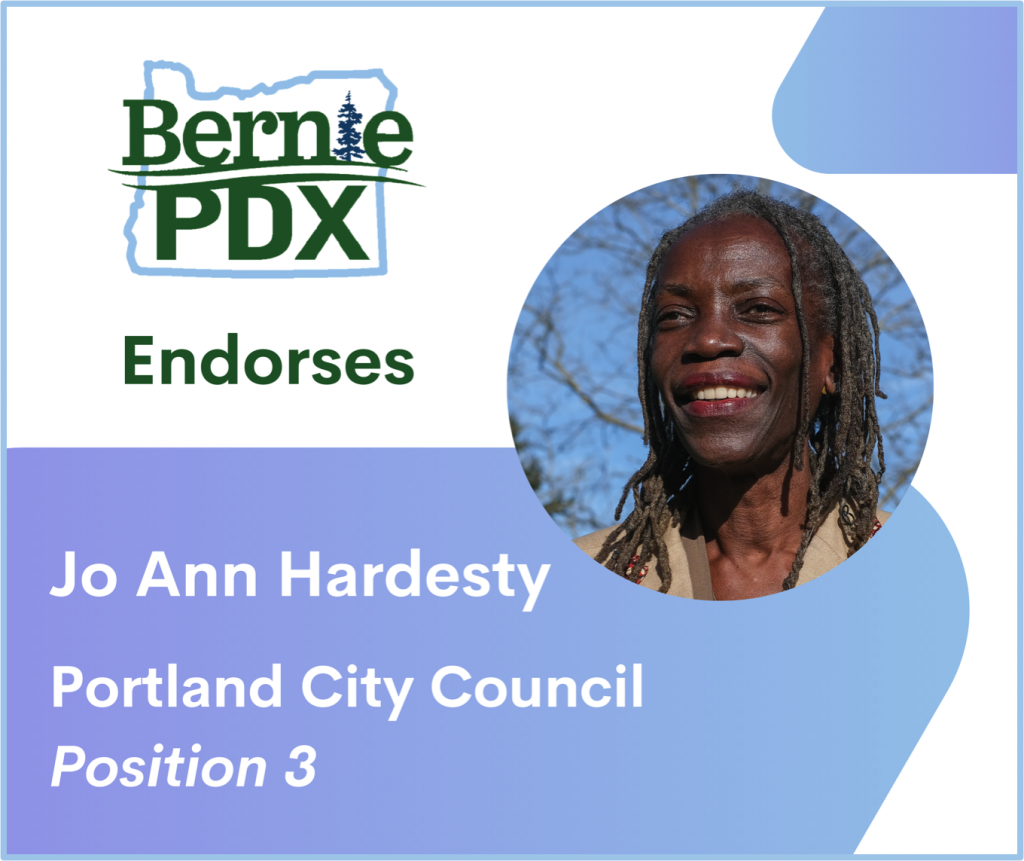 Jo Ann has spent her career working to make Portland a better, more equitable place. As City Commissioner, she created the groundbreaking Portland Street Response to help Portlanders in crisis and reduce instances of police violence. Jo Ann also championed local jobs and the environment when she helped pass the Portland Clean Energy Initiative.
Jo Ann's current priorities include creating affordable housing and providing more options for houseless members of our community; expanding compassionate public safety; and making it easier for people to be heard by City Council. Jo Ann has repeatedly shown that she will stand on the side of the people. And she's fearless. BerniePDX is proud to endorse Jo Ann Hardesty for Portland City Council.
Learn more about Jo Ann and get involved at joannforportland.com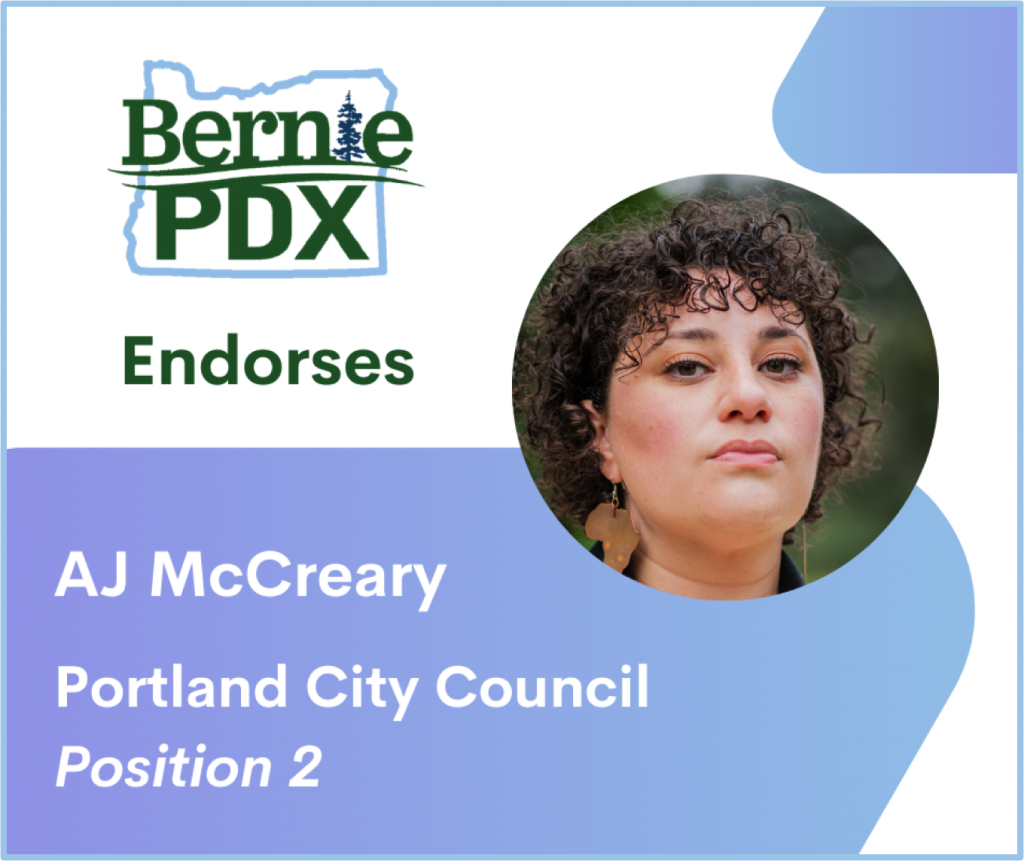 As our city faces a chronic housing crisis and global pandemic, we need new City Commissioners who will fight for the interests of working class Portlanders, especially the most marginalized. That's why BerniePDX endorsed AJ McCreary for Portland City Council.
AJ was born and raised in Portland, and she understands our struggles. She's a renter who relies on public transportation. She has a record of fighting for racial and economic justice, which Portland urgently needs. AJ's priorities for the City include stopping the sweeps; distributing resources for pandemic relief; working to ensure that all Portlanders have safe, lead-free drinking water; and strengthening City Hall's relationship with Portland Public Schools. AJ's leadership on City Council will be a win for Portland.
Learn more about AJ & get involved at ajforportland.com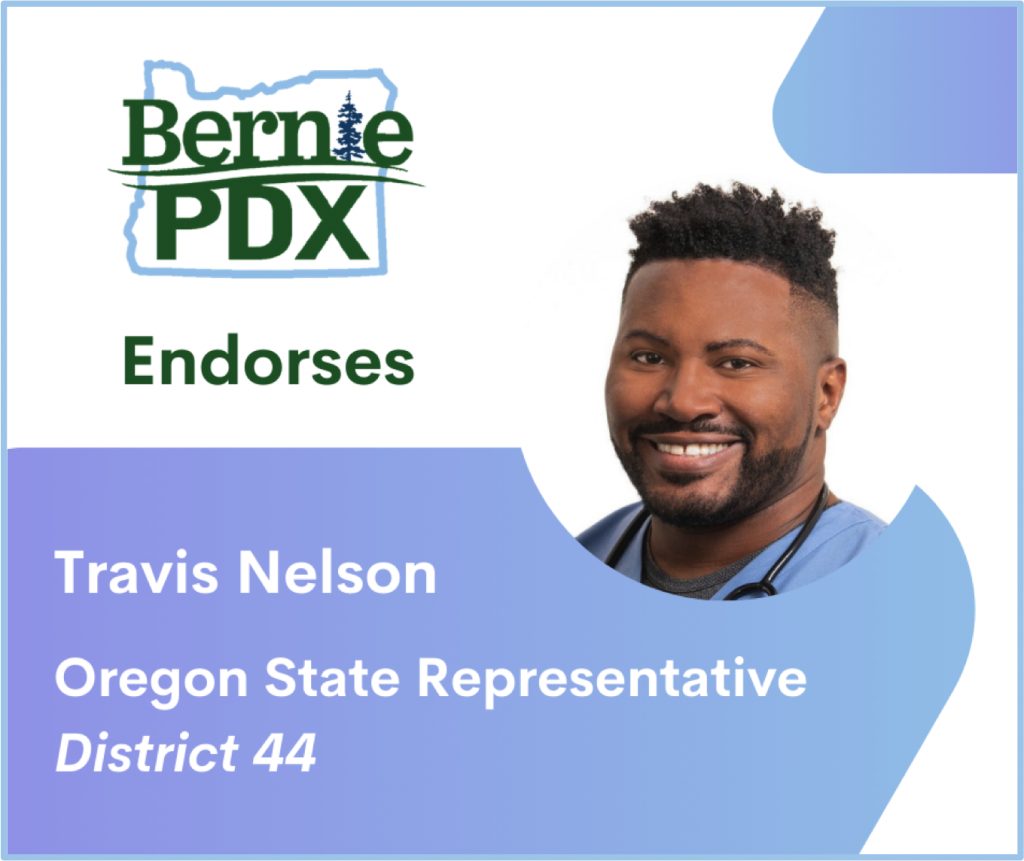 BerniePDX endorsed Travis Nelson for Oregon State Representative, District 44. Travis fights for working people every day as a labor representative and member of his union. We are delighted to support Travis as he brings that fight to the legislature.
As a nurse, Travis has seen firsthand the harm caused by our current healthcare system. He believes that healthcare is a human right, and he will work to ensure that everyone in Oregon has good, quality healthcare. Travis's other priorities include climate and the environment, housing, equity, and education for working people. It's clear that Travis will be a great representative for the people of Portland.
Learn more about Travis & get involved at nelsonfororegon.com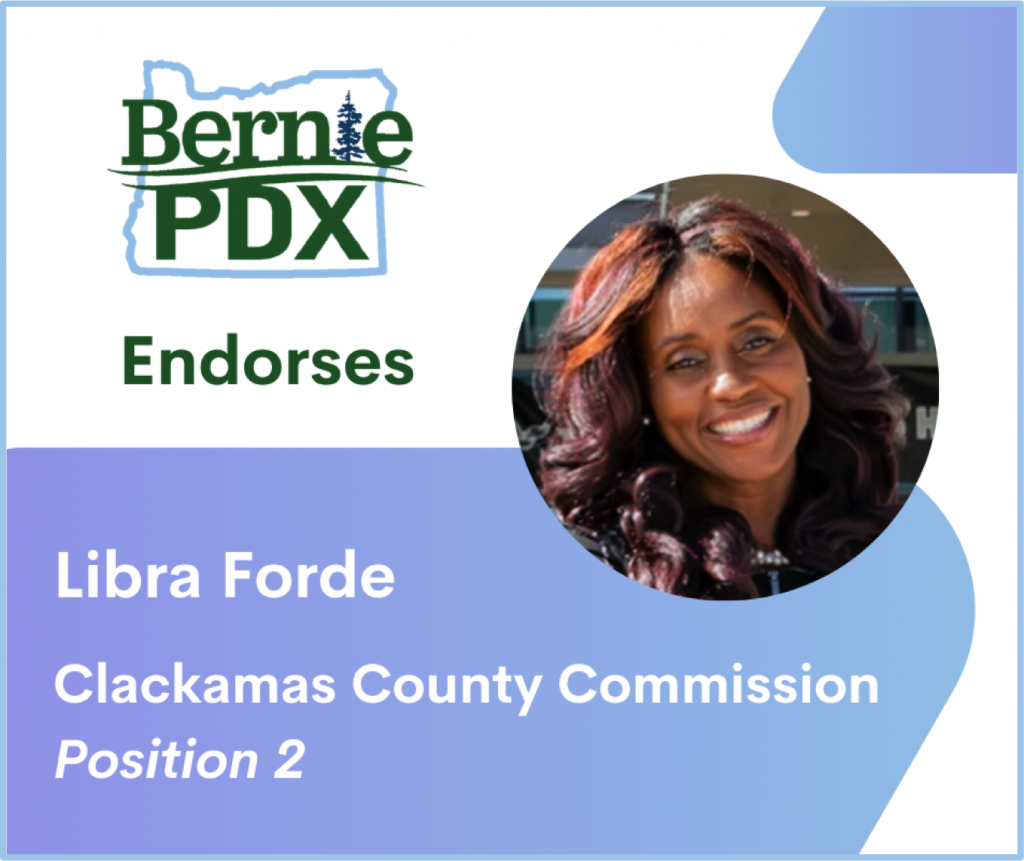 BerniePDX is excited to endorse Libra Forde for the Clackamas County Commission. Libra has demonstrated a lifelong commitment to public service. She currently works at Self Enhancement, Inc., a non-profit that primarily serves low-income communities, as well as youth and families of color. She also serves on the board of the North Clackamas School District.
Libra's priorities for Clackamas County include ensuring a better future for the next generation; creating a more inclusive county commission that better serves the needs of its constituents; taking care of those who have taken care of us; and increasing accountability on the Commission. Additionally, Libra is the first woman of color to run for this office. Libra's vision, experience, and values will create a more inclusive Clackamas County.
Learn more about Libra & get involved at libraforclackamascounty.com