BerniePDX members have spoken!
Many thanks to each and every one of you who took the time to vote in our endorsement poll.
For City Council, we're proud to endorse Julia DeGraw for Position 2 and Jo Ann Hardesty for Position 3.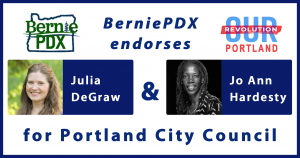 Julia's vision for transforming City Council is truly inspiring, we believe it has the potential to really change how politics is done in Portland. Julia combines passion and experience, she has a track record of effective leadership, and with our support she will be a formidable challenger to Nick Fish and to entrenched business interests!
Sign up to volunteer / donate @ julia4pdx.com
We were very impressed with Andrea's energy and her detailed grasp of policy and we wish her all the best, however, BerniePDX members chose to throw their support behind Jo Ann Hardesty for City Commissioner, Position 3. Jo Ann has long been one of the strongest voices for justice in our community, and Portland needs the wealth of experience and diverse perspective Jo Ann will bring to the table.
Sign up to volunteer / donate @ joannforportland.com
For Oregon HD 37, BerniePDX is proud to endorse Rachel Prusak for State Representative.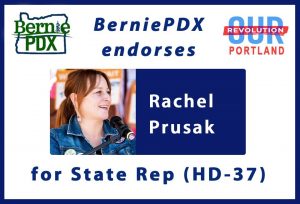 It's time to kick out of office Representative Julie Parrish, main architect of Measure 101, and Rachel Prusak is the woman for the job! As a nurse and healthcare advocate, Rachel has too many times witnessed "the tragedy forced upon us by those in power who don't believe that health care is a human right." She will bring much needed expertise, compassion and unstoppable determination to the Oregon House.
Sign up to volunteer / donate @ rachelforstaterep.com