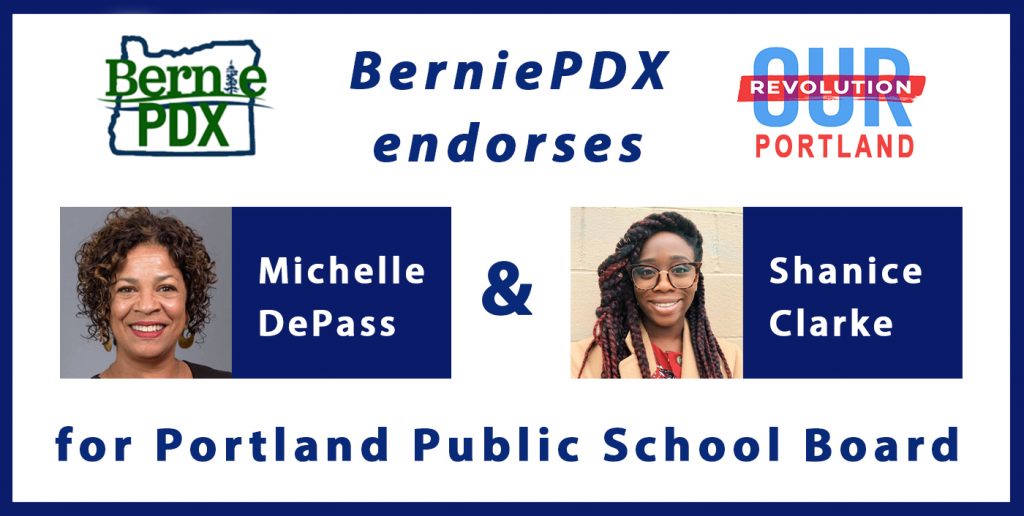 Michelle DePass and Shanice Clarke are both such qualified candidates for the Portland Public School Board (Zone 2) that for the first time, we are offering a dual endorsement in the May 2019 election, because both candidates received virtually the same number of votes from BerniePDX members. 
Both are women of color who are deeply involved in the community and education — Michelle as a fourth generation PPS student and parent who has been involved in advocacy and volunteered in schools, and Shanice as an educator and advocate.
Michelle and Shanice are passionate about centering the needs of the most vulnerable students, including students of color, houseless students, and those from low-income backgrounds. They both oppose the presence of School Resource Officers in schools, and they support raising taxes on the most privileged in our community to properly fund our schools.
If elected, Michelle would focus on the priorities listed above, and on the achievement gaps that are systemic in PPS, while Shanice is also passionate about creating wraparound services to aid students in crisis. Most importantly, both women are committed to changing the systemic issues in Portland Public Schools that have left so many students behind.
These candidates represent the values of BerniePDX and we are proud to endorse Michelle DePass and Shanice Clarke.
Deb Mayer also requested an endorsement from BerniePDX for the Portland Public School Board (Zone 3). Unfortunately, it was after our endorsement process. BerniePDX is excited that more progressive candidates are stepping up to bring fresh perspectives to all levels of government, and we wish Deb the best.