BerniePDX endorses Theresa Kohlhoff and Neil Simon for State Representative to fill Ann Lininger's seat in House District 38. Neil and Theresa have a good handle on the issues that BerniePDX believes are most important for Oregonians. They are in favor of raising corporate taxes to pay for essential public services like education and healthcare. They support Single-Payer Medicare-for-All, enacting campaign contribution limits, and lifting the statewide pre-emptive ban on rent control.
Neil has been involved in progressive politics for many years, from the local to international level. Theresa, a Lake Oswego City Councilor, handily won her seat in a contested race without compromising her progressive values. We are confident that if appointed, either candidate would be able to keep their seat in the legislature against a Republican opponent in the 2018 election. We encourage the Precinct Committee Persons in HD-38 as well as the Multnomah and Clackamas County Commissioners to vote for Theresa Kohlhoff or Neil Simon.
Note: Neil sent his questionnaire answers on time, but not everyone received them due to an email system issue that has since been fixed. Apologies, Neil!
Meet the candidates and find out how to help at our next BerniePDX meeting on Tuesday, Aug. 15, 7-9pm at 5040 SE Milwuakie Ave.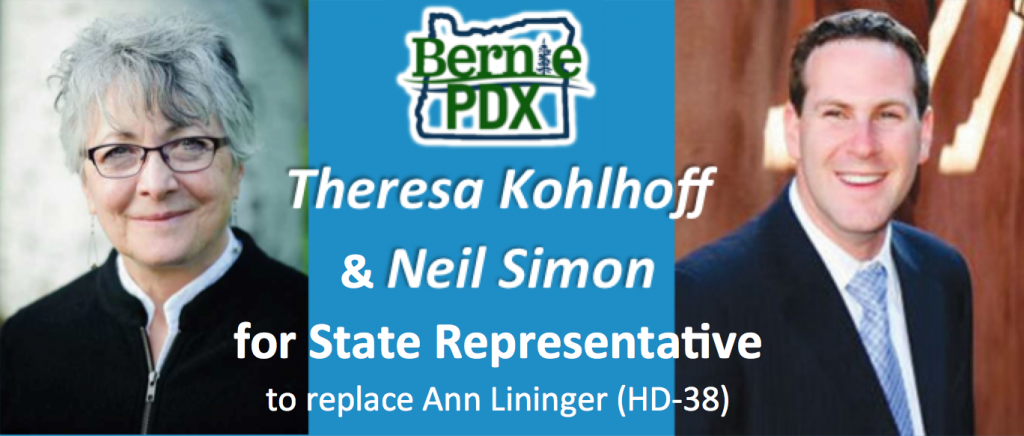 View the BerniePDX candidate endorsement questionnaire for this race here.