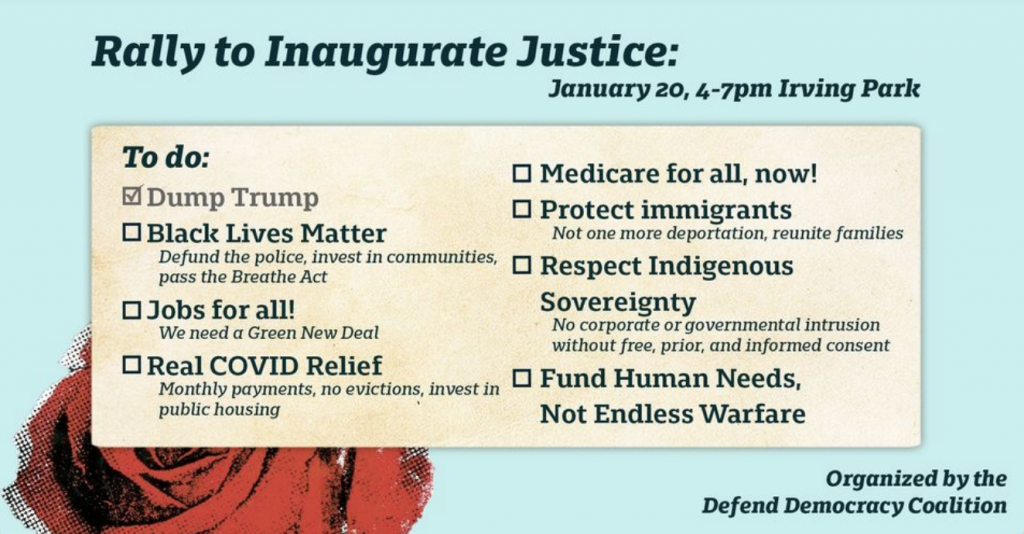 Millions of working class and marginalized people voted to throw Trump out of office, but our organizing has to continue under the next administration. While 2020 was a year of devastation, with so many people losing their jobs, their savings, and their lives, the Black Lives Matter uprisings inspired and moved millions into struggle against racism and police violence. Now we must build a mass movement to demand the changes we so desperately need, from racial, to climate, to economic justice.
The Defend Democracy Coalition is holding a rally and march on Inauguration Day 1/20 at 4 pm at Irving Park to kick off this new period of struggle. We ask that all attendees wear a mask and practice social distancing. There will be ASL interpretation provided by Fingers Crossed Interpreting.
A car caravan is available for those with elevated risk levels for COVID-19. It will meet at 2 pm at PCC Cascade in the back parking lot off of Albina.
Join us to make these demands loud and clear!
Black Lives Matter
-Defund the police, invest in communities, pass the Breathe Act
Jobs for all!
-We need a Green New Deal
Real COVID Relief
-Monthly payments, no evictions, invest in public housing
Medicare for all, now!
Protect immigrants
-Not one more deportation, reunite families
Respect Indigenous Sovereignty
-No corporate or governmental intrusion without free, prior, and informed consent
Fund Human Needs, Not Endless Warfare
Location: Irving Park