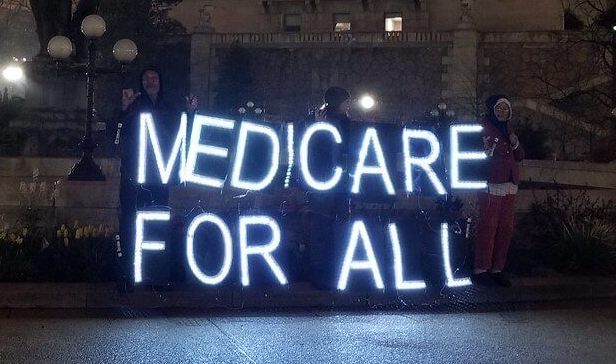 ABOUT THE EVENT
With almost a third of Americans uninsured or underinsured in the face of a deadly pandemic, the time for Medicare for All is now!
We are hosting a day of action in support of Medicare for All on December 10th, Human Rights Day. Healthcare is a human right. But like all rights, the right to healthcare can only be won by fighting for it. That means organizing a grassroots movement powerful enough to win.
WHAT YOU CAN DO
Instead of our monthly rally, this day of action will be a dispersed event, due to COVID restrictions in Oregon. There will be many small actions held throughout the state. This is something you can do on your own, or with your friends and family (limit of six people per group). Here are some ideas of things you can do:
• Hang a banner in your community
• Hold signs at a street corner
• Chalk sidewalks in your neighborhood
• Take a selfie with an M4A shirt or sign
• Take a picture of your dog with an M4A shirt or sign!
We encourage you to be creative and have fun. We just ask that you follow the Governor's order limiting groups to 6 people, that you follow social distancing guidelines, and that you wear a mask at all times.
SOCIAL MEDIA OUTREACH
An important aspect of this day of action will be social media outreach. Therefore, we are asking everyone to snap a few pictures of your action and send them to one of our organizers at dsam4a@gmail.com (in addition, you can post them to your social media accounts under #riseup4medicare4all). It's important that we show the depth and breadth of our movement. So, it wouldn't hurt to include a reference to your town in your photo if you are located outside of Portland. If you are sending a photo of multiple people, please remember to wear masks and stay six feet apart – EVEN IF you live together. People may not know that you live together just by looking at your photograph, and we don't want to send the wrong message.
SHINING A LIGHT
Not only is December 10th Human Rights Day, it is also the first day of Hannukah, the festival of lights. These are dark times. Millions of Americans are getting sick with COVID-19—more than in any other country. A quarter million have died. Millions will need treatment that could last for years, despite having lost their employer-based healthcare. Meanwhile, insurance and drug companies are raking in record profits. However, we believe there is light in this darkness. Polls continually show large majorities of Americans support a Medicare-for-All style, single payer system. By joining together, even in times as dark as these, we can help spread that light.