DANA CARSTENSEN FOR METRO COUNCIL DISTRICT 4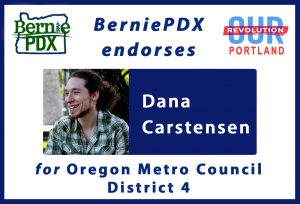 Did you know that Metro is the only directly elected regional government in the United States? This gives Portland region voters a unique opportunity to shape our future together! In the contest for Metro Council District 4, BerniePDX has chosen to endorse the boldly progressive vision proposed by Dana Carstensen. Besides his experience working for Metro (at the Zoo) and organizing Metro workers, Dana has that rare quality: political imagination. His plans to develop waste-to-energy infrastructure, to transition Tri-Met to an all-electric bus fleet, and to encourage community ownership of land, have the potential to completely transform our region by creating living wage green jobs, drastically reducing our carbon footprint, and keeping people in stable housing.
Read more about Dana and his platform, and please volunteer and donate: https://www.danacarstensen.com/meetdana
SHABBA WOODLEY FOR WASHINGTON COUNTY CHAIR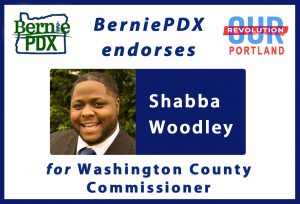 Shabba Woodley is our choice for Washington County Chair. Shabba understands the issues facing working families in our community, from transportation to lack of affordable housing and the prevalence of low wages. But more importantly, what Shabba doesn't understand, he wants to learn by listening to people like us. That's what a servant leader does, so they can truly represent us and develop community-based solutions. We believe in Shabba's dedication, in his passion for equity, and in his drive to create a County board that's inclusive and responsive to the needs of citizens.
Read more about Shabba and his platform / volunteer / donate: http://www.shabbawoodley.com/
MARIA GARCIA FOR MULTNOMAH COUNTY DISTRICT 2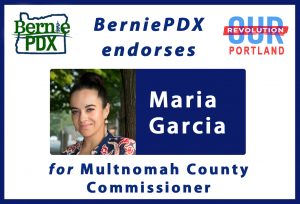 Three progressive women are running to represent Multnomah County in District 2. BerniePDX members voted to endorse María García for the position. María is an activist and advocate with strong ties to the community. Serving on the Multnomah County Commission will be an extension of her lifelong dedication to giving voice and support to underrepresented communities.
Learn more about Maria Garcia, volunteer or donate: https://www.mariaformultnomah.com/