In the crucial race to replace Rod Monroe in Senate District 24, we have not one but two amazing progressives running! We wish all the best to Shemia Fagan, but BerniePDX members chose to endorse Kayse Jama for this race.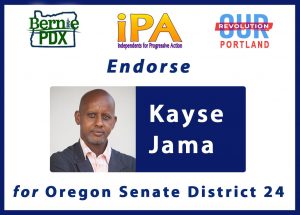 In these times when racists feel emboldened, when immigrants, refugees and people of color live in growing fear of deportation and violence, Kayse's story as a former refugee who loves this country and his vision for an inclusive community where we all belong are incredibly timely and compelling. We believe Kayse, who has shown extraordinary leadership as a lifelong activist, founder and executive director of Unite Oregon, and community advocate on public boards and commissions at the City, Metro and State levels, has the experience and passion to take on Rod Monroe. All he needs is grassroots power and that means US!
Learn more about Kayse Jama, volunteer and donate: http://www.kaysejama.com/
And don't forget to check our BerniePDX calendar for upcoming events, including events in support of our BerniePDX-endorsed candidates!